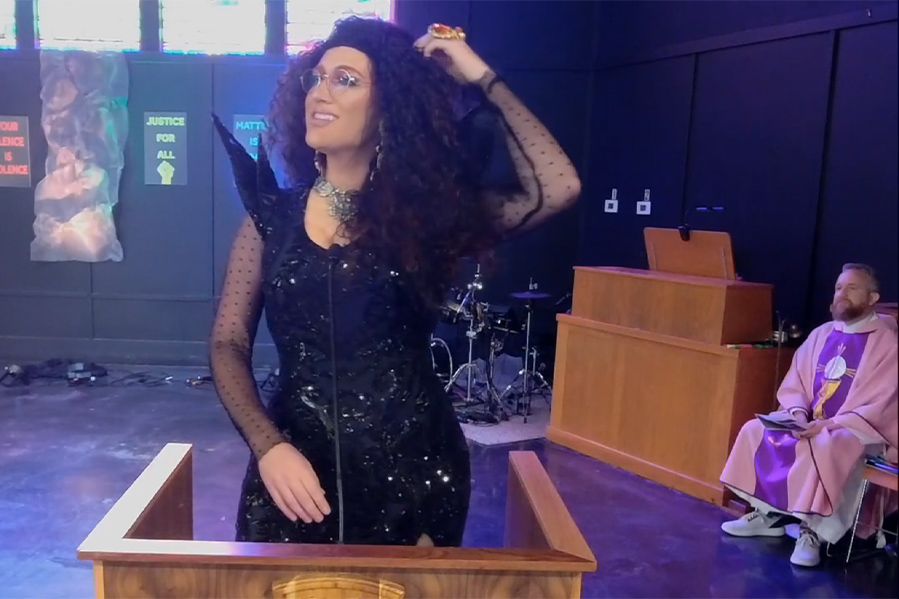 A Florida church recently invited a drag queen to deliver their Sunday sermon for an in-person service that was also live-streamed. 
At one point, two children appeared on stage beside the performer and the lead pastor. 
The move provoked outrage from some who say that inviting a drag queen to preach the gospel – and involving children – was wildly inappropriate.
Other critics saw the guest preacher as so unbiblical that they are worried for the very soul of the church.
However, the senior pastor at Allendale United Methodist Church is defending the move to invite a drag queen to the pulpit, noting that it is a great way to promote tolerance and inclusivity.
Penny For Your Thoughts
The visiting preacher goes by Ms. Penny Cost when in drag (beneath the outfit is Isaac Simmons, a candidate studying for ordination at another church).  
Senior Pastor Andy Oliver talked about the decision, explaining that "I want all people to see people like themselves called by God to preach the Gospel. I try to share my pulpit as much as possible with people who have been relegated to the margins of our church and society."
Ms. Penny Cost's sermon reportedly focused on societal power imbalances, and she compelled "those of us with the privilege of Whiteness, of Cis-ness, and the privilege of the access to power must be willing to get uncomfortable."
By all accounts, the sermon was well received by the audience, including the kids who were present. 
But elsewhere, not everyone was a fan.
Dragging Down the Flock?
Drag queens are the "new public face of United Methodism," claimed president of the Institute on Religion and Democracy Mark Tooley – and he didn't mean it as a compliment.
"Drag ministry will now become mainstream in the denomination," he claims, and "traditionalists have been given a one-year window to withdraw from the denomination." 
Tooley frames the church inviting a drag queen for a sermon as a desperate move by a church flailing for relevancy, and he believes that "dying United Methodism faces only further tragedy ahead."
Evangelical figure Ken Ham also commented on the event, implying the performer was a "false apostle":
It's certainly not the first time we've seen controversy involving a drag queen event with children in attendance, but advocates say this is all part of a larger strategy to connect with parishioners. 
Progressive Pews
This particular church isn't the only one trying to make church pews a more welcoming place for LGBTQ parishioners.
Just earlier this month we wrote about a Portland, Oregon church going out of its way to welcome the queer community with everything from gender-neutral bathrooms and nametags with pronouns.
As for bringing a drag queen to the pulpit?
During the Allendale service, the presiding pastor explained to the children why he invited Ms. Penny Cost in the first place: "One of the things I think is great about Ms. Penny Cost," he explained to them, "is that she reminds us that we follow a God who calls us not to conform to things of this world."
For Senior Pastor Oliver and other church leaders trying to make the church a more friendly space for the LGBTQ community, the idea of welcoming in a community oft-marginalized by the church itself is long overdue. Preaching tolerance and acceptance, especially to children, is their highest priority, they say. 
But in the eyes of critics, at best, this is an attempt to get butts in church seats by turning the service into a piece of entertainment. At worst, they argue, it's an attempt to "indoctrinate" children.
What do you think? Do drag queens belong at the pulpit?