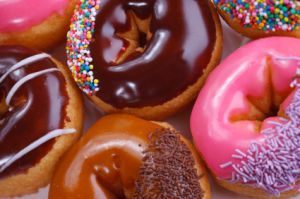 We've heard of weddings performed in Home Depot, shopping malls, nightclubs, and even aboard airplanes there have even been vampire-themed Wiccan weddings. Now it is time to add doughnut shops to the list of favorite locations for alternative and retail weddings. In a small chain of Oregon doughnut shops run by two ULC ministers, modern couples are finding a quirky, memorable place to tie the knot without spending six figures.
Owners Tres Shannon and Kenneth "Cat Daddy" Pogson opened their first 24-hour Portland shop in 2003 despite their friends' warning of financial disaster; apparently they have beaten the odds, since the business, named Voodoo Doughnut after their interest in voodoo and traditional African religion, has been booming ever since. This is perhaps understandable, given that the Rose City is home to naked bicycle races and the 24-hour Church of Elvis wedding chapel. Now Voodoo can count itself among one of these tourist attractions. The success of the business derives largely from its creative concoction, which range from maple-and-bacon doughnuts to, until recently, NyQuil doughnuts (now defunct due to health department warnings).
But Voodoo's eccentric approach in no way vitiates the meaningfulness of the occasion indeed, many will argue that weddings should be fun and festive, a celebration of the union of two people in love. This is how Kathryn and Jeffrey Elliott viewed their modern wedding vow renewal and commitment ceremony inside Voodoo. A voodoo priest wearing a mask fashioned out of a paper bag officiated over the ceremony while spectators snapped pictures with cell-phones. The vows were offbeat and tongue-in-cheek: when the priest asked Jeffrey whether he would continue to take Kathryn as his wife "through thick and thin, voodoo and sin", Jeffrey drolly replied, yes, "[e]specially the sin". No friends or family were present.
There seems to be no end in sight to Voodoo's new take on the alternative wedding ceremony, at least in the near future. In 2010, shop employees-turned-wedding ministers solemnized sixty legal wedding ceremonies and thirty commitment ceremonies inside the two Portland shops after deciding to get ordained online. For Shannon and Pogson, the weddings were a natural addition to their already quirky business, which draws a range of personalities. The shops have seen everything from a 10-woman bridesmaid coterie, drunkards, and members of the Russian Mafia (or so say the owners) to a (non-legal) wedding for a pair of cats.
What is most important at any wedding ceremony is for bride and groom to be happy, so if exchanging vows over a display case of hipster doughnuts achieves this, so be it. This whole idea of the sacrament of holy matrimony being a "solemn" occasion seems to derive from a need for approval from outside forces extended family, society, or a stern God. But nowadays marriage is about love and, to an extent, economic interdependence and partnership, and this involves nobody else, therefore it is nobody else's business. For the Elliotts, it was inside an independent doughnut shop filled with street urchins, students, and tourists where they felt most at home. For the next couple, it may be somewhere else entirely, like a fast-food restaurant or a tattoo parlor. Nowadays, it is weddings that are shaped to fit the needs of bride and groom, and not the reverse.
Learn more about Voodoo Doughnut and its astonishing array of goodies by visiting its Web site at http://voodoodoughnut.com/.
Source: