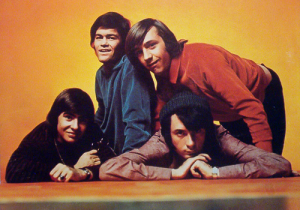 Joining the ranks of nondenominational ULC celebrity ministers such as David Byrne, Kathy Griffin, and Jeff Probst is Mike Nesmith, former guitarist-singer of the 1960s pop group The Monkees. Nesmith recently decided to get ordained online in the ULC in order to perform a wedding ceremony for his friends, '80s Saturday Night Live cast member A. Whitney Brown and blues singer Carolyn Wonderland. The couple exchanged wedding vows on a hill in Butler Park, located in the U.S. city of Austin. Incidentally, the hilly site, surrounded by downtown towers, was named for the deceased leader of the Sir Douglas Quintet, Doug Sahm.
Many will know Nesmith as more than just a singer, guitarist, and songwriter; he is also an acclaimed actor, producer, novelist, philanthropist, and businessman. In 1981, he won a Grammy Award for his video Elephant Parts, the first such award given for Video of the Year.Now, as a minister in the ULC, the title of interfaith wedding officiant can be added to this list of professions and accomplishments for the multi-talented, Texas-born pop-rock veteran. (As an example of Nesmith's musical versatility, he is known for singing as well as playing the electric and acoustic guitars, pedal steel guitar, piano, harmonica, synthesizer, and electric organ, and he has worked in genres ranging from pop and rock to folk and country.)
One of the most noteworthy things about Brown and Wonderland's modern wedding ceremony is the fact that they were able to be married by a friend. Indeed, one of Nesmith's motives for joining the ULC was to play a vital role in marrying those he admired, something which is nigh difficult to achieve without becoming a minister in an online church. If anything, this fact lends greater solemnity to the occasion than if bride and groom were united in the sacrament of holy matrimony by some strange priest just doing his rounds.
The ULC would like to congratulate Brown and Wonderland on their wedding performed by Nesmith, and we welcome Nesmith into the ULC network of ministers ordained online, wishing him all the best of luck in future wedding ceremonies.
Source: