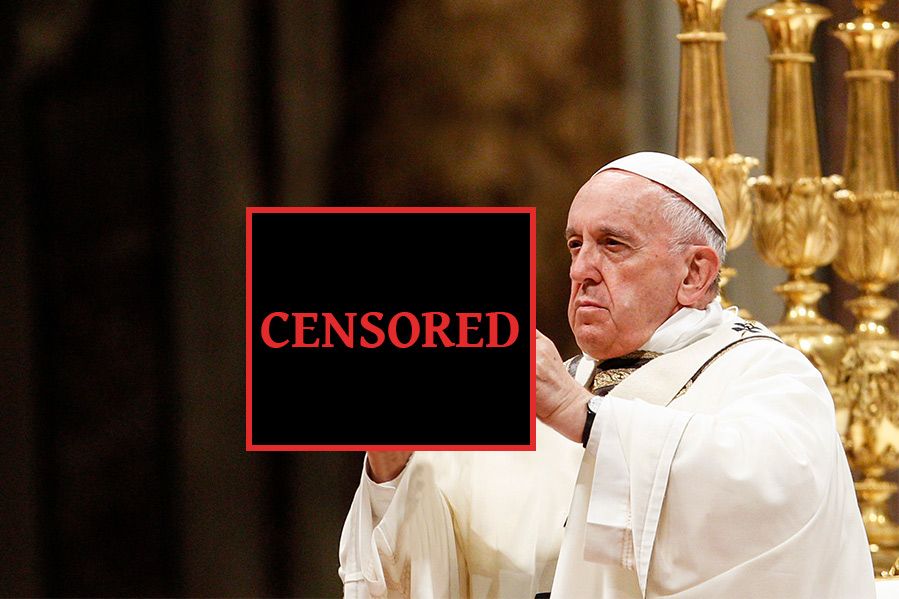 If you've been on Twitter lately, you've likely noticed the flood of Pope memes, showing the pontiff holding up a Eucharist wafer. The meme's format, in four tiled images, allows for the Eucharist to be easily replaced with whatever the meme maker would like.
While the meme's existed in various forms since 2013, it's only in recent days that the meme's taken off, with users creatively taking advantage of Twitter's tiled image format. And while the Pope meme has received millions of likes just this month, not everyone's happy with His Holiness being turned into a joke.
Warning: Offensive Content Below
According to Insider, the original photo of the pontiff holding the Eucharist is from a 2013 Mass at the Basilica of the National Shrine of Our Lady Aparecida in Brazil. As Know Your Meme reports, the meme's had some fleeting success in the years since the original photo was taken, but nothing like the explosive popularity it's seeing currently. 
In its current format, the image of Pope Francis is split up into four tiled images. The rightmost images show the pontiff, the bottom left image shows his hands held aloft, on the top-right image is replaced with whatever the creator likes.
The meme spread like wildfire throughout Twitter earlier this month as users easily swapped out the first tile with the image of their choice, but some Catholics aren't laughing, especially as Twitter users are depicting the pope holding up some rather unholy items or even engaging in some rather un-popely behavior.
The crux of the offensive for some Catholics is not just that the Pope is being meme'd. It's that the item being replaced is the Eucharist - which many Catholics believe actually becomes the body and blood of Christ through Transubstantiation. As writer Simcha Fisher said on Twitter, "I suppose people think it's fine to mock Catholicism because pedo priests + other various grave scandals. Please understand that, when you mock the sacrament of the Eucharist, all you're doing is hurting Catholics who have already been profoundly hurt by these same scandals."
Can We Mock Faith?
Despite the outrage, the memes continue. And despite the offense caused, it's clear that no one is intending to upset Catholics. Most undoubtedly view it as just a silly meme, and many sharing it are Catholic themselves.
And some members of the LGBT community suggested that a lesson on showing respect was rather rich coming from Catholics. "When your religious beliefs not only cast me as subhuman but shape the culture to enforce that belief," one Twitter user said, "your beliefs are fair game."
If you're ready to view the meme, we've included a few of our favorite examples below.
What do you think of the meme? Is it all in good fun, or do Catholics have a genuine grievance? Should religious views be off-limits for mockery?