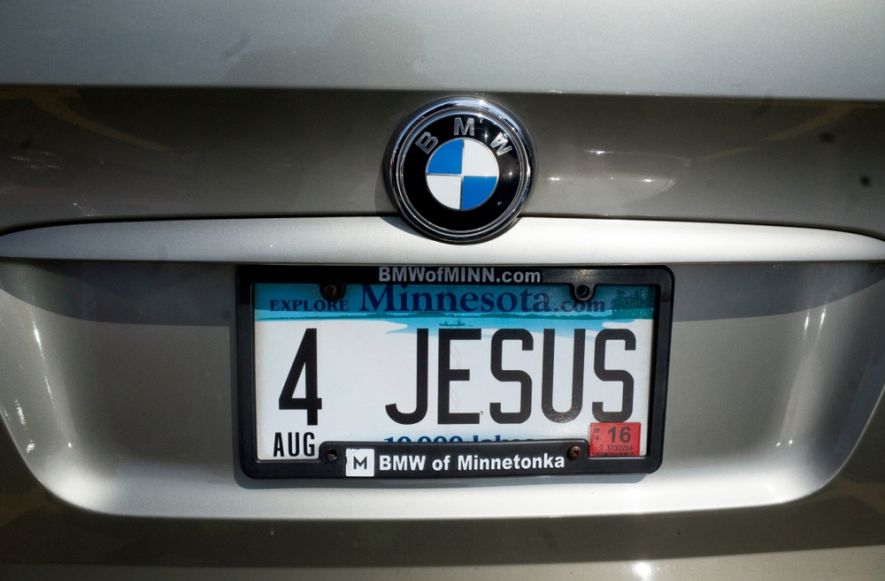 After a hard-fought battle, Kentucky resident Ben Hart has finally been granted an eye-raising vanity license plate. It reads: I'M GOD.

Harper, who identifies as an atheist (and reportedly is also a ULC minister), initially saw his request get shot down by Kentucky's Division of Motor Vehicles for being "obscene and vulgar" and "not in good taste." But he didn't give up, and filed a lawsuit alongside the ACLU and the Freedom From Religion Foundation.

Hart's lawsuit challenged the notion that government officials could decide what was tasteful when it came to communicating religious, anti-religious or political messages.

"I simply want the same opportunity to select a personal message for my license plate just as any other driver," explained Hart at the time, drawing a distinction between cursing God, questioning his existence or claiming to be him. Doing so meant Kentucky was effectively taking a position on religion. "There is nothing 'obscene or vulgar' about my view that religious beliefs are subject to individual interpretation," he said. And a judge agreed:

ACLU-KY Legal Director William Sharp's argument that "under the First Amendment, government officials do not have the authority to censor messages simply because they dislike them" seemed especially prescient given that Kentucky actually allows its citizens the option to buy an 'IN GOD WE TRUST' license plate template.
Victory at Last
U.S. District Court Judge Gregory F. Van Tatenhove eventually agreed that the State of Kentucky had gone too far in denying Hart's personalized license plate. Three years after filing the lawsuit, Hart was finally granted his desired message.
"As the court affirmed, the denial of Ben Hart's choice of a license plate was pure discrimination," said FFRF Co-President Annie Laurie Gaylor. "We are delighted that the court realized the bias the state of Kentucky was displaying toward nonbelievers."
But Kentucky is not the only battleground for personalized license plates with religious messages.
Checkmate, Theists
Back in 2014, the Motor Vehicle Commission of New Jersey informed Shannon Morgan that her request for the plate 8THEIST carried "connotations offensive to good taste and decency." Morgan then applied for, and received, a license plate that read BAPTIST. Now with clear evidence of the state was favoring one religious message over another, Morgan filed a lawsuit claiming her First Amendment rights had been violated.
That case was eventually settled in federal court two years later, clearing the way for other license plates such as GODLESS, HEATHEN and BLASFMR.
Forbidden Plates
Current vanity plates laws differ significantly from state to state. Variations on the word "atheist," for example, are allowed in Vermont but banned in Arkansas. Other race and religion plates such as JESUSC, MUSLM1, and BIGJEW are also banned in certain states. A complete listing of prohibited plates state by state can be found here.
What's your take? Should people be allowed to put whatever message they want on their bumpers, or is the government right to restrict what can be displayed.
And specifically when it comes to religion, are people of faith justified in finding the I'M GOD license plate offensive? If so, should their complaints be heard?