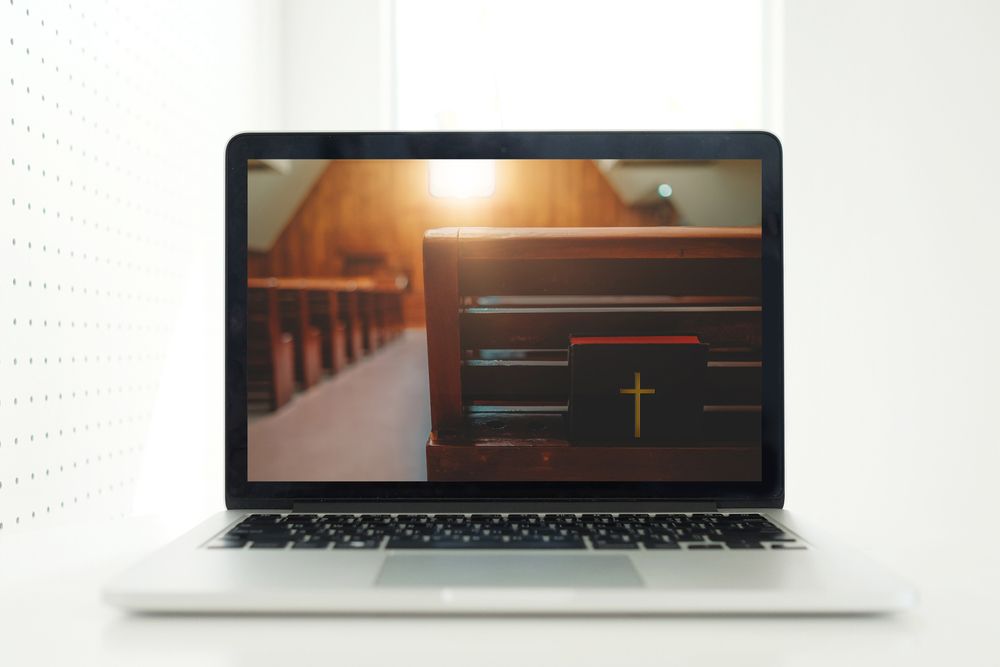 Since being elevated to Speaker of the House, Rep. Mike Johnson has found himself in the media spotlight, and the target of criticism.
First, an old interview resurfaced where Johnson claimed that homosexuality caused the fall of Rome – a notion that experts dispute. 
Another clip has since come to light, in which Johnson endorses an app called "Covenant Eyes" that reportedly tracks users' online behavior to stop them from viewing "sinful" material, like pornography. 
Johnson goes on to explain how the software – popular in evangelical circles – uses "accountability partners" to help monitor users' behavior, and that his partner in staying accountable and away from online porn is his 17-year-old son. 
This revelation has drawn critical reactions from some commenters, who've called the behavior "creepy" and "abnormal." But some defended the Speaker's actions, arguing that using technology to keep families away from lewd online material is simply good parenting. 
We'll leave it to others to share their thoughts on the matter. 
Meanwhile, we decided to dig a bit deeper to understand the technology at the heart of this story. 
What is Covenant Eyes?
"Covenant Eyes" has emerged as a frequently-used solution for individuals and families striving to avoid pornography, and for those addicted to viewing porn. 
Founded in the 2000s, the company markets its technology as "accountability software." Its tools are designed to send notifications if a device with the software installed views any inappropriate content (such as pornography). 
Users can subscribe as a monthly service and must agree to have their online behavior monitored at all times. 
Evangelical Underpinnings
Covenant Eyes operates on a principle deeply rooted in evangelical Christianity: the idea of mutual accountability. 
As Johnson describes, the app works to help users avoid the temptation of pornography by sending screenshots of their online activity to a chosen ally – a friend, mentor, or family member who agrees to help the user stay accountable. 
If they view any lewd content, the software will notify the partner – who, in theory, can intervene and help the user change their behavior.
This concept aligns with biblical teachings about fellowship and accountability, which encourage believers to bear one another's burdens.
How "Purity Culture" is Involved
Covenant Eyes also has ties to a Christian organization called the "Promise Keepers" and has frequently been featured at the group's conferences.
Founded in 1990, the Promise Keepers endorse a view of Christian manhood that aligns closely with so-called "purity culture," which came to prominence around the same time period.
The group promotes fidelity and moral integrity among men, behavior which includes abstaining from porn – and which makes them obvious allies for a company with the technology to enforce such views. 
The Religious Case Against Watching Porn
This notion of purity and avoiding pornography has deep religious roots. People of faith who advocate against porn cite a few different points:
Moral Impurity: Many religions consider viewing pornography as a sin, citing scriptural mandates for purity of mind and body.
Marital Sanctity: Pornography is seen as a threat to the sanctity of marriage, with the potential to distort a person's view of sex and fidelity.
Human Dignity: There is a belief that pornography objectifies individuals, reducing them to mere instruments for pleasure rather than respecting them as beings made in the image of God.
Addiction and Consequences: Religious advocates highlight the addictive nature of pornography and its potential to lead to other harmful behaviors.
Does the Software Work?
Religious views aside, is the software itself effective in its goal?
Proponents say apps like Covenant Eyes are successful in preventing users from viewing porn. By monitoring the entire screen of computer or mobile devices and employing AI technology to scan content, they can supposedly detect explicit images with a high degree of accuracy. 
However, critics point out that it is not perfect. For example, prior to his conviction on child pornography charges, Josh Duggar (of 19 Kids and Counting fame), reportedly had Covenant Eyes installed on his computer. Duggar was able to avoid detection by logging in to a password-protected private network that the software was not able to access. 
It has also been used in troubling ways, critics say. Far from being limited to families and church communities, reports indicate Covenant Eyes is also being used to monitor people on probation for unrelated criminal charges. In one such case in Indiana, an entire family was forced to use the software at the direction of the Monroe County probation department – essentially turning private anti-porn software into a tool for government surveillance. 
Religion and Technology Collide
More broadly, "Covenant Eyes" represents a technologically modern approach to an age-old religious pursuit: the quest for moral integrity in accordance with one's faith. 
However, the app, and the movement behind it, also face significant scrutiny and criticism from those who argue for a more nuanced approach to sexuality and pornographic content.
In the end, the debate over "Covenant Eyes" and the consumption of pornography is reflective of broader discussions about faith, freedom, and the role of technology in enforcing moral standards. 
What is your reaction? Do you see this technology as a useful tool for accountability, or a violation of personal liberties in the name of religious beliefs?