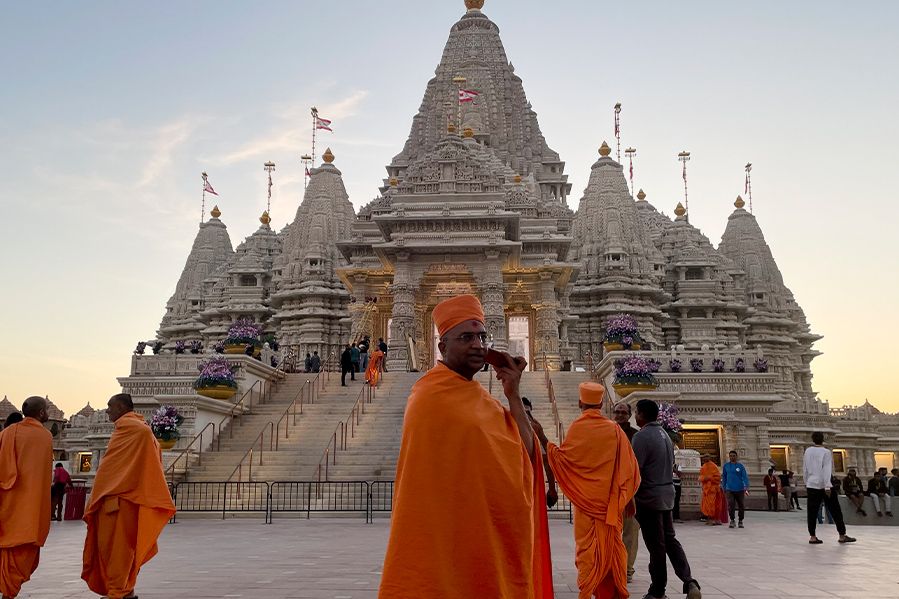 Last month, what is believed to be the world's second-largest Hindu temple opened in Robbinsville, New Jersey.
Sitting on 183 acres, standing 191 feet high, and costing $96 million, the BAPS Swaminarayan Akshardham is an architectural marvel some 15 years in the making.
A mandir made of intricately carved Italian marble. 10,000 statues. A traditional stepped pond filled with water from India's 108 holy rivers.
The temple is undeniably breathtaking, and it took an estimated 4.7 million hours of human labor both paid and voluntary to construct it.
Even the welcome center is gorgeously designed, carefully crafted with wooden pillars and gently lit with traditional lamps.
As excitement built around its opening, for the past few years, the temple has also been plagued by controversy. 
Were Laborers Forced into Construction Work?
While the Akshardham Mahamandir temple is already drawing massive crowds of both tourists and pilgrims to worship in its halls, it has also been mired in accusations of forced labor. 
Back in 2021, six construction workers filed a suit against the temple on behalf of hundreds of their coworkers – and claims of forced labor and human trafficking brought agents from the FBI, Department of Labor, and Department of Homeland Security to the construction site to investigate.
The workers alleged that hundreds of Indian men – almost all of them of the lowest Indian caste – were brought to the United States against their will and forced to work on the temple for more than 80 hours per week for only $450/month. They claim that their passports were taken, and they were held against their will under constant surveillance. 
"It was just an extremely traumatic and isolating experience," explained one of the workers' attorneys at the time. "I've represented migrant farmworkers, I've done low-wage worker cases, and this is really quite shocking."
The case took an even stranger turn earlier this year, when dozens of the plaintiffs in the lawsuit withdrew the lawsuit, saying that an Indian attorney based out of the US convinced the laborers and artisans to make the complaint as part of a bizarre scheme to delay the temple's construction.
They said they feared that revealing this information would lead to possible imprisonment or deportation. A spokesman for the temple said that most of the workers came to the United States to volunteer, which is a core tenet of the Hindu faith.
Open for Visitors
We'll likely have to wait for the federal investigation to complete before we know all the facts.
But controversy or no, the temple expects to attract hundreds of thousands of visitors to the site. Scores of Hindus, architecture enthusiasts, and curious tourists have already visited the temple.
For Hindus in the United States, the location makes a lot of sense. It is estimated that there are some 3.3 million Hindus in the U.S. – and roughly 800,000 of them reside in New York and New Jersey. 
For these worshipers, having the largest Hindu temple in the Western Hemisphere in their backyard may be worth any controversy that comes with it.
What is your reaction?