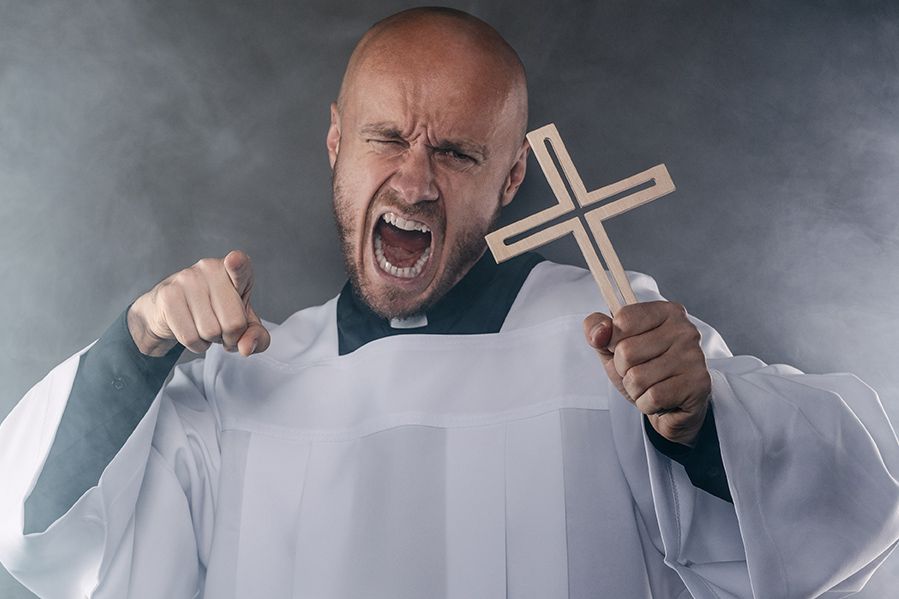 A Texas pastor is refusing to apologize for saying that gays should receive the death penalty and that Pride is "an abomination" against God.
The incendiary comments are apparently par for the course for Pastor Jonathan Shelley of Stedfast Baptist Church. He's previously come under fire for using homophobic slurs in sermons, and when the LGBTQ community asked him to tone down the language, he retorted that he doesn't "negotiate with terrorists." 
Now as Pride Month kicks off, he's spreading his most hateful language yet – but he says the Bible backs him up.
Proudly Preaching Hate
Shelley landed back in the news over comments he made at a recent public meeting of the Arlington City Council regarding the city's upcoming Pride festivities.
Pastor Shelley took the microphone to let his community know exactly what he thinks.
"I am horrified and ashamed that this city has decided to promote and solicit Pride in this city," his comments began. "Pride is nothing to be celebrated, in fact, it is an abomination."
Citing an old state law that's since been overruled, he continued: "I don't understand why we celebrate what used to be a crime not long ago. God has already ruled that murder, adultery, witchcraft, rape, bestiality and homosexuality are crimes worthy of capital punishment."
Citing statistics showing gay men die of HIV and AIDS at a higher rate than others, he also wondered "why we would promote disease and AIDS in our community." 
A Generational Shift?
The comments received a mixed reaction. While many at the city council meeting booed him, some cries of 'Amen!' could be heard as Pastor Shelley ranted about killing gays.
This hardline homophobic stance represents an opinion that was once widely-held, but now stands in stark contrast with more progressive wings of the faith. In fact, there's a younger generation of up-and-coming pastors who preach a more tolerant (and far less murder-happy) version of Christianity. 
Compare Pastor Shelley, for example, with Brandan Robertson, the so-called "TikTok Pastor" who became famous on that app for a decidedly more gay-friendly version of Christianity.
The Human Rights Campaign named Robertson one of the leading faith leaders fighting for LGBTQ justice and acceptance, calling him "an acclaimed evangelical leader working at the intersections of spirituality, sexuality, and social renewal."
And with 4.5 million likes on TikTok and counting, it seems that his tolerant message is resonating.
Perhaps that's no surprise. Gen-Z consistently polls as the most tolerant and accepting generation towards the LGBTQ community, and Gen-Z are more likely to openly identify as LGBTQ than any other generation.
What Next?
The comments – and the reaction to them – merit a number of questions. First, should Shelley's intolerant views be tolerated? 
Freedom of speech provides broad protections for hateful views to be shared in public, and Shelley appears to legitimately believe that God frowns upon gay people and gay relationships, frequently citing scripture from the Old Testament. 
However, critics argue Shelley crosses a line when he calls for violence against LGBTQ people. 
And second, is this a winning strategy? Some have pointed out that if you're hoping to bring tolerant younger generations around to your faith, preaching capital punishment for the simple crime of being born gay might prove to be a losing battle. 
What are your thoughts?