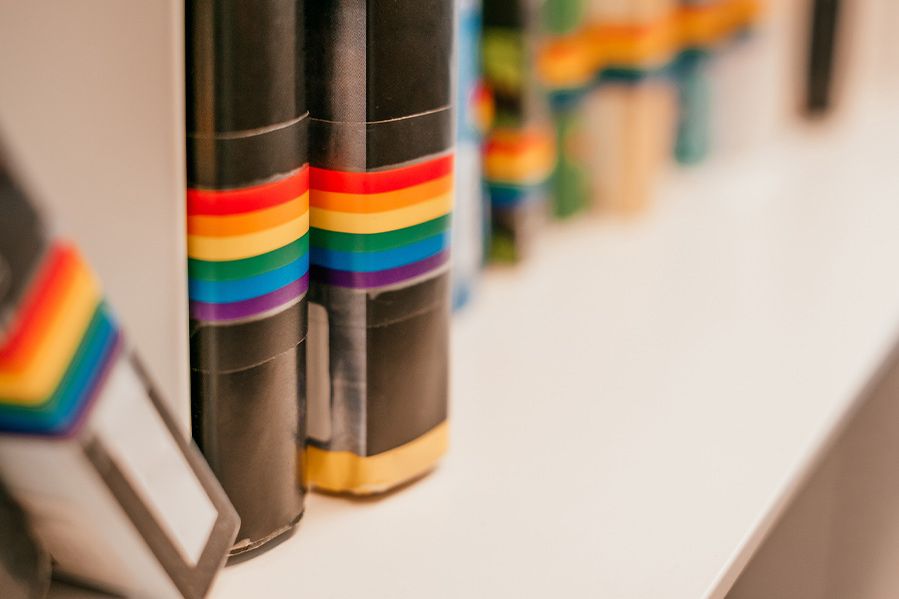 Is there a war on books in America?
From comics depicting the holocaust to literature with LGBTQ themes, book challenges in schools and public libraries have seriously ramped up in the last few years, fueled in part by conservative-leaning faith groups who fear that children might be exposed to inappropriate content. 
Some are even taking things a step further; one Virginia school board suggested literally burning books they find offensive.
Considering all that, it's not surprising that yet another public library – this time, the library system in Lafayette, Louisiana – announced that they'll be banning book displays for "controversial topics" like Pride Month, Black History Month, and Women's History Month.
But this ban has a twist: the Lafayette library director says he's preemptively banning these displays to save the books themselves.
A Novel Idea
"I'm doing this because everything's a fight," explained Lafayette's Library Director, Danny Gillane. "And if I put these books out right now, I feel like I am inviting people to challenge these books."
According to Gillane, the Lafayette library system has already had three challenges this year, including two books and one documentary film. 
The first challenged title was "This Book is Gay" by Juno Dawson, a nonfiction work aimed at teens that talks about various gender identities, sexualities, and general LGBTQ issues. Before the library board (which has shown enthusiasm for banning content) could vote on what to do about the book challenge, Gillane went ahead and moved all teenage non-fiction books to the adult section.
Banning all displays that could conceivably be controversial to someone – Pride, Black History Month, Women's History Month, and so on – is another act of self-censorship intended to prevent a worse outcome: the books being locked behind the counter, or taken off of library shelves altogether.
In a memo sent to library managers explaining the move, he wrote, "we want to take the spotlight away from anything considered political and focus on what the library does best: Providing programs and services to everyone in Lafayette Parish. Period."
Accidental Discrimination?
It's a Hail Mary move to keep the likelihood of book challenges as low as possible. But considering the new rule is going into effect at the start of Pride Month, not everyone's thrilled with this new 'out of sight, out of mind' strategy.
"This is viewpoint discrimination," insists the president of Parents, Families, and Friends of Lesbians and Gays Lafayette (PFLAG) Matthew Humphrey. "Denying representation to any minority community at the public library will not go unanswered. We are not afraid to sue."
The admin for a Layafette anti-censorship Facebook page cosigned that sentiment, saying: "For a library that's ridiculous. It goes against everything a library is supposed to stand for."
It's certainly an interesting strategy, and a potential solution to a problem librarians across the country have no doubt been frustrated with for the past couple of years.
But critics say that refusing to celebrate marginalized communities, for fear that someone, anyone, might see the display and be offended is not acceptable. 
What do you think? Will the plan work? When faced with community members who want to ban "offensive" books, how should librarians react?