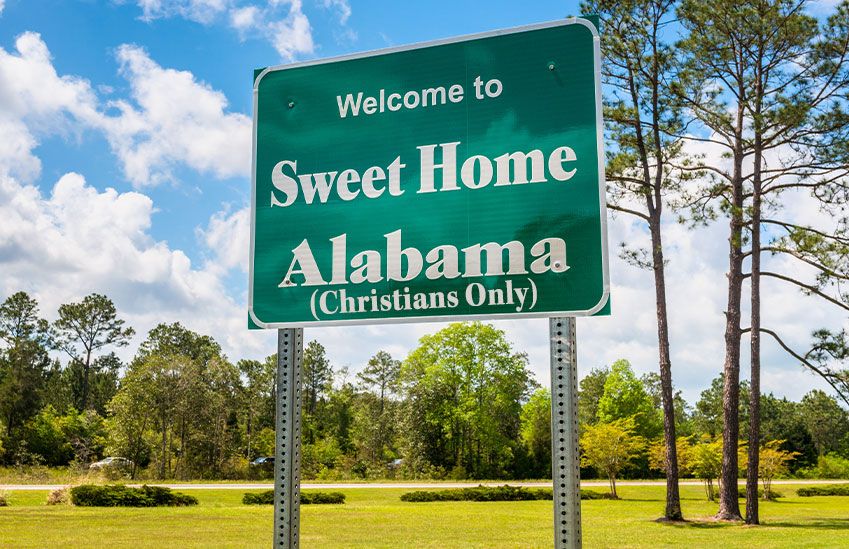 Alabama has officially been named one of America's top destinations… for non-Christians to avoid.
"Religious equality is under attack in Alabama," declared American Atheists Alison Gill, whose group authored the 2019 State of the Secular States report that ranked the southern state as one of the worst for religious equality due to its laws and policies, alongside states like Kentucky, Arkansas, and Arizona.
American Atheists based their ratings on the amount of separation between church and state. "Some of these states have passed laws to promote false Christian nationalist narratives, allow religious exemptions to civil rights protections, and enshrine particular religious views into the law."
Abortion bans were also accounted for. Per the report; "The state's near-total abortion ban forces one particular religious view of reproductive health on every Alabaman woman. Sadly, Alabama schools let students receive credit for outside religious instruction but do not provide comprehensive, scientifically accurate sex education. Alabama lawmakers are more interested in imposing their religious views on citizens than protecting equality for everyone."
Of course, readers of this blog are well aware that Alabama didn't just rise to such conservative Christian prominence yesterday.
Alabama and Christianity: A Match Made in Heaven
Nearly a decade ago, we wrote about a judge in the town of Bay Minette who decided to allow petty criminals the option of either working off their sentences in jail, paying a fine, or attending church worship services every Sunday for a year, a clear violation of the Equal Protection Clause of the Fourteenth Amendment to the Constitution.
More recently, the Alabama state legislature has passed laws allowing private adoption agencies to refuse service to the LGBTQ community based on religious beliefs; has fought (and largely failed) to ban same-sex marriage with laws ultimately deemed to be unconstitutional by federal judges, going as far as refusing to air the season premiere of the children's television show "Arthur" because it featured a same-sex marriage scene between two of its characters; and has all but outlawed abortion - even in cases of rape or incest - and threatened doctors who do so with up to 99 years in prison.
Does Alabama Promote Christian Nationalism?
The 2019 State of the Secular States calls this blitz of pro-Christian legislation Christian nationalism. And crucial to that is Alabama's history of providing religious exemptions.
According to Gill, this has allowed the states to take advantage of offended Christians to do everything from shield faith healers from punishment, impede vaccinations, and even encourage public schools to offer Bible classes. "More often than not," Gill said, "these Bible classes end up resembling Sunday school rather than public school because schools fail to meet the constitutional requirement to teach them in a secular way."
The way American Atheists National Field Director Samantha McGuire sees it, the 2019 State of the Secular States report is nothing short of a "roadmap to fight Christian Nationalism and promote religious equality."
As American Atheists pledges to battle Alabama over their abortion bans, religious exemptions to vaccines, and discrimination against gay couples in adoptions, Alabama shows no signs of slowing down. Last year, Governor Kay Ivey signed into law allowing a megachurch to create its own police force that can make arrests on church grounds.
Life in Alabama seems great… so long as you prescribe to a particular set of beliefs. But should states like Alabama be allowed to make Constitutionally-questionable laws that match their Christian beliefs? A whopping 86% of Alabamans identify as Christians - but is that an excuse to write blatantly discriminatory laws?