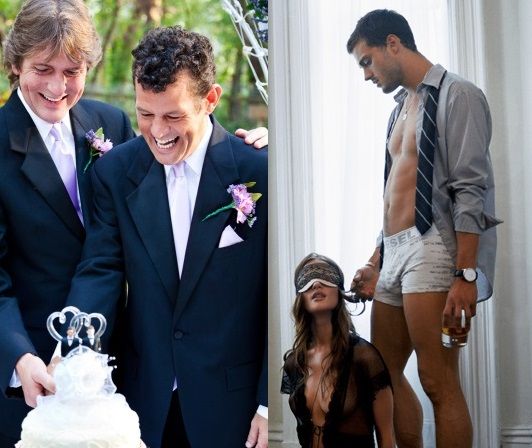 Years ago, Alabama, like many states, took a stand for conservative Biblical principles by defining marriage as being between one man and one woman. That's why for proponents of marriage equality, it was almost too good to be true when a federal judge recently declared the ban on same-sex marriage to be unconstitutional. It was a double victory for supporters of equality when the same judge told a local probate judge that he could not stop marriage licenses from being issued to same-sex couples.
But the fight for equality continues in southern states where the pornographic hetero-sex-dungeon movie 50 Shades of Grey is more popular compared to any other region in the nation, yet two women can't solemnize their commitment on the basis of Biblical decency. A state judge is mandating, in defiance of the higher courts, that local officials not issue licenses to same-sex couples.
Local Judges Balk at Federal Mandates
Judge Callie V. Granade of the Federal District Court had already declared the state's ban on same-sex marriage unconstitutional on the 23rd of January when Alabama Supreme Court Chief Justice Roy S. Moore ordered the state's local probate judges to disrespect the ruling. However, on the 12th of February, Judge Granade admonished the state's probate judges to actually do their jobs and issue licenses or risk being in contempt of court.
The dispute has led to confusion across the state which is ironic considering that Justice Moore's thinly veiled reason for his stop order was to prevent the "confusion" it would cause if all of the state's clerks abided by one set of rules. Thanks to Moore's actions, as of the 12th of February, 23 counties were issuing licenses to all couples, 18 counties to straight couples only, and 26 to no couples at all. If you are an Alabama resident getting married, you very well might have to travel across county lines to get your marriage license, even if you are straight! Perhaps you should send Justice Moore your gas bill.
Ministers Marry Couples in Midst of Fray
Although county courthouses across the state may have been in limbo, many ULC ministers carried on with wedding ceremonies anyway, joining other faith leaders in sending a clear message to state leaders: clear a path for marriage equality once and for all in the heart of Dixie.
Universal Life Church minister Karen Musgrove joined a throng of ministers from varying backgrounds from Unitarian Universalist to Pagan to Christian at a mass multi-wedding ceremony at a city park in Birmingham. Musgrove decided to become ordained online in the ULC so she could finally pronounce her friends as "husband and husband".
Performing wedding ceremonies has proved the most popular and effective way for ministers to acclimate the South to the idea of same-sex marriage. They will notice that the sky doesn't fall, that people don't start clamoring to marry their pets, and families of straight couples aren't magically ripped apart by the shockwave set off by a gay wedding.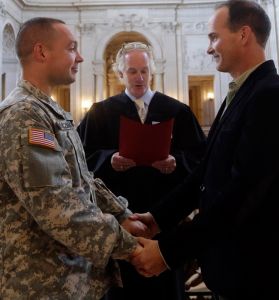 Marine Corps veteran and psychology student Mandi Long didn't wait when it became legal in Alabama. On the same day they began, she was driving from courthouse to courthouse, and had married six couples by early afternoon.
As a heterosexual woman, she said she could not imagine what it would be like to be an LGBT person on such a historic occasion in this part of the United States, "to look at somebody and say this is my wife, this is my husband, to have had to fight so hard for something so simple."
Another Alabama resident, Nicole Copeland, decided to become ordained in the Universal Life Church so she could usher in the state's new marriage equality law, citing deeply-cherished principles to explain her decision. "The church I was ordained through is respectful of all religions. If they want to go and get married in field in cowboy boots that's fine with me", she said of the Universal Life Church's philosophy. Explaining her thoughts on what determines a legitimate marriage, she argued that "marriage is not a religious right", because, "if it were, then why would we need a probate judge to issue licenses if you are two consenting adults and it's legal in the state you live?" In other words, marriage clearly has a civil basis, and religion should not interfere.
Universal Life Church ministers have practically come out of the woodwork to affirm Alabama's new marriage law in their capacity as wedding officiants. Justice Moore attempted to turn back the clock and let inequality reign, but alas, time marches on. This is not like any other state passing marriage equality legislation this is happening in the heart of the Deep South, proving that love can win even in the last remaining strongholds of social conservatism. And ULC ministers have played a central role in showing their communities that there is nothing wrong with love.
Sources:
Alabama Media Group
The Anniston Star
The New York Times
The Troy Messenger