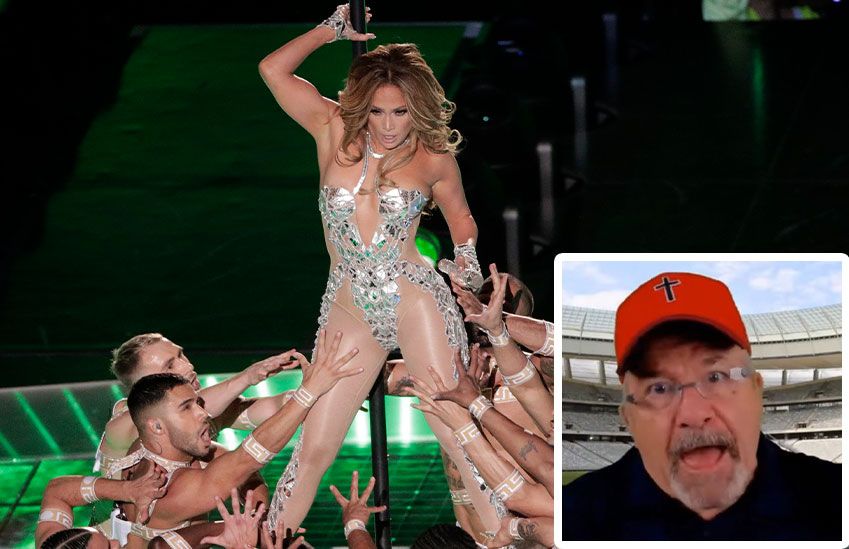 Criticizing the Super Bowl Halftime Show has become its own side sport. But one particularly outraged Christian activist is taking his concern to a whole other level.
Sporting a red baseball cap with a solid black cross emblazoned across it, right-wing radio host Dave Daubenmire took to his "Pass the Salt LIVE" podcast to announce he's planning to sue the National Football League for subjecting his immortal soul to fifteen minutes of provocative "crotch-grabbing" dancing courtesy of the Superbowl halftime show. His argument? Watching a few minutes of Shakira and Jennifer Lopez sing and dance may ultimately prevent him "from getting into the kingdom of Heaven."
"I think we ought to sue," said Daubenmire, still calm and collected at the offset.
"Would that halftime show, would that have been rated PG? Were there any warnings that your 12-year-old son—whose hormones are just starting to operate – was there any warning that what he was going to see might cause him to get sexually excited?"
A passage from Matthew 18 flashes on the screen. And if thine eye offend thee, pluck it out, and cast it from thee: it is better for thee to enter into life with one eye, rather than having two eyes to be cast into hell fire.  
Anger Over 'Crotch Shots'
Daubenmire starts to lose his cool about a minute in. All hell breaks loose.
"Could I go into a courtroom and say, 'Viewing what you put on that screen put me in danger of hellfire'? Could the court say, 'That doesn't apply here because the right to [produce] porn overrides your right to [not] watch it'? Yeah, well, you didn't tell me I was gonna watch it! You just brought it into my living room. You didn't tell me there were gonna be crotch shots! That's discriminatory against the value I have in my house. You can't just do that. I wanna sue them for about $867 trillion."
By the end of the rant, Daubenmire is visibly angered, shouting and pointing at the camera aggressively.
Let's put the dollar amount aside for one moment. This is not just another conservative Christian one-off rant. Daubenmire has already posted a follow-up video, seeking a lawyer to file a class-action lawsuit against Pepsi, the NFL, and his local cable company.
In case you missed it, the full halftime show can be viewed below. Warning: Watch at risk of eternal damnation.
Things Get Weird
That was just the tip of the iceberg. Daubenmire's videos got stranger as the week went on and he faced considerable backlash in the media for his outlandish threat.
On Monday, he said that Jennifer Lopez is simply too old to be dancing in such a provocative manner. "J-Lo is 50," he began, "you go on a porn website, you're not looking for 50-year-old women." 
It begs the question: When is one too old to dance? Shakira is only 43 - perhaps that's better?
Daubenmire then said on Thursday his Twitter inbox has been flooded with lewd images in response to his righteous fury over seeing a little skin during the halftime show. "I've seen pictures of large penises and I appreciate it," he said sarcastically, "but no, I don't want to receive any of them… The offers that you guys have to come by and put it where the sun don't shine in my bun."
And just in case there was any doubt, he clarified: "I'm not a closet homosexual. I don't sit around and watch gay porn."
A Sign of Moral Decline?
It's easy to laugh at Daubenmire's outrageous hyperbole and the king's ransom he intends to sue for, but he was hardly the only critic of the halftime show. Famed evangelist Franklin Graham wrote this more measured criticism on Facebook, which has been shared nearly 100,000 times:
The outfits were undoubtedly revealing, the dance moves a bit risqué, but is the halftime show really a sign of America's "moral decline"? Or is this all just fake outrage?