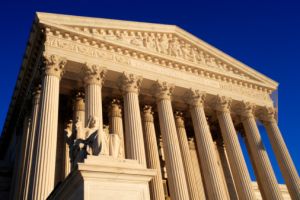 ---
In a surprise decision, the Supreme Court has ruled that churches should be eligible to receive government funding, as long as the money is used for a secular purpose. In a 7-2 ruling, the court decided that Missouri's Trinity Lutheran Church was wrongfully denied a government grant to resurface its playground.
Many religious groups cheered, as the ruling will likely set a precedent moving forward. As it stands, more than three dozen states have laws which explicitly prevent churches from receiving any form of government funds. However, thanks to this ruling, that may all change. Churches in other states now have a strong legal case to challenge such laws.
Critics of the ruling are outraged, calling it nothing short of the remarriage of church and state.
A Supreme Warning
Among the most outspoken opponents of the decision was none other than Justice Sonia Sotomayor.
In passionate dissent, she warned that the ruling "weakens this country's longstanding commitment to a separation of church and state beneficial to both," and added that "If this separation means anything, it means that the government cannot, or at the very least need not, tax its citizens and turn that money over to houses of worship. The Court today blinds itself to the outcome this history requires and leads us instead to a place where separation of church and state is a constitutional slogan, not a constitutional commitment."
Was There Discrimination?
In the case, lawyers argued that Trinity Lutheran was discriminated against because of its nature as a religious organization. They insisted that the church should receive equal consideration for government funding compared to its secular counterparts. The Supreme Court agreed.
Chief Justice John Roberts was quoted on the matter saying, "The exclusion of Trinity Lutheran from a public benefit for which it is otherwise qualified, solely because it is a church, is odious to our Constitution . . . and cannot stand."
But critics claim this is nonsense. Given their tax-exempt status, churches should be self-sufficient entities. Why send a religious organization taxpayer money to build something that only religious groups will use?
Church and State: A Match Made in Hell
Throughout history, the marriage of church and state brought with it corruption, suffering, and subjugation. Once formed, it proved a powerful partnership and one not easily broken up.
But eventually it was.
Any decision that pushes us back in that direction, critics argue, is potentially dangerous. It took centuries of efforts to separate the church and the state. Could that progress be at risk of reversal?
Slippery Slope?
While the government sending a church some money for its playground might not seem like a big issue, some worry that it could lead to bigger decisions down the road that aren't so harmless.
We've come a long way from the Dark Ages, and a few pro-religious Supreme Court rulings certainly won't send us back there. However, history is full of dormant alliances that were later revived. Is a remarriage of church and state possible? Is the latest Supreme Court ruling an outlier, or a harbinger?