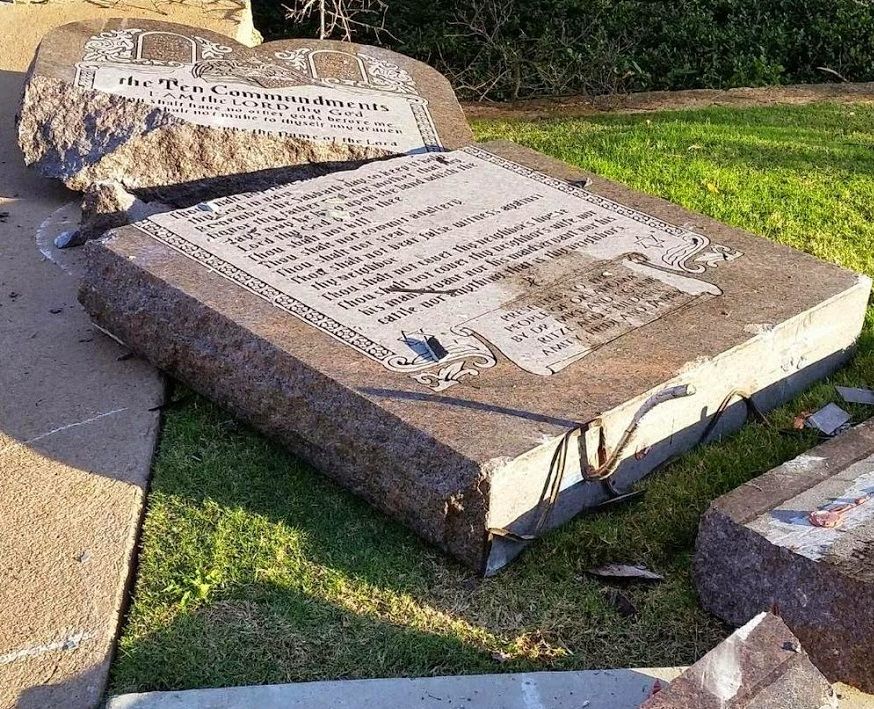 Little Rock, Arkansas A man has been accused of destroying a statue of the Ten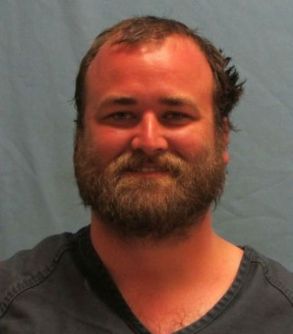 Commandments that had been erected on the grounds of the Arkansas State Capitol less than 24 hours prior. Thirty-two year old Michael Reed deliberately crashed his car into the monument, streaming the action on Facebook Live. The video, linked below, shows him position his Dodge Dart in front of the building, yelling "Freedom!" then accelerating across the lawn straight into the statue.
The 6-foot tall, $26,000, granite structure, purchased through private donations, was reduced to three broken chunks and a cloud of dust. Reed was arrested on the spot by the Capitol Police. He faces 3 charges:
trespassing on Capitol grounds

criminal mischief in the first degree

defacing an "object of public interest."
In a video made before the incident, Michael Reed describes his motivation. He first affirms that he is a Christian and believes that everyone should find salvation through Jesus Christ. Despite this, he considers the erection of a monument to a religion to be a violation of the separation of church and state.
State Senator Jason Rapert held a press conference shortly after the destruction of the idol. He bemoaned the hatred of Christianity that he says compelled Reed, a Christian, to act. He also announced that a replacement is in the works.
The Controversy
If you wander into the comments section of any website covering this story, including this one, you will no doubt see a wide variety of responses to Reed's actions. You're likely to see views from vehement anti-Christians cheering for Reed, to those that agree with his sentiments but not his actions, and everything in between.
One interesting and somewhat popular response is that of Christians proclaiming that Reed was not a real Christian because of his actions. There is, of course, no designated person who gets to decide who is and who is not a Christian. One can only imagine that this view stems from the notion that all real Christians agree on everything; this is simply not the case on a wide variety of topics.
Some, for example, believe the Bible (and thus the Ten Commandments) should play a fundamental role in American civic policy, creating a sort of Christian caliphate, if you will. One such person would be Sen. Rapert, who one day before the incident said, "We have a beautiful Capitol grounds, but we did not have a monument that actually honored the historical moral foundation of law." This statement implies that no civilization outside of Judeo-Christianity has arrived at conclusions similar to those espoused in the Ten Commandments, such as the notion that murder is wrong. This is plainly false.
Opening the Door
These arguments online mirror actual legal battles on this very issue. In 2012, Rep. Mike Ritze of Oklahoma had a monument of the Ten Commandments installed on the grounds of the state capitol which sparked a similar controversy. As with the Little Rock case, the structure was privately funded, and thus allowed on public grounds.
In response to Ritze, the local Satanic Temple decided to donate a monument of a demonic goat figure with children at his feet. Their stated rationale was that they wanted to provide a monument for visitors to compare and contrast with the Christian statue, but it is likely that their aim was at least partially to point out the self-centered absurdity of putting religious iconography in a civic space.
The Constitution does not allow for governmental favoritism when it comes to religion; that's what this country was founded upon. If you can have Christian idols, you must allow Muslim statues, Baha'I monuments, and Satanic structures as well.
Oklahoma City's Capitol Preservation Committee agreed and allowed the installation of the demonic goat and his child acolytes. When Ritze argued that his statue had historical significance because the commandments are the foundation of American law, the Temple answered back:
"It absolutely has historical value. Of course, everybody knows that we didn't invent the idea of Satanism, but the idea that the Ten Commandments has some premise in Constitutional Law, at no point in our history did Constitutional Law take seriously commandments such as, 'Thou shall have no God before me,' or, 'Thou shall not worship graven idols.' Not only would a Satanic monument send a clear and distinct message that America respects plurality, freedom of religion, freedom of speech "
Given that Arkansas, like Oklahoma, cannot offer special treatment to one religion over another, perhaps Reed could have organized other groups to erect monuments of their respective faiths as a way to protest the perceived focus of the capital on Christianity. That would be a more peaceful way to dissent without having to violently disrespect those that put up the Ten Commandments. In Oklahoma, both monuments ended up being removed since folks would rather take down the Christian statue than allow a Satanic one. Perhaps the same thing would have happened in Arkansas.
While Reed champions the separation of church and state, it is worth noting that according to a 2005 Supreme Court decision, statues of the Ten Commandments do not violate the 1st Amendment of the Constitution. But then again, neither does running them over.