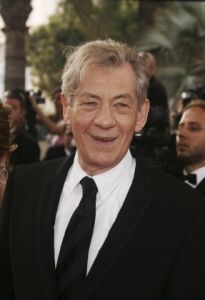 Sir Ian McKellen is no stranger to performing. The Shakespearian actor knows how to bring great drama, and make you hang on every word. He will be putting these skills to good use when he performs the wedding of his long-time friend and fellow actor, Sir Patrick Stewart, with his ULC Monastery ordination.
That's right: with the minds of geeks exploding everywhere, Magneto will officiate the wedding of Professor X. Though the two met in 1977, their friendship was galvanized after they starred in Bryan Singer's X-Men in 2000, and they will again share the screen for the time-traveling sequel/prequel, X-Men: Days of Future Past.
This won't be the first ceremony McKellen has performed. He has already earned his bone fides by performing a commitment ceremony for a couple in England, noting that the experience moved him to tears.
To officiate in the United States, McKellen has become an ordained minister with the ULC Monastery and obtained his credentials. Stewart and his fiancé have yet to announce many details on their nuptials, but McKellen is prepared, as he noted in a candid BBC television interview, "you musn't upstage the bride."
Sources:
ABC News, Huffington Post, NY Times, LA Times, Chicago Sun, Wired Magazine, Buzzfeed