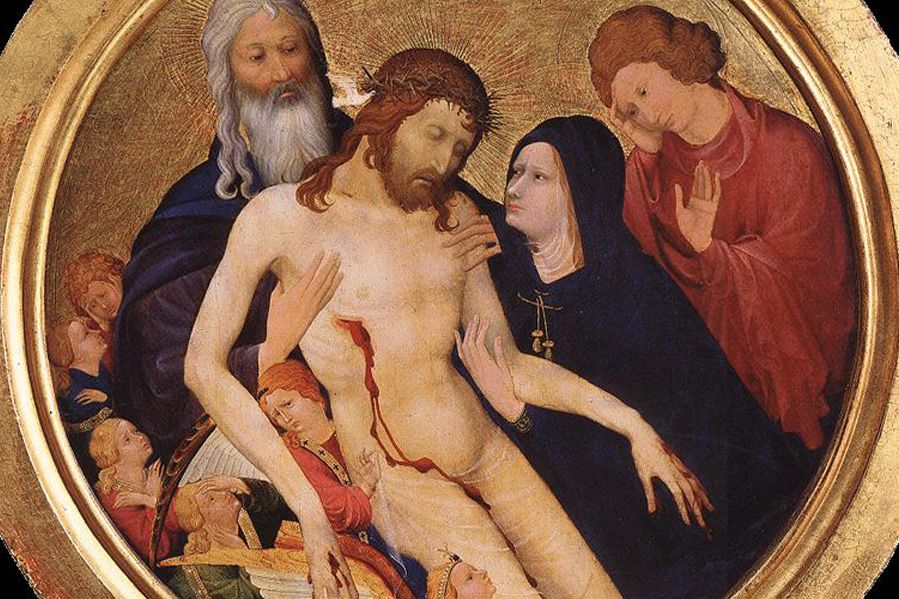 What should we make of the idea of a "transgender Jesus?" A research fellow at the University of Cambridge wants people to consider the thought.
During a recent sermon, junior research fellow Joshua Heath shocked his audience at the Trinity College chapel by making the case for a trans Jesus.
Congregants left the Sunday service in tears crying "heresy," but religious leaders at Cambridge University are defending the message, arguing that the speculation is "legitimate" and "thought-provoking."
So, what did Heath present as evidence for this claim?
Jesus Embraces The Feminine
Heath used a number of feminine artistic depictions of Jesus throughout the medieval era to make the claim that Jesus had a "trans body."
Pointing to Jean Malouel's 1400 painting Pietà, he asked the audience to consider why the blood in the painting flows from Jesus' chest into his groin. Could this be symbolic of the menstrual cycle? 
Heath also argued that the depiction of Jesus' spear wound in the 14th-century Prayer Book of Bonne of Luxembourg "takes on a decidedly vaginal appearance."
"In Christ's simultaneously masculine and feminine body in these works, if the body of Christ as these works suggest the body of all bodies, then his body is also the trans body," Heath suggested.
Parishioners Cry Foul
Some worshippers did not take kindly to the notion that Christ's body could in any way be symbolic of, or linked to, the transgender movement.
Reports state that many people – including children – were "visibly uncomfortable" with the discussion about Christ's crucifixion being connected to transgender identity. 
According to a source at the service, some people even cried out "heresy!" as they left the chapel in disgust. 
Evangelical leader Franklin Graham has gotten wind of the story and published a statement calling the sermon "repulsive and shameful."
Dean Plays Defense
"I left the service in tears," wrote one anonymous churchgoer in a letter to the Dean of theology at Cambridge University, Dr. Michael Banner.
"You offered to speak with me afterwards, but I was too distressed. I am contemptuous of the idea that by cutting a hole in a man, through which he can be penetrated, he can become a woman," they wrote, describing it as a "heresy for our age."
But Dr. Banner (who is also a reverend) feels differently, insisting the sermon's speculation was "legitimate." The dean holds the service was not intended to "shock or offend," but to explore a "thought-provoking academic inquiry."
Is Jesus Trans?
Regardless of the speaker's intent, the idea that Jesus Christ might have been transgender is gaining traction in some circles.
And in fact, the idea that Christ's depiction in Renaissance art is evidence of transgender identity might be more popular than you think.  
In case you're interested, this Twitter thread details queer readings of both biblical text and medieval Christian art:
But that's not the only example. Last Christmas, a German Bible museum portrayed Christ as a transgender woman in a play just weeks before Christmas.
And earlier this year, a prominent Baptist reverend claimed that Jesus was smashing gender norms and "transgenders himself" by washing the feet of the apostles' feet.
As modern scholars continue to explore gender identity and sexuality – particularly around transgender people – it's no surprise that some are looking backward to challenge preexisting beliefs on the subject. 
But is any discussion of Jesus' sexuality or gender identity off-limits… or even blasphemous? Or is exploring the idea that Jesus was transgender acceptable? 
When it comes to religious beliefs, where is the line?