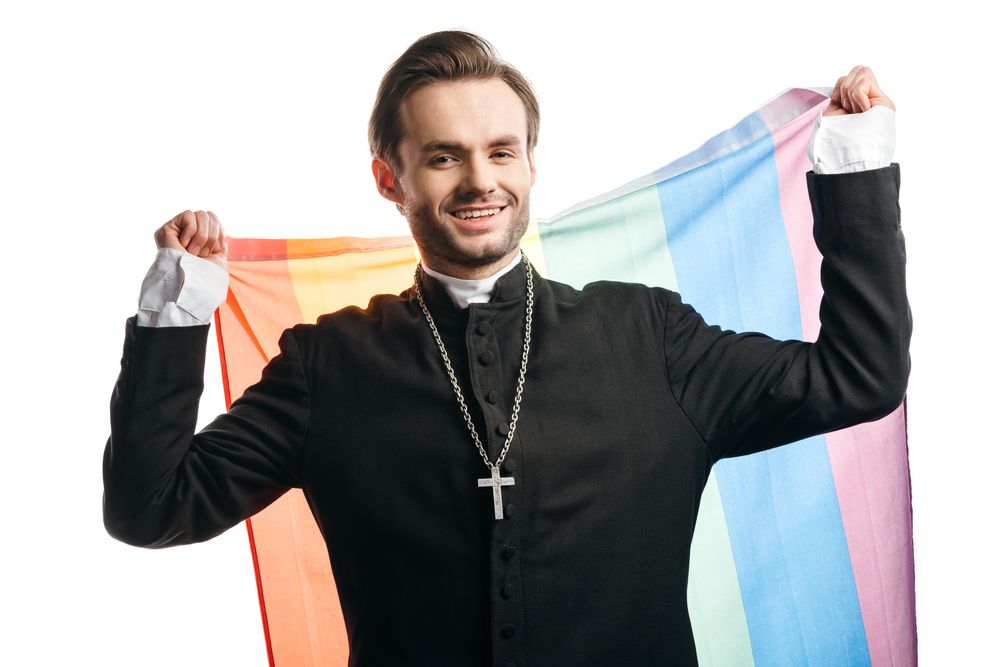 It's no secret that many Christian denominations find themselves at odds with the LGBTQ+ community. 
From protests over pronouns to clashes over drag queens reading books to children to businesses refusing to serve gay customers, Christians are often at the forefront of clashes with the LGBTQ+ community. 
But are these churchgoers as anti-LGBTQ+ as the headlines suggest?
A new report is shedding some light on that question, and interestingly: the answer might depend on whether they're in the pews or behind the pulpit. 
Pastors More Supportive Than Congregants
The recent study from the Public Religion Research Institute (PRRI) reveals a major disparity between pastors and their congregants when it comes to views toward the LGBTQ+ community. 
According to the poll, 90% of church leadership across the seven largest Protestant denominations support laws protecting the LGBTQ+ community from discrimination. That is a whopping 19% more than their congregants, who only support such legal protections at a rate of 71%. 
When asked about gay marriage, the disparity becomes even clearer. From the poll: 79% of pastoral leadership support gay marriage, but only a slim majority of American churchgoers – a scant 52% – are in favor.
As expected, the difference between urban and rural communities also plays into this divide. The poll found that city-dwelling church leaders and churchgoers were more likely to support the LGBTQ+ community than their rural counterparts.
So, it would seem there's a growing divide between church leadership and their congregants on LGBTQ+ issues. Why is that? 
Disparity in Education
Some theological experts argue it comes down to a matter of education. 
"Clergy in mainline denominations are more likely than their parishioners to have theological and biblical training that makes them familiar with a wider range of interpretive options," explains University of Notre Dame philosophy professor Michael Rea. 
"General trends in the USA in the last decade suggest that those who are college-educated and hold professional degrees… tend to be more liberal on questions of gender and sexuality in particular," adds University of San Diego religious studies professor Jacqueline Hidalgo. 
Apparently, that trend extends to clergy and church leaders. 
Ticking Time Bomb?
Disagreements over LGBTQ+ issues are already putting immense pressure on churches across the country. To cite just one recent example, controversy erupted last year after a Florida church invited a drag queen to give a guest sermon. 
Now, the results of this latest poll have some people predicting future conflict in many faith communities.
Experts say there is a real possibility of escalating tensions between the pulpit and the pews – especially given how fraught discussions about LGBTQ+ issues have already become in religious circles.
What do you make of the poll? And what are your predictions for the future?