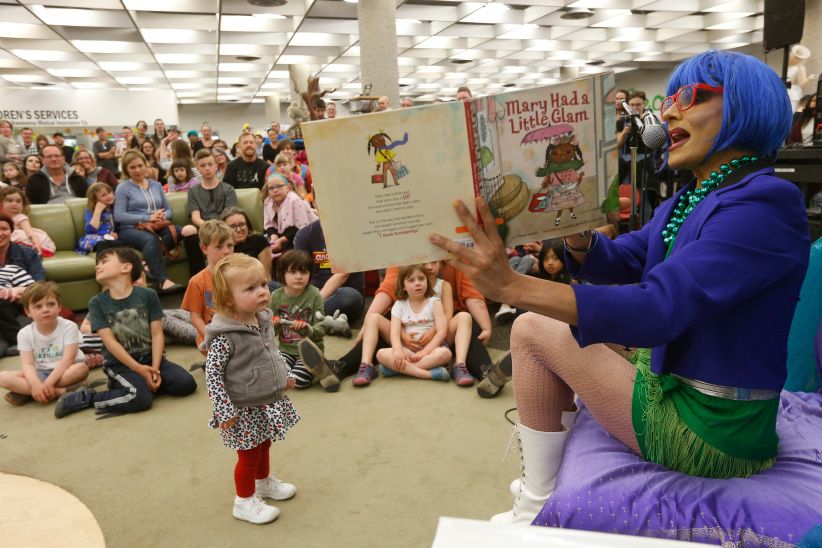 ---
Houston Public Library's Drag Queen Story Hour has proven to be a step too far in the progressive direction for some conservative religious groups. True to its name, the popular event consists of drag queens dressing up and reading stories to children at the library. But opponents argue the program is "perverting" children's minds and "recklessly promoting LGBT doctrine."
A group of these opponents, calling themselves "Christ-followers," have now filed a lawsuit alleging that the city of Houston is violating their religious freedom by allowing the drag queens to hold events at the public library.
Destigmatizing Drag
Launched last summer in Houston's historic gay enclave of Montrose, the reading events remained largely uncontroversial until recently, when religious activists began showing up to voice their disapproval.
Organizers and supporters of the city-sponsored program insist that it has real benefits for children. First, they point out that it exposes kids to the LGBT community in a fun and education-focused atmosphere. Second, it gives them positive LGBT role models to look up to. And finally, it presents an alternative to traditional gender roles by normalizing gender fluidity.
"Drag queens and children don't usually get together, which I think is a shame and one of the benefits of a program like this," a rainbow-clad drag queen explained to reporters.
A Hidden Agenda?
However, those behind the lawsuit view such explanations as buzzword-heavy manipulations meant to distract from a larger goal: leading children away from the Bible and its traditional teachings. They're demanding a federal judge put a stop to the reading events because they unfairly promote one ideology over others. When asked for clarification, the group pointed out that the library has no competing "man-woman marriage storytelling hour."
The so-called "Christ followers" include Chris Sevier, a local man who is best known for filing a lawsuit demanding the right to marry his laptop in protest of gay marriage. Interestingly, according to court records, another churchgoer backing the lawsuit had a previous husband leave her for a transgender woman.
The Show Must Go On
Despite the legal challenge, the group behind the Drag Queen Story Hour appears resolute and determined to continue their work. And there's plenty of work to be done. Originally created in San Francisco, DQSH now has 40 chapters and has held events in more than 100 cities around the world. A GoFundMe Page has declared a peaceful campaign against its detractors, fending off numerous protests and other organized efforts meant to derail its mission.
"We believe that reading is indeed fundamental, and while DQSH may not be for everyone, we're committed to standing up against hate and censorship one library at a time," the group wrote. Both sides now await the outcome of the lawsuit.
What do you think? Does Drag Queen Story Hour really constitute a violation of religious freedom, or should public libraries be given the freedom to host whatever events they choose?
[Update 10/26]: A federal judge dismissed the lawsuit, ruling that there was "no basis" for the religious group's arguments. One of the plaintiffs, Houston businessman Tex Christopher, told reporters that the fight is not over; he plans to keep pursuing the matter in court.