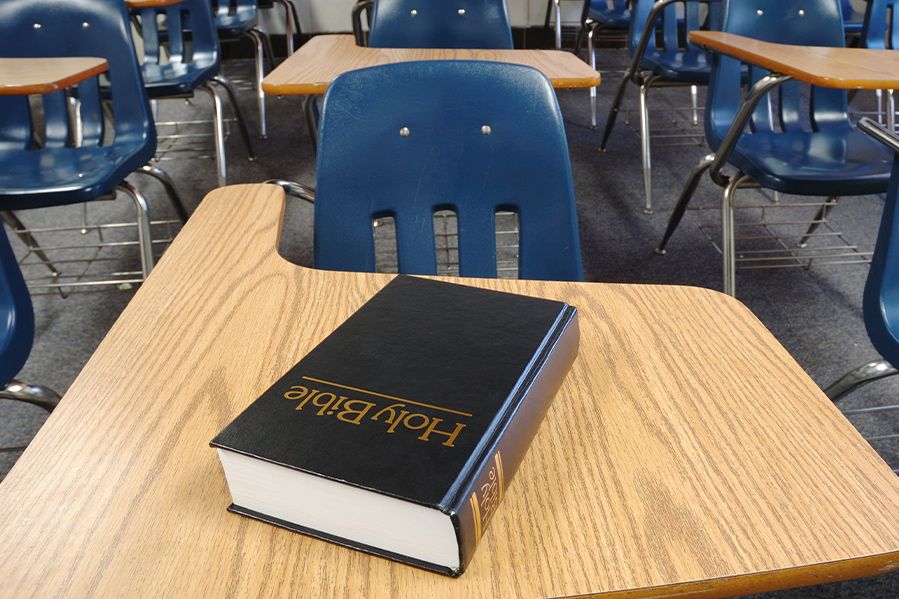 More than 100 students at a West Virginia high school staged a walkout after an optional evangelical revival assembly turned out, they say, not to be so optional after all. 
The incident occurred at Huntington High School, where a traveling evangelist named Nik Walker gathered students together during a study break. Walker prayed with students, encouraged them to visit his church to get baptized, and allegedly told them that if they don't give their lives over to Jesus Christ, they'll be sent straight to hell when they die.
And while the event was intended to be voluntary, two teachers brought their entire classrooms to the assembly, forcing dozens of students to take part in a Christian ceremony they never wanted to attend.
Over 100 students in the Huntington district staged a walkout in response, chanting "Separate the church and state" in protest.
A Not So Optional Assembly
One of the students who attended the assembly against his will, an unnamed Jewish student, asked his teacher if he could leave. According to the student's mother, Bethany Felinton, the teacher said that students shouldn't leave because their classroom door was locked, and she recalled that her son felt he should stay at the assembly, lest he disobey his teacher.
During the assembly, another student there against his will, Cameron Mays, texted his father to ask if the Christian revival on school grounds was even legal.
It's clear that at least some of the students at the assembly were uncomfortable with how cozy the school district is with evangelical Christianity, and that some of them felt they were coerced into attending against their will. 
The school district claims the teachers were reprimanded appropriately and that this sort of thing won't happen again, but some students aren't buying it – and they're making that very well known.
Protesting Religion in Schools
Students carried homemade signs and chanted "Separate the church and state" and "My faith, my choice." One student, Max Nibell, drafted a petition that he intends to present to the Cabell County Board of Education.
He's calling for the school board to apologize to the affected students and their families, strong disciplinary action against the teachers involved, and for an official school board policy on what religious events and speakers are allowed on school grounds.
At least some of the students, however, welcomed the school revival.
Advertising Baptism
During the assembly, Walker encouraged students to bring their families to Christ Temple Church to be baptized. And according to him, more than 200 students did so.
Walker says he just wanted to address a "hopelessness" he saw in the Huntington community. He only intended to stay three days, he says, but it quickly became clear to him that the area – struggling with addiction – was in need of salvation.
He pointed out that he didn't reach out to the school; they reached out to him.
What do you think? Is this a flagrant violation of the separation of church and state, or is there actually some context in which a religious leader should be in a school proselytizing?