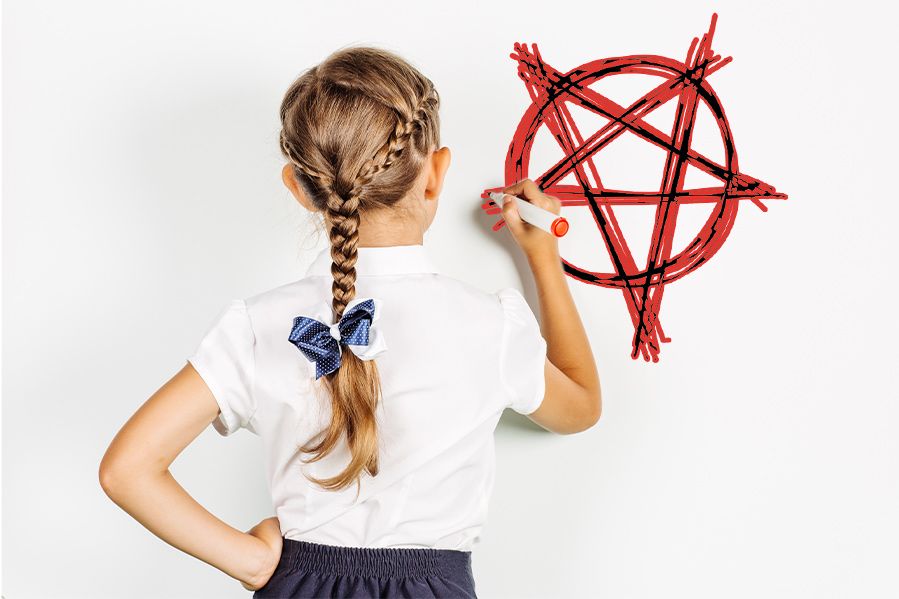 Should Satanism be taught to elementary students after school? An after-school Satan Club in an Illinois school is prompting outrage from parents and religious groups alike.
But they say they're well within their rights to bring Satan to children, arguing the law is on their side.
What the Hell?!
It all started last month in Moline, Illinois, when parents noticed flyers advertising an "after-school Satan club" around the school. Jane Addams Elementary students were invited to attend five different meetings of the After School Satan Club in early 2022, with presumably more to come in the future.
The flyers, featuring a cartoon Satan, chemistry-doing Baphomet, and cutesy blue border, advertised things like: "Science Projects! Puzzles & Games! Arts and Craft Projects! Nature Activities!"
Many local parents were unamused. Others were downright mad, and promptly complained to school officials. For its part, the school district basically told them "sorry, there's nothing we can do." 
"Religiously affiliated groups are among those allowed to rent our facilities for a fee. The district has, in the past, approved these types of groups, one example being the Good News Club, which is an after-school child evangelism fellowship group," the district's official statement read. "Please note that the district must provide equal access to all groups and that students need parental permission to attend any after-school event."
Parents and concerned community members have apparently protested each meeting of the after-school Satan Club so far, despite reports that only a handful of students were in attendance.
Careful What You Wish For
How did this come about?
The origins of this controversy can be traced back to a 2001 case involving Good News Club, a religious initiative "whose purpose is to evangelize boys and girls with the Gospel of the Lord Jesus Christ," according to their website. The Good News Club sued a New York school district after their request to use school facilities after hours was denied on the grounds that they're a religious organization.
The case went to the Supreme Court, which ruled that preventing after-school programs sponsored by religious groups was a violation of free speech. Within ten years, Good News Clubs were hosting after-school programs in thousands of schools across America. 
The After School Satan Club appears to be a direct response to this initiative – an alternative, non-Christian space for children to gather. The club claims to "give children an appreciation of the natural wonders surrounding them, not a fear of everlasting other-worldly horrors."
While the exact curriculum of the clubs is not known, flyers passed around the school stressed that students would learn scientific reasoning and rationality, as well as empathy and creative expression. "Satan Club does not attempt to convert children to any religious ideology," and instead "supports children to think for themselves," its organizers say. 
What do you think? If Christian after-school programs are permitted, is it only fair that other faiths should be represented, too? Or should children be protected from "Satanic" teachings?