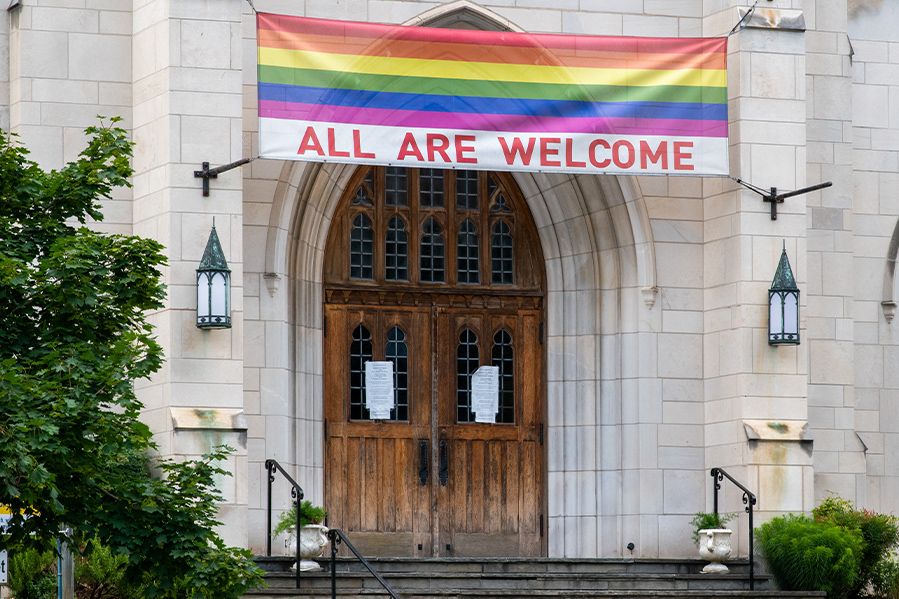 Faith leaders in Portland, Oregon say that the church isn't doing enough to include the LGBTQ community – and at least one congregation is making small changes to make their LGBTQ parishioners feel more welcome.
It's no secret the queer community and traditional branches of Christianity haven't always seen eye to eye.
Faith groups were some of the primary opponents of legalizing same-sex marriage prior to the landmark Supreme Court case in 2015. And more recently, they have led the charge on removing books with LGBTQ themes from public school library shelves.
But some faith leaders think it doesn't have to be this way. They say the church can be an ally to the LGBTQ community, and now they're putting their money where their mouth is.
Siblings in Christ
Saint David of Wales Episcopal Church in Portland, Oregon is one church that's trying to foster a more welcoming environment for queer Christians by making lots of little changes.
All bathrooms in the church are gender-neutral now, for example. Members of church leadership wear name tags that display their pronouns. And instead of using gendered language like "brothers in Christ," they're instead saying "siblings in Christ."
They just want queer parishioners to know that "we're excited that you're here," says associate rector AJ Buckley.
Through the (Gendered) Looking Glass
It's all part of a wave of church leaders approaching gender and sexuality issues in scripture from a more understanding and open-minded angle.
But some are going further, arguing for an entire reorientation of how we view Christianity. Theologian Shannon TL Kearns argues that modern society has interpreted scripture largely through one perspective: that of "white, cisgender heterosexual men." 
That reading, they say, has turned the Bible's complex explorations of gender into a simplified and narrow narrative.
"The world of gender in the Bible is much more complex than I was taught growing up as an evangelical," Kearns says. "We have women who are judges. We have men who spend their time in the kitchen. There are eunuchs, which were considered this kind of other third gender."
Biblical Double Take
Kearns says it's time to reevaluate certain biblical texts. He points to the story of Sodom and Gomorrah in Genesis, which has long been interpreted as anti-homosexuality.
But by shifting one's perspective, it could just as easily be argued that the sin of Sodom wasn't homosexuality – it was inhospitality (interestingly, a ULC Minister argued this very same point in a guest sermon earlier this year).
It's all about refocusing your point of view, says Baptist minister Robyn Henderson-Espinoza. Once you view the Bible as "the story of a brown, Palestinian Jew who was executed by the Roman Empire," the narrative of Christianity becomes a struggle of oppressor vs oppressed, they say.
Members of this vanguard of inclusive faith leaders ask: couldn't that also apply to the LGBTQ community of today?
What is your reaction?