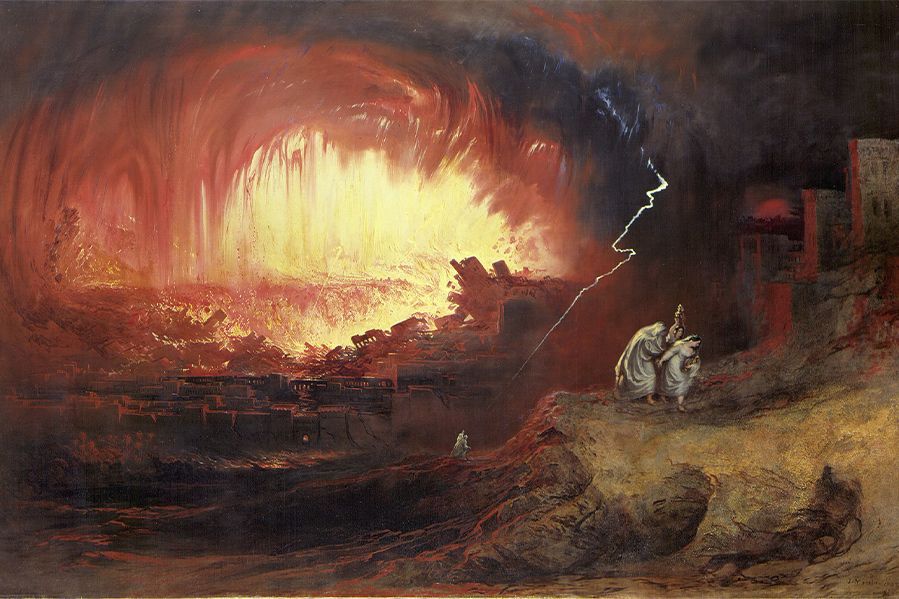 The following guest sermon was submitted by ULC minister Corey Collins. All ULC Ministers are invited to contribute their own sermons for consideration/publication. To submit a sermon, please email it to sermons@ulc.org.
---
"It's Adam and Eve, not Adam and Steve" goes an old homophobic schoolyard saying. The Bible has long been used as a cudgel against the LGBTQ community, used to paint their "lifestyle" as immoral and unholy.
"But the Bible says homosexuality is bad" is at the root of nearly every anti-gay law in this country, from the legal fight against marriage equality to preventing gay couples from adopting children to keeping trans people out of the correct bathroom.
And one Bible story is at the center of much of the anti-gay fervor in Christian communities: the story of Sodom and Gomorrah, two ancient cities that God destroyed for their wickedness.
The sin of Sodom has long been interpreted as homosexuality. The English-speaking world sure took that definition and ran with it, as "sodomite" became a pejorative term for gay men, and "sodomy" a synonym for gay sex.
But biblical scholars aren't so sure. In fact, many now say that the sin of Sodom wasn't homosexuality at all, but inhospitality.
God Hates... Inhospitality?
First, a CliffsNotes version of Sodom and Gomorrah:
God tells Abraham that He's going to destroy Sodom and Gomorrah for their sins. Abraham begs God to spare his nephew Lot and other righteous people in the cities, and God agrees to spare them if ten righteous men can be found.
Two angels (disguised as men) meet Lot in Sodom, and Lot graciously lets them into his home, but the men of Sodom surround his house and demand to "know" the angels – in the biblical sense. Lot offers his virgin daughters instead, but this angers the mob. The angels strike the mob blind, Lot and his family are evacuated, and God rains sulfur down on Sodom and Gomorrah as punishment for their sins.
For centuries, Christians have narrowly interpreted the story to mean that God destroying Sodom because of the Sodomites' desire to rape the angels is an anti-gay message, rather than an anti-violence, anti-rape, anti-hatred one.
There is further biblical evidence to back this claim up; Ezekiel 16:49 reads:
"Now this was the sin of your sister Sodom: She and her daughters were arrogant, overfed and unconcerned; they did not help the poor and needy."
This evidence suggests that the primary sin of Sodom was inhospitality. Sodomites were a proud people, who refused to help weary travelers in need. Rather than welcome strangers into their town, they immediately try to rape them. 
Hebrews 13:2 puts a point on it:
"Do not neglect to show hospitality to strangers, for by doing that some have entertained angels without knowing it."
The Real Sodomites
One must put this all in historical and cultural context for the explanation of inhospitality beyond the Sodomites' destruction to truly make sense. At this time, in this part of the world, showing hospitality to strangers was a moral obligation. Travel was tough, and travelers were not only subjected to blistering heat during the day and freezing temperatures at night, but also at risk of hunger, thirst, robbery, and violence on the road.
The Sodomites showing such radical inhospitality to the angels was the grave sin that provoked their punishment – an interpretation that many modern biblical scholars now side with.
And yet because of this fundamental misreading, modern Christianity remains violently inhospitable to the LGBTQ community.
We hear phrases like "hate the sin, love the sinner"... but the nasty rhetoric against gay people continues. And in some cases, it's even getting worse. 
Christian lawmakers in certain places have prevented loving gay parents from adopting. Now, there are some concerns that the Supreme Court could potentially overturn gay marriage.
What's more inhospitable than that?
Here's the uncomfortable truth: those who would use the Bible to beat down the LGBTQ community are – ironically – the real Sodomites.