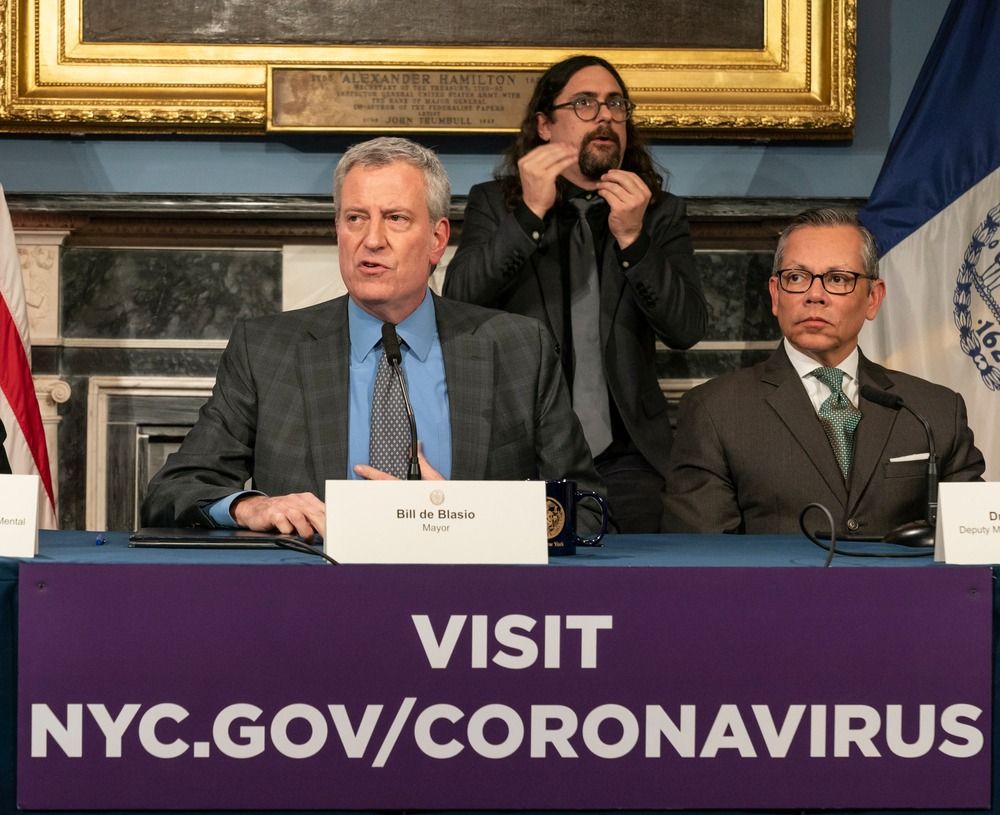 New York City is currently the epicenter of the COVID-19 pandemic in the United States, with more than 36,000 confirmed cases and nearly 800 deaths. The shocking death toll caused New York Governor Andrew Cuomo to take a step mayors and governors across the country are doing: implore citizens to stay at home, and shuttering thousands of businesses in an effort to flatten the coronavirus curve. But Mayor de Blasio did him one better: He said that places of worship that don't comply with the shutdown order could receive fines - or even be closed permanently.
While the majority of worship spaces have shut their doors throughout the state, de Blasio said that "specific churches" and "specific synagogues" are "unfortunately not paying attention to this guidance."
Mayor de Blasio said that if churches refuse to comply with the shelter-in-place order, police and the fire department will enforce it for them.
As you might imagine, not everyone is thrilled.
A Constitutional Violation?
Indeed, some religious leaders are positively incensed at the order. They say that involving the police and forcibly shutting down services, and even potentially arresting priests and rabbis, is a direct threat to their religious freedom. They worry that the government forcibly closing their places of worship is denying them their first amendment right to the free practice of religion and therefore unconstitutional.
Prominent Christian radio host and writer Michael Brown wrote an editorial for the Christian Post, where he said he agrees with the shelter-in-place order, and even arrests and fines. But shuttering church doors forever is simply a bridge too far. "With all respect, sir, and meaning no insult," he began, "this sounded to me like a frustrated parent, upping his threat to his kids when they do not obey. In this case, not only does the punishment not fit the crime but the punishment, to my knowledge, is both illegal and unconstitutional."
Another prominent Christian who disagreed with the order is conservative columnistTodd Starnes, who said, "There's no doubt that churches should take reasonable precautions to protect their congregations. It's prudent to cancel services or move to online worship. But the government has no right to dispatch 'enforcement agents' to literally shut down houses of worship in the name of public safety."
Desperate Times
Still, even with the frustration and outrage over potential fines and closures, it's important to keep in mind that Mayor de Blasio is ultimately trying to stop the spread of a virus that has ravaged his city. 
After all, places of worship have been a hotbed for the spread of coronavirus.
And those in de Blasio's corner say that individual faiths aren't being targeted, and that no one is prevented from practicing their faith at home. And with tens of thousands of lives at stake, city authorities are within their constitutional rights to temporarily close churches - and enforce that with strict punishment for violators.
After all, the initiatives that the Centers for Disease Control and Prevention (CDC) have outlined for the COVID-19 virus exist fora reason. They are designed to limit the amount of possible transmission of the virus among community members as it is highly contagious and it's possible to have the virus for up to 14 days before showing symptoms. 
Through social distancing, banning large gatherings and events, and encouraging citizens to stay home, medical experts hope to slow down the number of infected patients so that medical facilities do not get overwhelmed by the number of patients that need treatment. When hospitals and care facilities run out of resources such as hospital beds and ventilators for patients in critical conditions, death tolls spike due to a lack of resources - as we've seen in Italy over the past month.
Safety First, or First Amendment First?
De Blasio does not appear to be backing down in the face of his critics. As his city continues to fight a pandemic that is quickly overwhelming the local healthcare system and threatening to cause the death of thousands more New Yorkers. 
What do you think? Should churches be closed during the COVID-19 outbreak - forcefully, if necessary? In the age of livestreaming, Zoom, Google Hangouts, and any other dozens of apps that can be used to congregate digitally, do churches remaining open have any excuse?
Or is this a case of the first amendment rights of millions of New Yorkers being violated by an overzealous politician?
How far can government go in times like these?