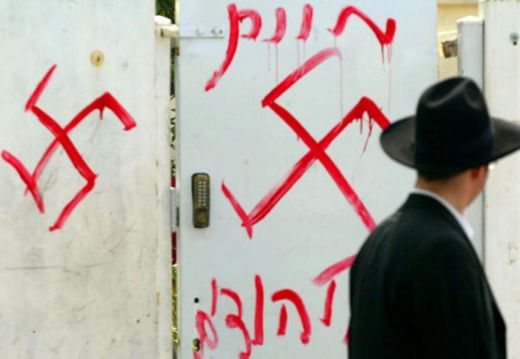 ---
When someone mentions a hate crime, you probably picture an abhorrent act fueled by racist or homophobic sentiments. And many hate crimes do follow such a pattern. However, recent data reveal that in some places contrary to popular understanding the group most likely to become the victim of a hate crime is Jews.
In New York City, for example, Jews account for roughly 18 percent of the population, and yet were victims in 44 percent of all hate crimes in 2017. That's far more than other often-targeted groups such as gays, Muslims, and African-Americans.
We were surprised to learn that things are no better up north. Across Canada, Jews were the most victimized group in 2016, with 221 total hate crimes committed against them. For comparison, LGBT individuals were targeted 176 times.
Anti-Jewish Sentiment on the Rise
Unfortunately, the problem extends far beyond the Big Apple and Canada. According to the FBI, Jews are "consistently among the top three most targeted groups" in America's largest cities, and anti-Jewish crimes are on the rise.
Statistics show that while Jews make up only 2 percent of the U.S. population, they are the victims of 11 percent of all hate crimes each year. When it comes to religiously-motivated hate crimes, the numbers get even worse. Jews were targeted in over 50 percent of all religious hate crimes in 2016 more than twice as much as Muslims.
This trend is highlighted by the wave of bomb threats made against Jewish Community Centers in early 2017. Around the same time, vandals also broke into Jewish cemeteries and toppled hundreds of headstones.
Why Are Jews Targeted?
Any student of history could tell you that anti-Semitic bias is not a new phenomenon. In Exodus, the Hebrew people were enslaved by the Egyptians out of fear of oppression due to the size of their population. In the early days of the Christian church, there was a lot of animosity between Christians and Jews. During the Reformation, Martin Luther promoted anti-Jewish sentiments. Hitler sought to exterminate Jews entirely.
But that's all in the past. Why are Jews still discriminated against? The easy answer is prejudice and intellectual laziness. For example, a common negative stereotype says that Jews are all rich, greedy, and want to control the world. Sadly, some people sincerely believe such theories and use them as justification for violence.
The Impact of Hate Crimes
Unfortunately, the impact of hate crimes extends far beyond the victims themselves. When one person is attacked for their appearance and/or beliefs, it puts the entire community on edge. For example, Jews who are fearful of violence may refrain from dressing in traditional clothing, thus inhibiting their right to freedom of religion. The fear of being attacked can also prevent people from gathering together to worship or build community.
Fighting Back
None of this is particularly uplifting, but it's important to talk about nonetheless. Only by raising awareness can we hope to shift attitudes and prevent the spread of prejudice. Hate crimes whether they be against Jews, Muslims, or any other vulnerable group are despicable acts which society must do a better job of preventing moving forward.