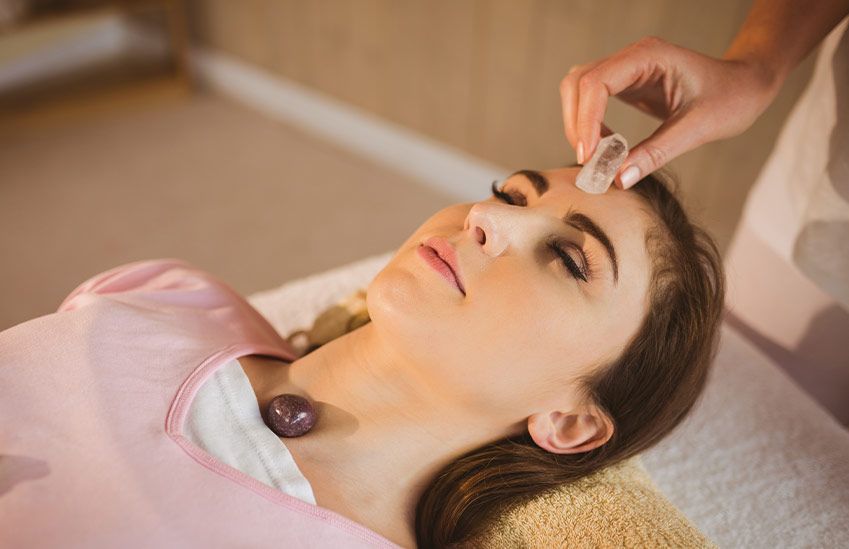 Move over, traditional medicine. There's a hot new trend in health and wellness: crystal healing.
Whether you're into alternative medicine or not, you've probably at least heard of crystal healing. It's an alternative healing technique that involves using crystals and stones to heal all manner of medical maladies. According to to practitioners, crystals and gemstones can do everything from boost your immune system, cure anxiety, and even improve your libido. Alternative healing gurus say that crystals encourage the flow of positive energy into your body while pushing out negative energy and its harmful effects.
Advocates teach that each crystal has specific properties it can imbue on its user and act as conduits for healing. Rose quartz, for example can supposedly help improve your romantic relationships. 
Despite the fact that alternative medicines like crystal healing have seen a surge in popularity over the past decade, scientists and medical doctors remain skeptical, to put it mildly. However, that hasn't stopped alternative medicine from becoming a billion-dollar industry, utilized by celebrities like Kim Kardashian and Adele.
Is there anything to this school of thought, or is it all a mirage?
Scientific Consensus
In the scientific community, nearly everyone agrees: crystal healing is a pseudoscience. Doctors and researchers say that there is zero evidence that suggests crystals can be used to cure disease. Disease is not the result of "energy flows" into or out of the body. Moreover, there is no geological evidence that suggests crystals differ in chemical composition, or that any one stone can treat a particular ailment.
But even if the physical healing properties are nonexistant, a few studies have shown that crystals can create a placebo effect that causes people to feel better. And perhaps the power lies in the eyes of the beholder: a 2001 study found that people already open to paranormal beliefs were far more receptive to crystal healing than those skeptical of the practice.
Though you'll be hard-pressed to find a doctor who will recommend crystal healing for any ailment, most researchers and MDs can agree that there is a very real power in placebos. According to a professor of medicine at Harvard Medical School, the therapeutic benefits of placebos can be both genuine and overwhelming, and they should be promoted, not dismissed.
Celeb Approved
Many celebrities have embraced crystal healing, despite its 'pseudoscience' label. Kim Kardashian said that her friends turned her onto crystals after she experienced a traumatic armed robbery in 2016:
"[I] got really into them. I'm around them more now, and it's been really cool. I don't have tons of them in my house, but they seem to give off an overall calm energy."
Adele also utilizes crystals, clutching one in her hand during performances to help calm her stage fright. And Kate Hudson has even incorporated crystals into her moisturizer line "to add a little extra energy."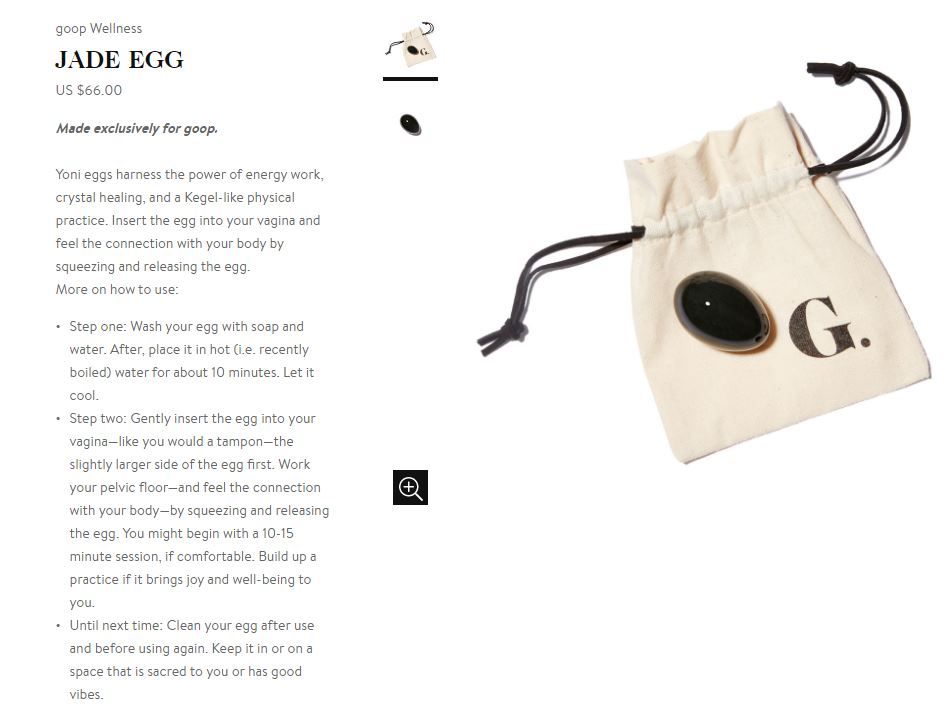 But no celebrity is more intertwined with crystal healing than Gwyneth Paltrow, who started a new-age company called "Goop" that markets a highly controversial Jade Egg product for women. Rather than put the crystal in the palm of your hand for healing, you put it where the sun doesn't shine.
The directions are simple, according to Goop: "yoni eggs harness the power of energy work, crystal healing, and a Kegel-like physical practice. Insert the egg into your vagina and feel the connection with your body by squeezing and releasing the egg."
This particular product has been a continued source of controversy for Goop, and the crystal industry in general. Goop even settled a lawsuit after being sued for false advertising for claiming the jade egg could balance hormones, prevent uterine prolapse, and boost orgasms. 
Not So Crystal Clear
Crystals and other New Age healing techniques have exploded in popularity in the last decade, and are taking becoming a bigger part of the health and wellness industry each year. With that wild growth and dozens of celebrities singing their praises, the crystal healing craze shows no signs of slowing down any time soon.
Yet neither are critics going away. Many view crystal healing as a harmful practice because it encourages untrained people to try to self-diagnose their own health issues and cure them at home, rather than seeking out proper medical care.
What's your take on alternative medicine and spiritual healing? Do crystals really carry spiritual energy that can be harnessed, or is it all sham?