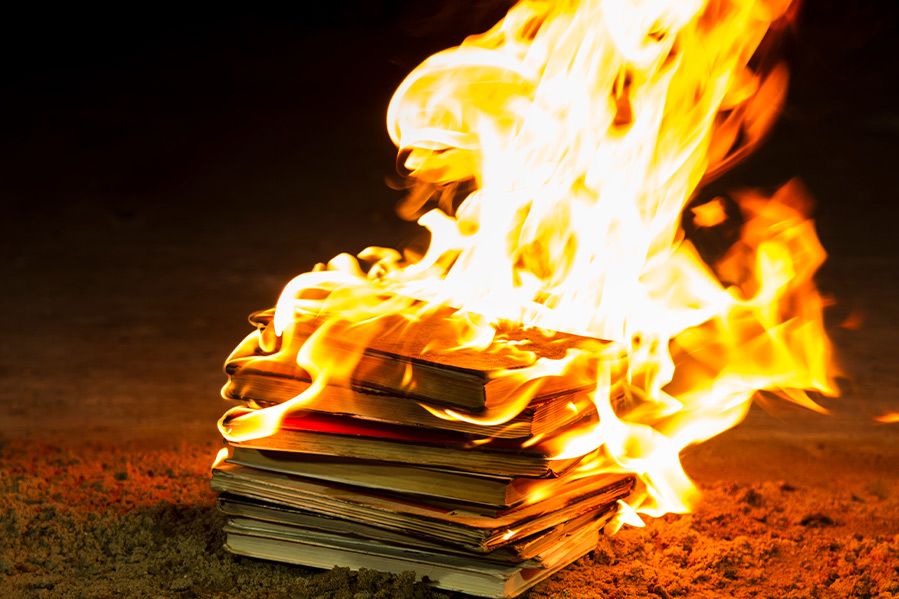 A Virginia school board has had it with "sexually explicit" books in school libraries, voting 6-0 to conduct an audit to remove any such titles from school libraries across Spotsylvania County.
And some school board members want to take things a step further: They'd like to see the offending books burned.
Books Get Dewey Decimated
The Spotsylvania County School Board has already instructed staff to remove several offending books following a complaint from local parents Christina and Robert Burris, parents of a Riverbend High School student. They were initially upset by the amount of LGBTQ fiction that they found on their child's school library app.
Then they discovered Adam Rapp's book "33 Snowfish", an award-winning book that includes adult themes such as sex, pedophilia, prostitution, and homosexual relationships. That was the final straw, apparently. The parents brought their concerns to the school board, saying that books with such explicit content simply do not belong in school libraries where teenagers can check them out. 
The board acted quickly in response. They voted 6-0 to remove all "sexually explicit" books from the school library, and are now planning a full audit of the library collection – a step that would likely result in many more books being banned. 
But for two school board members, even this response didn't go far enough. 
Fahrenheit 2021
"I think we should throw those books in a fire," said school board member Rabih Abuismail. "I guess we live in a world now that our public schools would rather have kids read about gay pornography than Christ."
"There are some bad, evil-related material that we have to be careful of and look at," said another board member, Kirk Twigg. "I'd like to see the books before we burn them so we can identify within our community that we are eradicating this bad stuff."
Criticism quickly mounted online, with some drawing comparisons to fascist regimes that engaged in book burning. 
Others drew parallels to the dystopian novel "Fahrenheit 451" and wondered where the efforts will stop.
Many are concerned that a crusade to ban all "sexually explicit" titles would mean the removal – and potential burning – of some very popular books that happen to have challenging themes. A few that have already been banned in other school libraries include:
The Handmaid's Tale

The Kite Runner

I Know Why The Caged Bird Sings
LGBTQ Titles Targeted
It's worth noting that books with LGBTQ themes have been the most targeted for censorship in recent years. According to the American Library Association, Alex Gino's novel "George" – featuring a transgender child – was the most challenged book in 2020. And in 2019, eight out of ten of the most challenged books had LGBTQ themes or content.
LGBTQ advocates say these books are crucial for gay teens, and that removing them from school shelves will only harm children, not protect them.
"Please, leave the queer books on the library shelves, where the queer teens can find them," said author Maia Kobabe, whose graphic novel "Gender Queer" has been banned in libraries across the country. "As a queer teen, I desperately needed them. And the queer teens of today need them too."
What is your reaction?