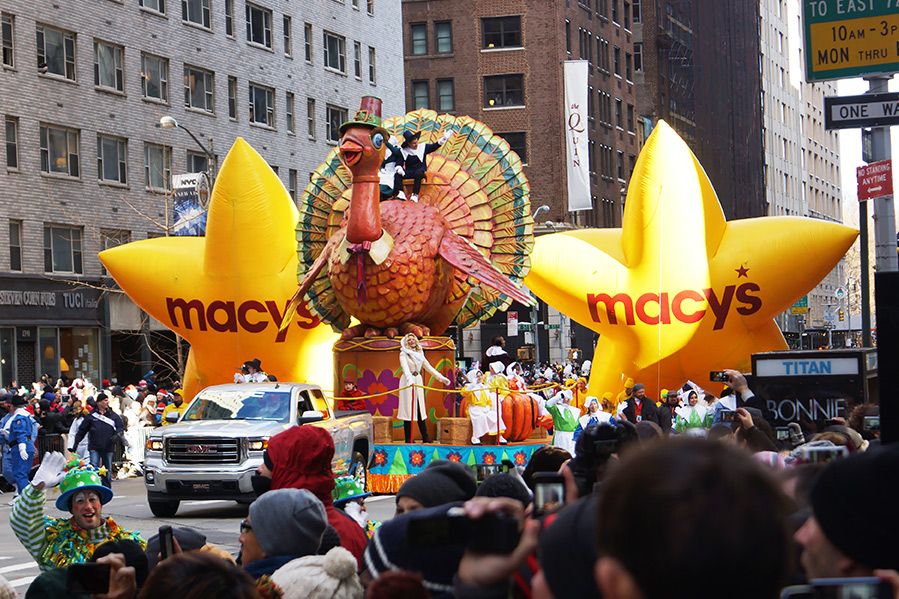 A "transgender extravaganza" is coming to your television on Thanksgiving morning during the annual Macy's Thanksgiving Day Parade – at least according to one activist group sounding the alarm bell.
No, Snoopy's not coming out. Rather, a handful of transgender and non-binary Broadway performers will be performing at the iconic New York City parade on Thanksgiving morning.
And unless they're stopped, they'll "potentially expose tens of millions of viewers at home to the liberal LGBTQ agenda,"  claims the pro-faith activist group One Million Moms.
Now, the group has reportedly started a petition hoping to stop the LGBTQ+ performers from participating in the nearly century-old parade.
A Transgender Extravaganza!
In asking for signatures, One Million Moms calls the parade "not family-friendly," and characterizes it as a "non-binary and transgender extravaganza."
They're asking supporters to sign a petition which reads, in part:
"I do not agree with the LGBTQ agenda you are pushing on families during your Thanksgiving Day Parade. My family and I will not watch this indoctrination. Since this event goes against our beliefs and values, Macy's has left conservative and Christian families with no choice but to avoid the parade and its stores, even during the holiday season. My family will not support Macy's; you have lost our trust."
The petition has over 30,000 signatures at the time of this publication. 
How the Conflict Started
The petition first began after it was announced that two Broadway performers who identify as non-binary, Justin David Sullivan and Alex Newell, would be included in the Thanksgiving parade festivities.
Both performers are expected to perform songs from the Broadway musicals "& Juliet" and "Shucked," which feature non-binary and transgender characters.
This decision apparently caught the attention of activist groups.
Kristen Waggoner, president of the Alliance Defending Freedom, appeared in a news segment criticizing the move:
Waggoner says:
"Right now, we're seeing in the entertainment industry at Disney's hands, as well as even in our school system, we're seeing propaganda being waged that plays out in secret transitions that are being facilitated without parents' knowledge. We're seeing curriculum and books that are being used in classrooms designed to confuse children about who they are and who God created them to be… it's an issue of parents saying, 'We're here to parent.' And this ideology isn't just existing in a theory or a vacuum, it's playing out on the ground, so it's very destructive."
In response, Macy's issued a statement to its critics and confirming their commitment to Sullivan and Newell.
"Every performer and volunteer is there with one mission — to entertain millions of spectators and kick off the holiday season," it said. "We look forward to celebrating this iconic Thanksgiving tradition again next week."
Raining on the Parade
As for the parade itself, there have been a range of reactions. 
"Well, made that decision easy," wrote one commenter. No Macy's Day Parade on the TV in our house… Nice tradition just bit the dust."
Another person called for a boycott similar to the one waged against Bud Light after it ran an ad campaign featuring transgender influencer Dylan Mulvaney earlier this year. "People, just like with Bud Light, vote with your dollars," they said. "Simply stop shopping at Macy's. I did."
However, others announced their support for including non-binary people in the Thanksgiving parade.
Numerous LGBTQ+ news outlets criticized the petition as "sensationalist" and "alarmist."
Another (perhaps surprising) group who may be supportive of the Thanksgiving parade: pastors. A recent report shows that church leaders are significantly more likely to support the LGBTQ+ community than their congregants. 
Still other commenters pointed to high representation of the LGBTQ+ community in the theater.
"Imagine thinking that an event that ALWAYS has Broadway dance numbers in it will be totally heterosexual…" wrote a user on Reddit.
What do you make of the controversy? Does the presence of LGBTQ+ performers in the Macy's Thanksgiving parade pose a danger to families, as critics claim? Or are these concerns overblown?