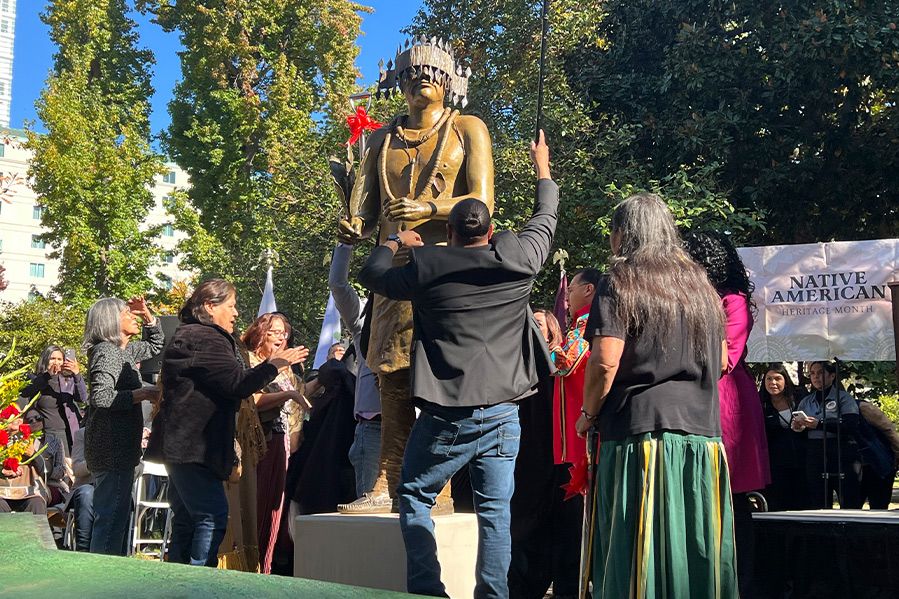 California just unveiled a new monument outside the state Capitol building, replacing a previous statue torn down by protesters in 2020.
The statue of Junipero Serra, an 18th century Catholic priest and missionary, had long been a flash point for Native American activists.
They argued that the priest, who was canonized in 2015 by Pope Francis, was actually a brutal abuser who forced Catholic conversion on the indigenous population.
Now, a new statue has been erected in its place, this time honoring Native American heritage.
Out With the Old
The statue of Serra, created in 1967 by the artist Maurice Loriaux, was one of many statues toppled by racial justice protesters during the summer of 2020, in the wake of the police murder of George Floyd. 
Related: We Should Also Tear Down Statues of Jesus, Activists Say
For many Native Americans, it was a long time coming. The statue was a rallying cry for Native American activists, who widely view the Spanish missionary as a cruel colonizer. 
Renowned in his lifetime, Serra worked for decades establishing 8 of the 21 Catholic missions in California, and his work reached tens of thousands of Native Americans.
For centuries, history taught of a gentle Franciscan monk who left the comforts of home to humbly spread the gospel in the dangerous and untamable west. But critics say that Serra's missions only brought disease, violence, and forced religious conversions to California's Native American population.
Historical Moment, Historical Monument
Dedicated to the Northern California tribes once displaced by European colonizers, the new statue was unveiled on November 7th of this year to an audience of hundreds gathered in Sacramento's Capitol Park.
The statue depicts William J. Franklin Sr., of the Miwok tribe. Franklin Sr. was a renowned member of Sacramento's indigenous community, well-known for his commitment to keeping the cultural dances and oral traditions of California's Miwok population alive. 
"Mr. Franklin was a teacher of native culture and he understood that our stories, songs and culture need to be shared and taught to new generations," explains James C. Ramos, California's first Native American elected to the state Legislature.
"As Native Americans, we have been invisible, romanticized, minimized, or disparaged for centuries. That is not easily or quickly undone. But today I am proud to be Native American and proud to be a Californian."
Thanksgiving Symbolism
Although the timing of this move being so close to Thanksgiving could be coincidence, it is nevertheless symbolic.
Americans have long viewed the history of the holiday through a rather rosy lens, and school textbooks often included depictions of the first Thanksgiving that featured peaceful pilgrims and Natives sitting down at the table of brotherly love.
We now know the truth was quite a bit more complicated.
Many Native Americans view the original Thanksgiving as anything but celebratory, considering it kicked off hundreds of years death, destruction, and displacement of their people.
Interestingly, there is also substantial evidence that the Thanksgiving traditions we celebrate today are "borrowed" from pagan and Native American faith customs.
402 years after the first Thanksgiving, some argue it is quite fitting that a Native American is now being honored in the place of a religious missionary from Europe.
What is your reaction?