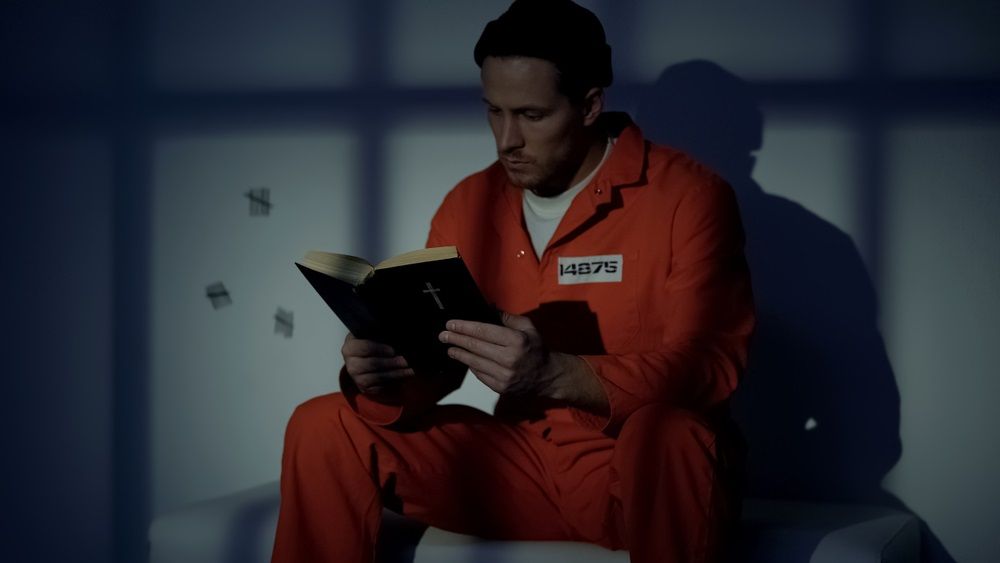 ---
Christianity has played a major role in the United States since before it was founded. It's still the dominant religion in American, and many praise Christian values as the gold standard by which the country should base its morals. At the same time, our constitution's first amendment guarantees American citizens that their government will not interfere with or promote any one religion.
But if there's one group of people whose constitutional rights could perhaps be overlooked, it's prisoners. Having been convicted of a crime, protecting the rights of these citizens sometimes falls by the wayside.
Enter the pro-Christian prison.
A correctional facility in Topeka, Kansas has been accused of distributing Christian propaganda and pressuring inmates to convert. The allegations stem from a lawsuit filed by a current inmate who insists their rights have been violated. According to the inmate, who practices the Thelema faith, prison officials have created a "coercive atmosphere where inmates are pressured to spend their time in a highly religious atmosphere and to participate in religious activities and prayers, thus violating the establishment clause.
Religion in the Big House
It should be noted: religion has never been on the outside looking in when it comes to criminal justice in America. Worship and prayer are mainstays in the prison system. In fact, most prisons in the United States have their own congregations and hold regular religious services. Many inmates even report "finding God" while behind bars.
Some prisoners worship privately, others with priests provided by the correctional facility. But the emphasis is, for the most part, on a single dominant religion: Christianity.
The "Others"
So, what about prisoners who practice faiths other than Christianity, such as Islam, Shinto, or, in this case, Thelema? According to the lawsuit, the Kansas prison placed religious symbols and messages on bulletin boards, encouraged prayer requests, displayed Christian movies on facility televisions, and was generally pro-Christian all day, every day. Is it right for prisons to ignore those other faiths and (intentionally or not) force Christianity on all prisoners?
Can Christianity Rehabilitate Inmates?
Some argue that given their past crimes, prisoners could use a healthy dose of Christian values. What better way to get sinners to truly repent for their sins than to show them the teachings of Jesus? Plus, embracing Christianity will make them better members of society when they finally do get released.
While there are countless anecdotal examples out there, to our knowledge there are no official studies showing that converting to Christianity makes criminals less likely to end up back in prison.
However, let's just assume for a moment that Christian influence genuinely helps inmates lead productive lives free from crime upon their release. That's great, but what about the many other religions of the world? Is Christianity alone capable of achieving this result?
Taking Jesus Out of Prison
Back to the issue at hand. Given how closely intertwined Christianity is with the prison system, it's hard to imagine prisons changing their ways. However, if the Kansas inmate's lawsuit is successful, they might just have to. Could prisons of the future be entirely secular? They are under government control, after all. Maybe that's the best course of action. Or perhaps prisons will simply be required to provide equivalent services for all religions practiced within its walls.
Do you support the inmate's lawsuit?