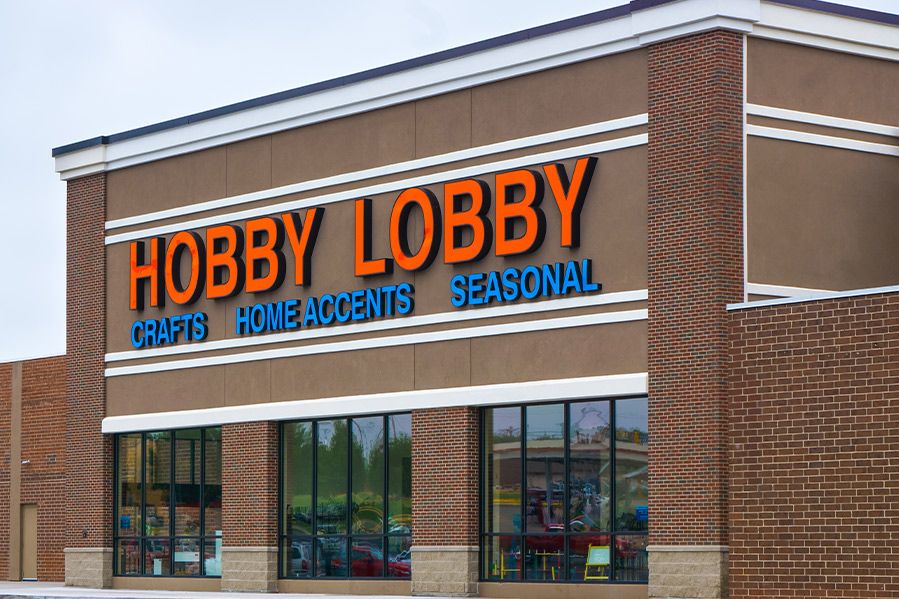 Arts and crafts chain Hobby Lobby is facing backlash over a controversial 4th of July advertisement arguing that America is a Christian nation.
The full-page ad, which ran in newspapers across the country, includes the headline "One Nation Under God" and quotes Psalm 33:12, which reads "Blessed is the nation whose God is the Lord."
The ad quotes everyone from former presidents to founding fathers to Supreme Court justices to make the case that America is a Christian nation.
While many were pleased to see such an unapologetically faith-forward message from a major retailer, not everyone's happy. Some say that with this ad, Hobby Lobby is advocating for nothing less than full-blown theocracy in America.
Crafting Up Some Drama
The 21 quotes chosen by Hobby Lobby all seem to reflect a similar sentiment - that America is not in fact secular - it is Christian. Quoting George Washington, for example, the ad states: "It is the duty of all nations to acknowledge the providence of Almighty God, to obey His will, to be grateful for His benefits, and humbly to implore His protection and favor."
As the ads hit local papers across the country on July 4th, and thousands of users took to Twitter to express their outrage over what they view as a dominionist message as 'Hobby Lobby' trended on the social media giant for several hours during Independence Day.
"Take your theocracy and shove it," wrote one. "If Hobby Lobby knew anything about the origins of this country, they'd know that a lot of people came here because they didn't want their government to tell them how to worship," wrote another.
The Freedom From Religion Foundation issued their own rebuttal to the Hobby Lobby ad titled 'Our Godless Constitution', quoting those very same founding fathers as being actually anti-religion, or at the very least against very much in favor of a secular government. They also issued a quote-by-quote rebuttal to the original ad, arguing that most of the quotes are taken out of context or aren't relevant.
Not Their First Rodeo
This isn't Hobby Lobby's first time facing criticism for their outspoken Christian faith. Just a few years ago, Hobby Lobby found itself defending its faith in front of the Supreme Court after refusing to cover birth control on their employee health insurance. The Supreme Court ruled 5-4 in Hobby Lobby's favor, agreeing that Hobby Lobby's sincerely-held religious beliefs would be violated by being forced to provide contraceptive medicine to women, prompting a nationwide boycott.
Despite the backlash, Hobby Lobby certainly isn't short on defenders either. Evangelist Franklin Graham posted on Facebook that "Hobby Lobby is being attacked for running some beautiful full-page newspaper ads on July 4… I hope this exposure for their ads, even though it was intended for harm, will actually allow even more people to read the message and appreciate what Hobby Lobby's owners, the Green family stand for. I thank God for the Green family, their Christian-run business, and their strong public stand for the Word of God and biblical values."
And several Twitter users pondered if the people expressing outrage over the ads are even Hobby Lobby's target market anyway. As one user told another, "Hobby Lobby's target audience is families... especially moms. They don't really care what people like you think about them. My Hobby Lobby is constantly packed. Great store. Will shop there again tonight."
What do you think? Is the ad advocating for Christian theocracy, or are critics twisting a simple pro-Christian ad into something else entirely? And is running an ad that can be construed that way truly good business?