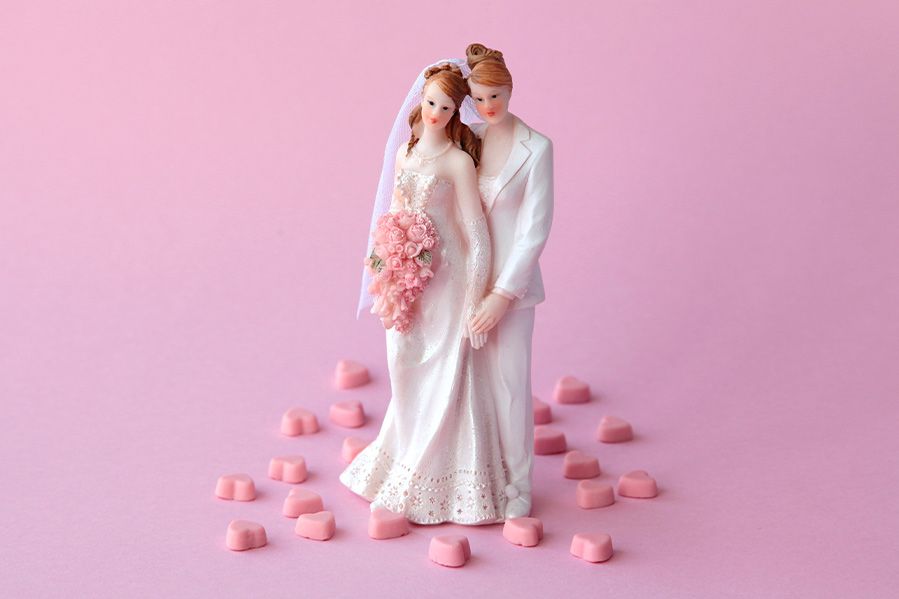 A Florida couple claim they were denied tuxedo rentals for their upcoming wedding simply because they are gay. 
Joni Edmonson and her fiancée, Ciarra Weaver, were shocked to receive a phone call from the owner of a local clothing shop, My Sister's Closet, alerting them that their tuxedo order was canceled. The sudden cancellation left them in the lurch – with only months to go until their wedding, they were feeling panicking and devastated.
Edmonson recalled the emotional moment to a local news outlet.
"[Weaver] got a call, so she went outside and came back and she was in tears. I was like, 'What is going on?' And she was like, 'Miss Cynthia told me because she's a pastor that she cannot fulfill our tux order.' It was awful. I was like, 'Well, she's known that we're gay since forever, so why is it just now that you can't do our order?'"
Last Minute Cancellation
Edmonson's Facebook post about the incident quickly gained traction in the media.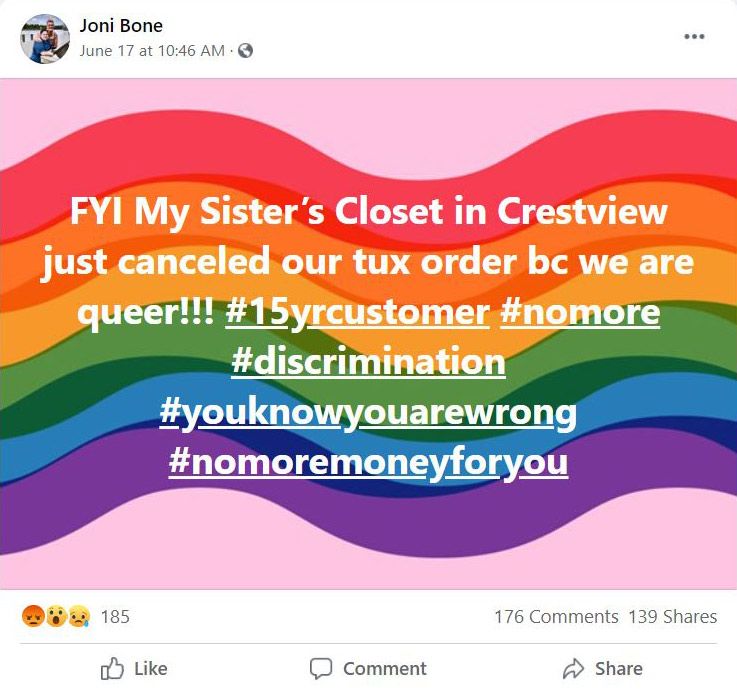 The couple was surprised by the sudden cancellation, both because they'd officially had the tuxedo order in since mid-April, and because Weaver called Harris personally in November of last year and told her she'd need a tuxedo the next year for another wedding – her own. 
The couple says that it was no secret that they're gay. Weaver had patronized My Sister's Closet for 15 years for everything from proms to military balls, and even thought of Harris as a friend. 
But perhaps what hurt most was the sudden refusal leaving them in a very time-sensitive bind.
"The Supreme Court says that they have the right to deny service, but why didn't you deny service back in November? Why did you wait so long?" Edmondson said (a reference to the Supreme Court's judgment in favor of Christian baker Jack Phillips, who refused to bake a cake for a gay couple's wedding). 
Discrimination or Freedom of Religion?
While Edmonson and Weaver say they have no intention to sue, there have been a number of high-profile lawsuits exploring the intersection of the sincere religious beliefs of wedding vendors and the rights of LGBT couples to shop without experiencing discrimination.
Should Christian wedding vendors be able to deny service to gay couples because of their faith? Or do anti-discrimination laws supersede those beliefs?
For the courts, it's a tricky situation. In the aforementioned Masterpiece Cakeshop case, the Supreme Court ruled in baker Jack Phillips' favor, but on grounds so narrow it couldn't possibly apply to any other case.
There's also the case of Arlene's Flowers in Washington State, who denied making floral arrangements for a gay wedding, with the owner citing her Christian faith.
That case went to the Washington State Supreme Court, which unanimously ruled against the flower shop; One justice said that "this case is no more about the access to flowers than civil rights cases were about access to sandwiches."
What do you think? Should wedding vendors be allowed to deny service to gay couples, even though same-sex marriage is legal nationwide? Where's the line between discrimination and religious freedom?