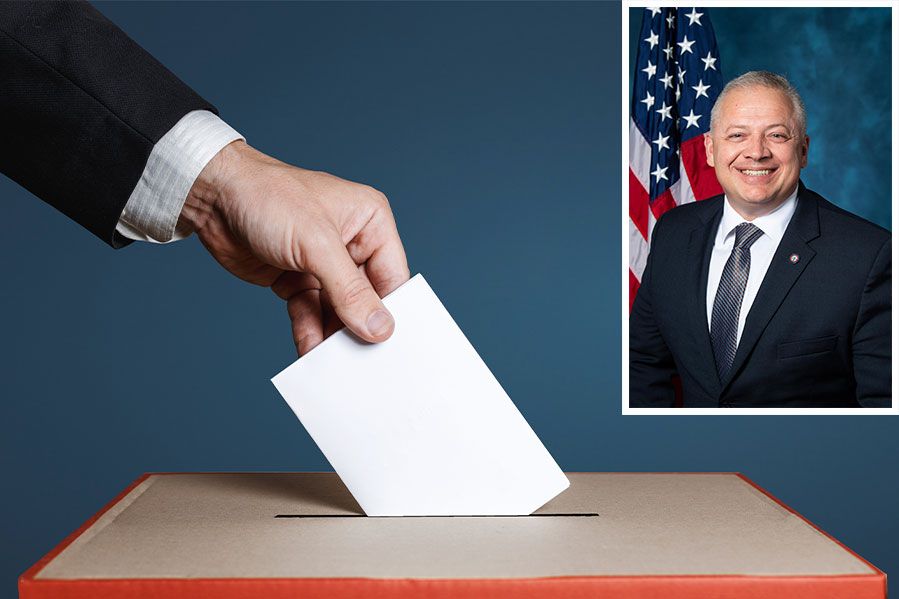 Virginia Rep. Denver Riggleman just lost his seat in congress during a GOP convention on Saturday. The shocking defeat comes after Virginia Republicans expressed outrage that Rep. Riggleman had officiated a gay wedding last summer, which prompted the Virginia GOP to begin, almost immediately, a takedown of Riggleman.
Other than his officiating a gay wedding, Riggleman's your standard run-of-the-mill congressional conservative. He's voted with President Trump 94% of the time, he's a member of the House Freedom Caucus, and he's an Air Force veteran. But that wasn't enough to stop his own party from conspiring to take him down for the cardinal sin of celebrating LGBT love.
Congressman Officiates Vows, GOP Vows Revenge
The wedding came about when two of Riggleman's former campaign volunteers - Anthony LeCounte and Alex Pisciarino - asked him to officiate their wedding, impressed with his support of the LGBT community. Riggleman said yes, and the backlash from party officials was swift and harsh.
The district committee chair wrote on the district's website that marriage is between one man and one woman. Multiple Republican groups in the district condemned or censured Riggleman. One group passed a vote of no confidence against him. Travis Witt, a local pastor who serves on the Fifth District committee told The Atlantic that "The sanctity of marriage does not need to be redefined because it has been defined for thousands of years as one man and one woman. That's a standard that I don't think you can change, because that's the standard that I believe the God of creation established in the very first chapters of the Book of Genesis."
And in their final act of ballot warfare against Riggleman, Virginia Republicans opted to have a convention instead of a primary. Virginia law allows state parties to decide between a convention or primary. In conventions, delegates vote on the nominee, whereas in primaries the nominee is chosen by state voters. Republican party delegates tend to skew further right than average voters. To top it off, the single location delegates could cast votes for Virginia's fifth district - a district geographically larger than 5 U.S. states - was in a Lynchburg-area church, close to Riggleman's opponent's home, and due to concerns of the spread of COVID-19 was drive-thru only.
LGBT Meets GOP
Despite his positive opinions towards gay marriage, Riggleman had support of the Republican party outside his state. President Trump endorsed him, President Trump's son Donald Trump Jr. recorded a robocall for him, and even Jerry Falwell Jr., the president of Liberty University, endorsed Riggleman.
Ironically, with Riggleman's opponent Bob Good as the Republican nominee, Republicans are less likely to retain the seat. Good holds very far-right views in a state that is slowly trending blue.
It's an interesting case study in how Republicans can react politically as gay marriage gains nationwide acceptance. They can open their arms to the LGBT community, as Riggleman has done, or they can slam the door. What do you think? Is there room for LGBT support in the Republican party?