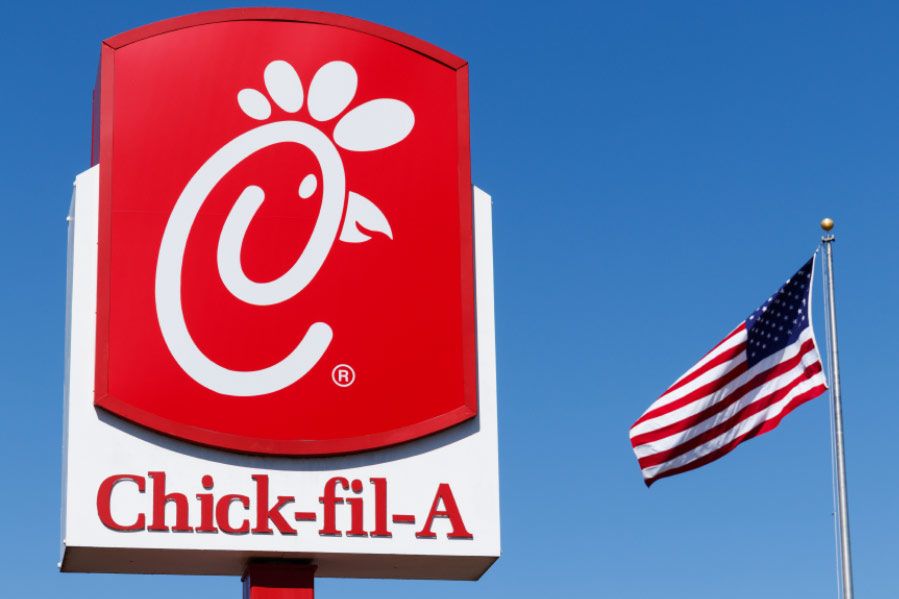 Chick-fil-A CEO Dan Cathy is weighing in on Black Lives Matter, the killings of unarmed black men by police, and broader concepts of racial injustice. His stance: white Christians shouldn't "miss this moment" to speak up because not doing so would "[fail] our generation." Cathy's comments were made during a panel discussion at Atlanta's Passion City Church, where he also implored white Christians to "repent" for the sin of racism.
Cathy's comments came on the heels of the Rayshard Brooks slaying in a Wendy's parking lot in Atlanta, where Chick-fil-A is based. "Until [white people are] willing to just pick up the baton and fight for our black, African-American brothers and sisters, which they are as one human race, we're shameful," Cathy said during the roundtable discussion.
Right after Cathy declared that white Americans should repent for racism, he got up and shined the shoes of Christian rapper Lecrae, who is black – which made for quite an awkward moment.
But to Cathy's credit, he's putting his money where his mouth is by pledging to help Atlanta-area communities hit hard by racism, and he's donated money to local black-owned businesses.
Involvement in Politics
If these headline-worthy comments come as a surprise, remember that Chick-fil-A has not been shy about making political statements in the past. The company is unabashedly Christian, to the point that their restaurants aren't open on Sundays so that employees can enjoy their families and attend church if they so desire.
Chick-fil-A has also faced numerous controversies over CEO Dan Cathy's defense of "traditional marriage" and donations the company has made to anti-LGBT causes. The issue first sprung up in 2012 when Cathy revealed he believes marriage is between one man and one woman. But it reached a fever pitch last year when the San Antonio city council voted to ban Chick-fil-A from the San Antonio airport for their "legacy of anti-LGBTQ behavior".
That, in turn, prompted an investigation from Texas' Attorney General and a "Save Chick-fil-A bill" that moved quickly through the Texas House and was signed into law by Texas Governor Greg Abbott just a few weeks later.
Selective Repentance?
Given this checkered history, Cathy's full-throated support of BLM has led some to accuse Chick-fil-A of engaging in "selective repentance." They ask: if you champion introspection about America's treatment of people of color, but avoid a similar discussion about the LGBT community you've spurned for years, can your concern be considered genuine? 
Because Chick-fil-A is in the news frequently over their anti-LGBT views, they've become a bit of a rallying point for Christians, many of whom support the sandwich chain because they're one of the only big businesses that share their traditionalist Christian views.
Study: Anti-LGBT Beliefs Tied to Christian Nationalism
Many folks are happy to see Chick-fil-A leadership taking matters of injustice seriously. But for the LGBT community, the company's opposition to LGBT rights has been a glaring black mark on their record.
Not only has Chick-fil-A put money towards opposing marriage equality and other important initiatives, but they've also become a bit of a rallying point for Christians – many of whom support the sandwich chain primarily because of their traditionalist Christian views. In doing so, critics say, Chick-fil-A has actively emboldened the opposition to LGBT rights.  
A recent study published in the American Journal of Community Psychology underlined this connection even further. It found that opposition to the advancement of LGBT rights – including gay marriage – is linked to a desire for national Christian dominance.
The author of the study noted that "Our analyses revealed that opposition to sexual- and gender-minority rights was correlated with Christian and political conservatism, and with the belief that Christians should be the dominant group in society."
It's certainly interesting to think about in the context of Dan Cathy's comments, at a time when he's opening his heart to the BLM movement, while at the same time keeping the door shut to the LGBT community.
What do you think? Is the Chick-fil-A CEO asking for selective repentance? Is it possible to honestly support civil rights for one group, but not for another?