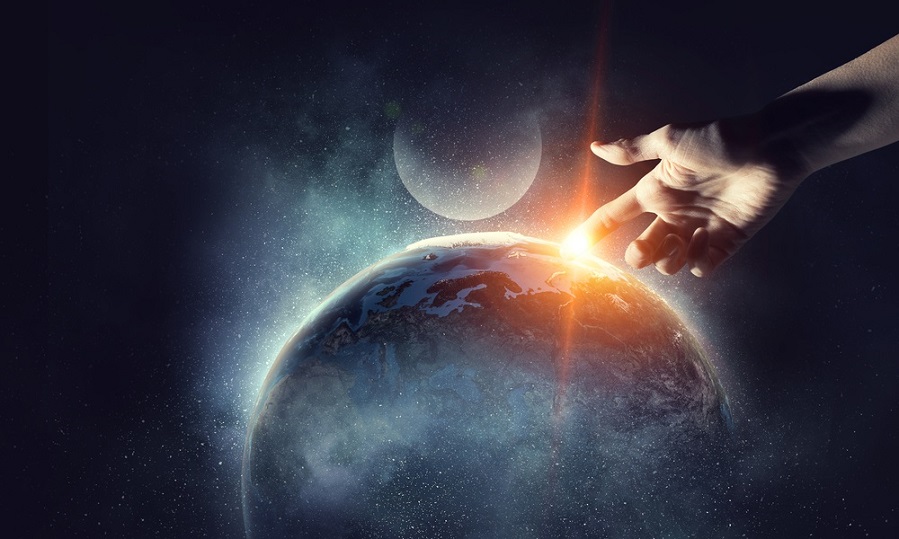 ---
Renowned Christian televangelist Pat Robertson stirred up controversy in the faith community last week by taking a swipe at "Young Earth" Creationists who believe the universe is only 6,000 years old.
The 89-year-old host of CBN's "The 700 Club" was responding to a viewer who was left confused after learning in church that the world was created only 6,000 years ago. Robertson explained how that number flies in the face of scientific evidence and "tremendous geological records" which shows that dinosaurs roamed the planet millions of years ago and even that is just a small fraction of the total geologic record we've discovered.
"This universe that we live in is...14 billion years old and there's no question about it" explained Robertson, rebuffing the "Young Earth" views taught by many churches and fundamentalist Christin universities. Any attempts to claim otherwise are "nonsense" and "embarrassing," Robertson said.
"We as Christians need to know the truth and when we know the truth you stand in awe with the God who created everything. He brought it all into being. Look at the vast solar system and the galaxies, and the stars, there are about a billion trillion stars...in the universe. It's huge. So let's give God credit for what He did, not try to limit Him to 6,000 years."
Young Earth Believers Fume
But Robertson's impassioned plea aside, many Christian faith leaders stand by their beliefs about the Earth's age. One of the most prominent Creationist figures is Ken Ham, who operates the "Ark Encounter" Biblical theme park in Kentucky. Ham took issue with Robertson's words, denouncing the idea that the Earth could be older than the Bible says.
"It's not those of us who take God at His word who are 'embarrassing' it's the other way around!" Ham wrote to his followers. He went on to theorize that Christians shying away from such obvious Biblical truths is a major factor in the ongoing decline in religious rates and church attendance:
"Those like Pat Robertson who adopt man's pagan religion, which includes elements like evolutionary geology based on naturalism (atheism), and add that to God's word are destructive to the church. This compromise undermines the authority of the infallible word."
Creationism Not Going Away
But despite concerns about religious declines, studies show that Creationist views particularly the most extreme versions like the Young Earth theory remain incredibly popular. A 2011 LifeWay Research survey found 46 percent of pastors actually believe the Earth is 6,000 years old, while 43 percent disagree.
Seeking to counter the resounding evidence put forward by the scientific community showing that the Earth is billions of years old, a Young Earth group released a film entitled "Is Genesis History? in 2017. Their intent was to prove that scientists used wonky math to come to their conclusions, and that the evidence for a 6,000-year-old Earth is stronger than many realize.
"We live in a time where the current scientific paradigm is infiltrating a lot of the seminaries and a lot of the hierarchy in evangelical Christianity because people have been led to believe that science has settled this issue of deep time," explains Del Tackett, who worked with the conservative faith group Focus on the Family to promote the film. He continues:
"I would tell Christians, 'If you're going to say that God's Word is now just an analogy, or it's just some kind of simile, you're twisting the Word of God because of a paradigm that is already really shaky.' I would say, 'You have that backwards. We start with the Word of God. We start with the record that God has given to us and stand on that, then begin to view the world around us. That's when things will make sense.'"
Devout Beliefs or Willful Ignorance?
But does relying on the 'Word of God' to form a scientific understanding of this planet really make sense? Have we forgotten that Galileo was forced to endure house arrest at the hands of a Roman inquisition simply for claiming the Earth revolved around the sun?
Critics say the Creationist approach is actually the least-likely to yield truths about the world. Someone focused on unbiased inquiry does not base their learning on prior beliefs or convictions, they point out, because doing so will inevitably lead to inaccurate results.
Where do you stand?