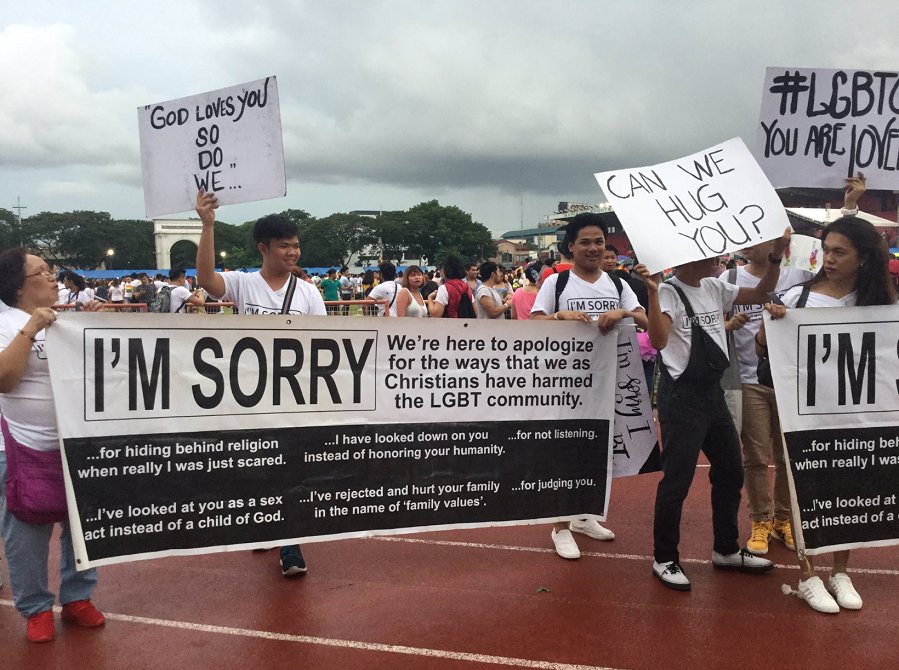 ---
The last thing you'd expect to find at the end of a Gay Pride parade is a throng of apologetic Christians looking to make amends on behalf of their religion.
And yet unsuspecting LGBTQ marchers in Marikina City's annual parade in the Philippines were greeted with exactly that. A group of Christians holding signs just outside the stadium, one declaring: "I've rejected and hurt your family in the name of 'family values,'" others claiming "God loves you, so do we," and "I used to be a Bible-banging homophobe Sorry!!"
"My heart really felt light upon seeing them," recounts 19-year-old Jamilah Salvador, who was walking in her first-ever Pride parade. "I stopped when I saw them and read all of their messages and immediately felt goose bumps all over my body, then my tears started to build up. Some hugged and talked to these Christians. Some took photos, like what I did, and others just stood there in awe."
The photos Salvador snapped and then posted on Twitter quickly went viral:



I literally cried when I saw this kanina. Imagine living in a society with nothing but love and respect for each other. ? #RiseUpTogether pic.twitter.com/rL4rPaWHel


Jamilah Salvador (@JAMBIyutiful) June 30, 2018
Allies to the Cause
Members of the Evangelical and Pentecostal Church of Freedom in Christ Ministries (FICM) who greeted Salvador were no strangers to Gay Pride. Pastor Val Paminiani has been attending for the last four years, part of the organization's "I'm Sorry" campaign.
"I used to believe that God condemns homosexuals," he told BuzzFeed News, "but when I studied the Scriptures, especially the ones that we call 'clobber Scriptures' that are being cherry-picked from the Bible to condemn LGBT people, I realized that there's a lot to discover, including the truth that God is not against anyone. God does not discriminate against people based on gender."
By setting the example, Paminiani is hopeful other Christians won't hijack the Scriptures to condemn. "We pray that more and more Christians will act, speak, and love the LGBT people like Jesus would," he said.
Christian Compassion
While the Philippines might be ranked amongst the most gay-friendly nations in Asia, it's no secret that Christians have not been very good to the LGBT community the globe over. In fact, highly conservative denominations have been complicit in several anti-gay laws that have led to their persecution in countries like Uganda, Nigeria and Russia.
And yet for every terrible law there is a compassionate pastor who will remind Christians what their religion is truly all about. As Archbishop Desmond Tutu once declared: "I would not worship a God who is homophobic. I am as passionate about this (LGBT Rights) campaign as I ever was about apartheid. For me, it is at the same level."
In an age where too many Christians have hardened their moral opposition toward gays and sided with those who refuse to recognize, accept or even serve them, it's nice to see an example of a pastor who is speaking to the better angels of his congregation.
We could certainly use more Val Paminianis in this world. After all, is there anything more powerful in the Christian faith than asking for forgiveness?