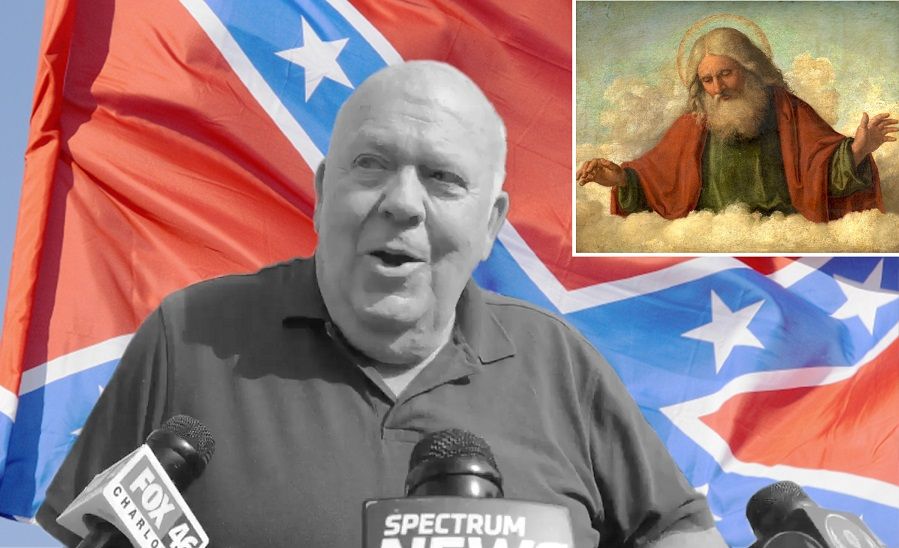 ---
Russell Walker is a Republican candidate running for a seat in the North Carolina General Assembly. Walker seemed a fairly viable candidate up until last week, when some alarming statements were discovered on a website thought to belong to him.
The now-controversial North Carolina politician made national headlines after someone unearthed blog posts written by him that explicitly argue in favor of white supremacy. The cherry on top? Walker insists God is supportive of it:
"What is wrong with being a white supremacist? God is a racist and a white supremacist. Someone or group has to be supreme and that group is the whites of the world ... someone or something has to be inferior ... In all history in sub-Saharan Africa, no two-story building or a waterproof boat was ever made."
Finding this type of head-scratching hate on the internet is not exactly newsworthy. After all, it's the internet. But coming from an established politician? That's certainly concerning.
What Was God Thinking When He Created Russell Walker?
Even as kooks go, Russell Walker is a rare breed a conspiracy-theory-spewing 75-year-old who has proudly penned multiple 'essays' on his website laying out religious justifications for white supremacy and other abhorrent views.
The website christdescendedfromjoseph.com features a strange vitriolic blend of racist headlines and political statements. Among them are assertions that "God made the races and he is the greatest racist ever"; that "The Jews are not Semitic they are Satanic as they all descend from Satan" and that Martin Luther King Jr. "wanted to destroy the Caucasian race through mixing and integration. He was an agent of Satan."
Although new to the national stage, Walker previously made local headlines when he sued to keep the confederate flag up in a state courtroom. He lost. Here's Walker on camera espousing his views on the matter and explaining that "God is the greatest racist on the face of the earth:"
!##!
GOP Pulls Support
After the revelations came to light, the North Carolina Republican Party quickly withdrew its support for Walker. GOP chairman Robin Hayes explained they would rather "spend their time and resources supporting Republican candidates that better reflect the values of our party."
But here's the kicker: Walker, who has refused to withdraw his candidacy and cannot be forced out, will face Democrat incumbent and African American minister Garland Pierce in November. You really couldn't write a better script than this.
White Supremacy: God's Will?
Within his many rantings, Walker uses the same basic logic to claim that white supremacy is both natural and just. The thinking goes: since God created the world and all the people in it the fact that Caucasians have dominated other races is simply an extension of God's will. If God wanted perfect equality, why wouldn't He just make everyone equal?
How's that for some impressive next-level victim blaming. It appears that in his hastiness to justify inequality with biblical logic, Walker has overlooked one of the most important principles upon which America was founded: that all men are created equal.
Unfortunately, thanks to people like Russell Walker, when this played out in the real world humanity's dark side was exposed. Does the fact that human societies chose to subjugate one another mean that's what God willed to happen? Doubtful.
A more likely scenario: the Russell Walkers of the world scoured the Bible to find passages justifying their evil behavior, then claimed they were acting in accordance with God's wishes.