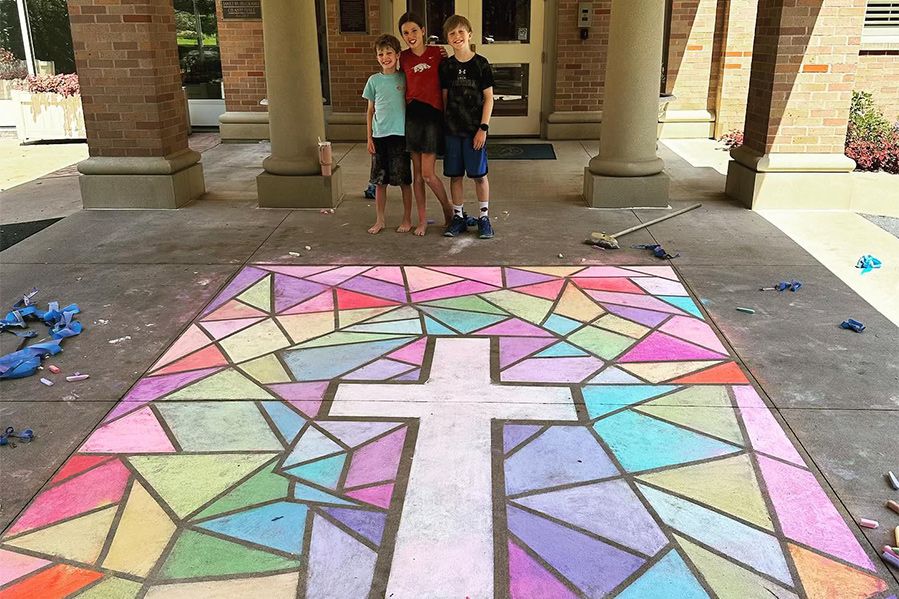 A group of atheist activists is demanding the removal of a cross drawn in sidewalk chalk at the Arkansas Governor's Mansion, renewing dialogue on religious expression by government officials on government property.
Does this religious imagery being displayed on government property... forgive us... cross a line?
Separation of Chalk and State
The controversy began late last month, when Arkansas Governor Sarah Huckabee Sanders posted an image of what appears to be the entrance to the Arkansas Governor's Mansion on Facebook.
The ground in front of the doors is covered in a massive chalk-drawn cross:
Unsurprisingly, not everyone was a fan of the faith-inspired artwork drawn outside a government building. 
Americans United, an activist group promoting separation of church and state, sent the governor a letter, informing her that she was stepping over a "constitutional line."
The chalk art "violates the Establishment Clause because it sends a message that the Governor's office – and by extension, the state of Arkansas – favors one religion over others," the group wrote. "Such favoritism is unconstitutional."
The letter continued, informing the governor that her and her family are more than welcome to express their faith, but that a cross – even a chalk one – plainly visible on state property sends a message of government endorsement of Christianity.
They asked her to wash the cross off.
Supporters Line Up
The governor's response? "My answer is no," she wrote.
"I will not erase the beautiful cross my kids drew in chalk on the driveway of the Governor's Mansion or remove my post on social media, and I will not now or ever hide that I am a Christian, saved by Christ."
"We won't let you power-wash our kids' chalk drawings off our front steps," she continued. "We won't let you tear down Christmas decorations and stomp our traditions into the dirt. We don't live our lives in fear of strongly worded letters coming down from Washington."
"I am offended by the implication that, just because I am a Christian, I am somehow a bigot," the response concluded. "All people, of all faiths, are welcome in our state."
Many of the governor's fans on Facebook applauded the artwork.
"How beautiful! Awesome job and may Jesus be praised!" wrote one.
"Ms Sarah, it's great to know that Christ has a major role in your political and private life," wrote another.
However, not everyone was a fan. "That's wrong and you know it," wrote one Facebook user on the governor's Facebook page. "You're just trying to create controversy. The opposite of good governance."
Chalk It up to a Difference of Opinion
Does a chalk drawing on the grounds of the Governor's Mansion violate the Constitution?
On the one hand, this is a religious symbol on government property. For critics, it's the principle of the matter that counts. As America sees growing Christian influence in government and public policy, each new example of religion mixing with state power becomes another reminder of the ways faith guides the direction of the country. 
But on the other hand, the artwork in question is a chalk drawing done by children – it's not as if this is a permanent installation. It also seems likely the elements will take care of the cross soon, if they haven't already.
What do you think? Was the atheist group right to demand the cross be removed, or are they making a mountain out of a molehill?