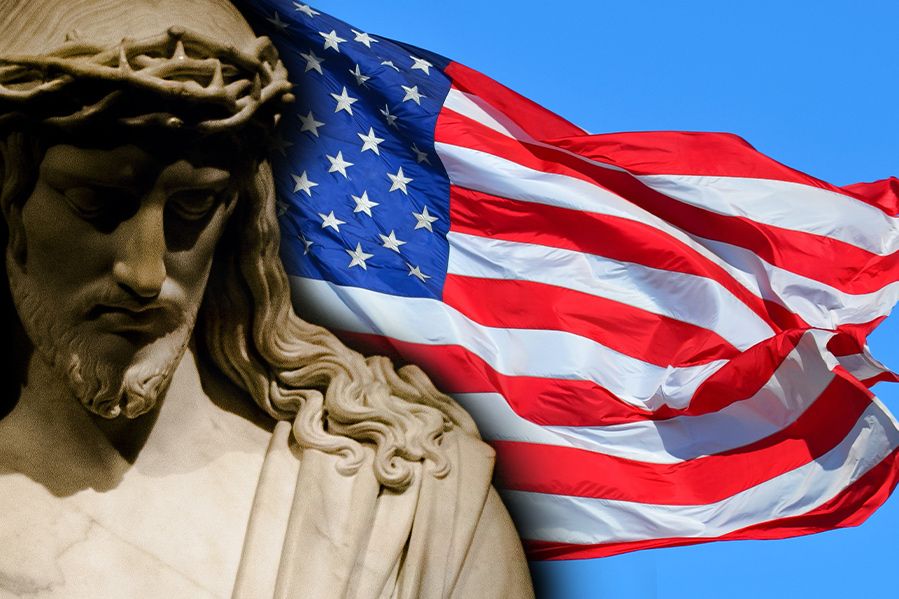 What could be more American than hot dogs on the grill, fireworks lighting up the night sky, and... Bible verses?
As we approach another Fourth of July celebration for the nation's birthday, the debate once again has been raised: is the United States a Christian nation?
It's a question that seems to come up every year around this time, and advocates on both sides fiercely insist they are correct. 
There are certainly compelling points of view on either side. Christianity is by far the dominant religion in the United States – both demographically and culturally – with Christian iconography baked into the very fabric of daily American life.
On the other hand, the Constitution makes no express mention of the Christian faith as a governing force in the United States, and in fact explicitly rejects the notion that government should endorse one particular religious viewpoint. 
"In God We Trust" vs. Separation of Church and State. Who wins? 
"One Nation, Under God"
Many Christian faithful would argue that America is absolutely a Christian nation.
Joining them are certain faith-forward corporations. Every year around the Fourth of July, for example, the craft giant Hobby Lobby puts out a full-page ad in newspapers across the country arguing that we are one nation under God.
Filled to the brim with pro-Christian quotes from some of America's most important and influential leaders – including presidents, politicians, and Supreme Court justices – the ads seemingly argue that America is a Christian country through and through.
Faiths of Our Fathers
Much of the pro-Christian nation argument is that many of America's founders were Christians – and thus naturally sought to build America on Christian values.
But it's not so cut and dry. In fact, the faiths of the founders have long been the subject of debate among historians. Most of the founding fathers were Protestants, or at least raised as such.
But a philosophical movement called Deism, popular in the 18th century, complicates things. As it happens, some of the founders are believed to be followers of Deism. This belief system can best be described as a natural faith, the belief in a god – but not a god that intervenes in their creation.
Deists believed in the rational, not the supernatural. This inclination can be seen in The Jefferson Bible, a stripped-down version of the Bible edited by Thomas Jefferson to remove all supernatural elements, focusing the text on the morals and philosophy of Jesus rather than his divinity.
"In God We Trust"
So maybe not all the founders were devout Christians – at least not in the traditional sense we would understand today.
So what? Say proponents of the Christian nation argument. The evidence hardly ends there, they argue, pointing to the ways that Christianity is entwined with every aspect of our lives:
"In God We Trust" is printed on our currency.
Millions of school children recite "one nation under God" every morning during the pledge of allegiance.
Creationism is taught in some public schools.
Politicians invoke their Christian faith in support of one bill or another.
Women's health care options are dictated by faith-informed policy decisions
At seemingly every turn, Americans come face to face with Christian beliefs, phrases, iconography, or public policy – whether they want to be or not.
One could argue that many of these examples are relatively recent additions to American life (for example, the words "under God" were only added to the pledge in 1954, and students are not legally required to recite it). 
Their existence, however, at the very least indicates a strong Christian influence on both politics and culture that extends far beyond church pews.
An Opposing View
Of course, many disagree with this notion that America is a Christian nation.
One need only look at the Constitution, which makes no mention of God or Christianity. Indeed, the First Amendment explicitly establishes that "Congress shall make no law respecting an establishment of religion, or prohibiting the free exercise thereof."
Article 11 of the Treaty of Tripoli also states that "the government of the United States of America is not in any sense founded on the Christian Religion."
What about the Pilgrims? Some ask. While many (but not all) of the early colonists were Puritans seeking religious freedom, their arrival in the United States preceded the founding of the country by more than 150 years.
Local colonial governments also often persecuted members of their community for being the wrong faith (or simply for being "not Christian enough"), and the founding fathers definitively eschewed such practices by separating church and state.
A Christian Nation?
So can you define America as a Christian nation? It depends.
Legally, Americans are free to practice the faith of their choosing (so long as it doesn't harm anyone), and there is no state-sponsored religion to speak of.
But culturally, America undoubtedly has more Christian influences than from any other faith – and it's not particularly close. The majority of Americans identify as Christian. And more recently, a re-shaped Supreme Court appears intent on extending the rights of this religious majority in some important and influential ways. 
What do you think? America: Christian nation or not?