---
---
In an unprecedented move, the Alabama state Senate has approved a bill that would allow a Birmingham megachurch to create its own police force. These "church cops" would have the same authority and power as regular police officers, and would be permitted to carry guns. The big difference: they would answer to church officials instead of the government.
The leaders of Briarwood Presbyterian Church say the security of their congregation is a top priority, and they've been lobbying to create a police force for a while now. Church officials argue that Briarwood "needs its own police officers to keep its school as well as its more than 4,000-person congregation safe."
After the bill passed with a 24-4 vote, the Alabama Senate now sends the bill up to the state House of Representatives, where another vote will take place. If approved, the church police force would become the first of its kind in the country.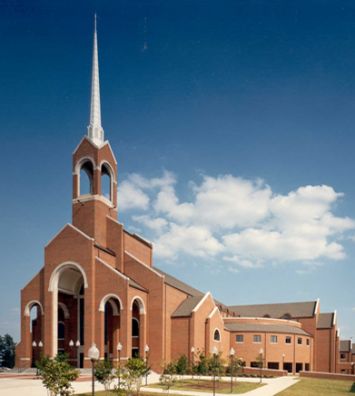 Separating Church and State
Some Alabamians were astonished to hear about Briarwood's plans to blend the duties of Church and State. Since police departments are a government institution, the decision to create a church police force lands on shaky legal ground. Indeed, the Constitution indicates that church and state must remain entirely separate of one another.
The ACLU called the Alabama bill "plainly unconstitutional," and insists that such legislation "unnecessarily carves out special programs for religious organizations that inextricably intertwine state authority and power with church operations."
Mixing Force With Faith
According to churchgoers, it's quite common for the local Sheriff's Department to respond to emergency house-calls at Briarwood Presbyterian. Off-duty officers from the Sheriff's office and various other law enforcement agencies frequently provide security at church events.
However, there is a clear distinction between hiring off-duty officers for special events and creating an independent church police unit. This takes the responsibility of policework away from the government and put it squarely in the hands of the church. Understandably, not everyone is comfortable with that idea.
While the bill would require church cops to meet the same standards as their government counterparts, it is admittedly hard to shake the image of a cross-wearing, pistol-wielding church official.
Two Sides of a Coin
Briarwood officials say that given the times we live in, a private church police force is absolutely necessary. Citing the tragic Sandy Hook shooting several years ago, as well as recent religiously-motivated terror attacks, they argue the world is simply a more dangerous place than it was before. Nobody wants to station police in a church building, but desperate times call for desperate measures, the old saying goes.
Not everyone is buying their argument. Opponents insist this is just another attempt to expand church influence and bolster the power of specific faith groups. They point out that a church police officer could try to enforce religious tenets as well as the law. Finally, they accuse church officials of fearmongering in order to get their way.
Is the world really a more dangerous place, or is that an exaggeration?
Staying Safe
There is no question that churches have become targets for violent attacks, but so have many other public venues. As long as corrupt ideologies continue to hold sway over people, the risk will always be present. However, there could be negative consequences to mixing church affairs and law enforcement. Does the added security church cops could provide outweigh such concerns?
Do you think the church should be able to form its own police force?