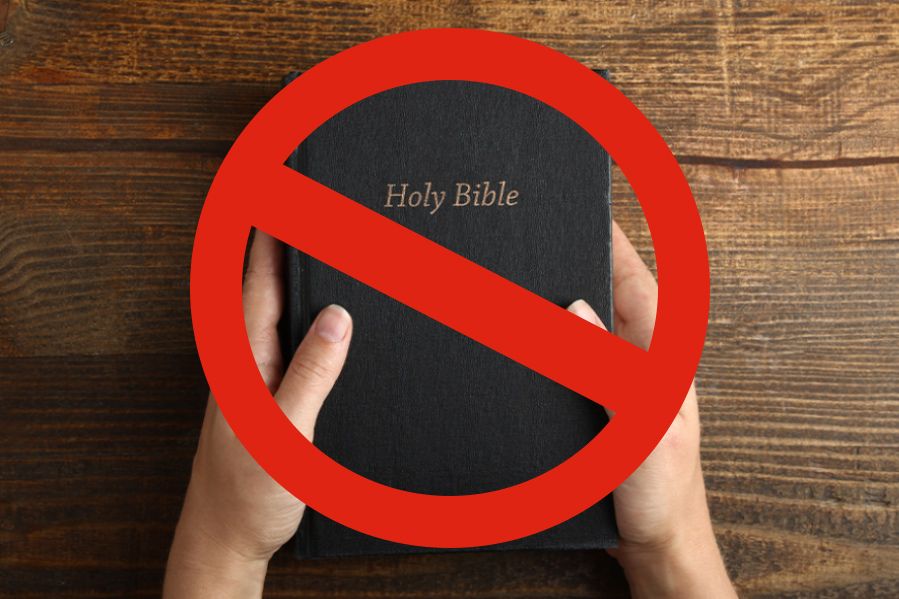 When it comes to protecting children from mature content, where should we draw the line?
In the wake of nationwide attempts by faith groups, school boards, and concerned parents to get books with LGBTQ and adult themes removed from libraries, one Florida man is making the case for adding another well-known title to this "banned books" list: the Holy Bible.
Last month, Florida Gov. Ron DeSantis signed into law a bill that bans "pornographic" books from school classrooms and curriculums. Atheist activist Chaz Stevens says the new policy should include the Bible.
In a letter sent to 63 school boards, Stevens points to numerous examples of violence, sexual content, and racism that can be found in the Bible.
"Is this the message we want to teach our children? If you rape a woman, the father has to give you 50 silver pieces," Stevens said. "As the Bible casually references (i.e. Matthew 15:19) such topics as murder, adultery, sexual immorality, and fornication ... Do we really want to teach our youth about drunken orgies?"
Stevens appears to be arguing that it's hypocritical to call LGBTQ books "pornographic and immoral" and remove them from library shelves, while fully endorsing a book full of Bronze Age morality.
Pointing to Psalm 137:9, he says "if you want to teach morality and ethics, do you really want to turn to a book that wants you to dash babies against rocks?"
Bye Bye Bible?
Even Chaz Stevens knows it's a long shot, but he's hopeful school districts will "apply their own standards" to Christianity's holy text and ban it from Florida libraries.
"The government can't pick and choose religion, but can they choose which books they review for banning and which ones they don't?" he pondered.
This isn't Stevens' first foray into high profile activism, either. In 2015, he convinced several Florida municipalities to drop opening prayers at city commission meetings, after petitioning them to let him lead them… in the name of Satan.
Rather than let their opening prayers be an invocation to Lucifer, most of them dropped the opening prayer altogether. "The Satanic stare withered them down," Stevens says.
He's hoping for a similar outcome with the book ban this time around.
Policing the Library
This movement to restrict access to books has picked up steam in recent months, with proponents arguing that children shouldn't be exposed to the mature content found on the pages of certain titles.
What constitutes offensive or mature content is a subject of debate, but critics say such policies are being used to target LGBTQ-focused content in particular.
In late 2021, a Virginia school board voted unanimously to remove all "sexually explicit" books from school library shelves, a list that included many titles with LGBTQ themes. 
Two school board members wanted to take things a step further and literally burn the offending books – apparently not recognizing that Fahrenheit 451 is a cautionary tale, not a guidebook. 
"I guess we live in a world now that our public schools would rather have kids read about gay pornography than Christ," said one member at the time. 
In the end, no books were burned.
However, as this latest incident shows, the heated debate over which books belong in libraries – and which should be locked away to save the children – isn't going away anytime soon.
What do you think? Are book bans a good idea? If we're banning books with offensive content, does the Bible belong on that list?