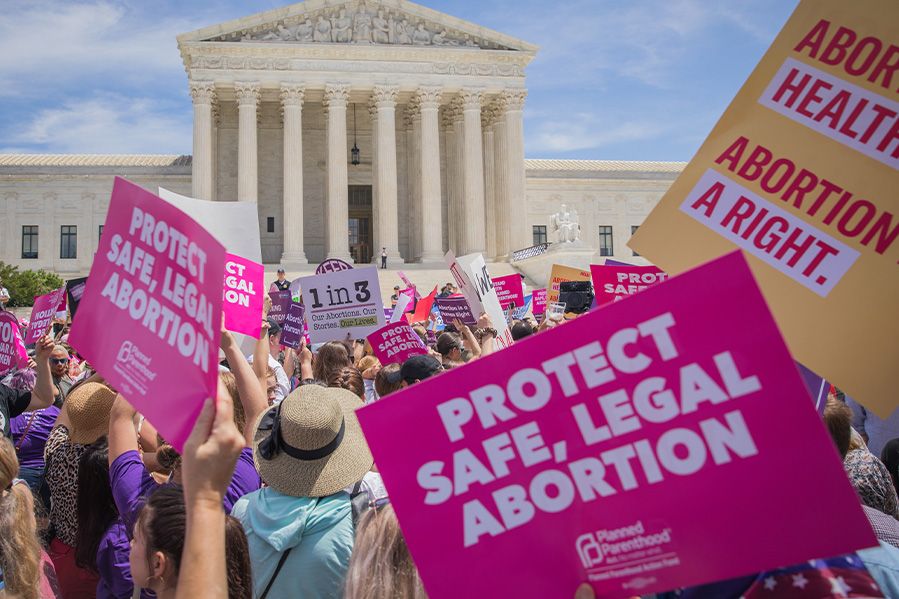 The leak of a draft opinion from the Supreme Court sent shockwaves across the U.S. on Monday, as a majority opinion penned by Justice Samuel Alito indicated the nation's highest court is poised to overturn Roe v. Wade.
The landmark 1973 ruling concluded that a woman has the right to terminate a pregnancy, eliminating many abortion restrictions in the United States at the time.
While the Supreme Court's final decision on whether to overturn Roe likely won't be known until later this summer, the leaked draft seems to indicate that the Court's made up its mind on overturning Roe, a ruling which Alito's leaked opinion calls "egregiously weak from the start… with damaging consequences."
Overturning Roe has long been a goal for pro-life groups – many of them with strong religious convictions opposing abortion. Politicians have frequently invoked their Christian faiths when signing bills challenging or restricting abortion.
But not all faiths feel the same about this controversial subject.
Some Jewish leaders say a reversal of Roe would constitute a blatant violation of their own religious freedom, pointing out that many Jews believe that women are religiously required to obtain an abortion if a pregnancy puts the mother's life at risk. 
Does reversing Roe damage freedom of religion?
Abortion: A God-Given Right?
"Every life is a sacred gift from God," declared Alabama Governor Kay Ivey when she signed into law one of the nation's most restrictive abortion bans in 2019.  "Our creator endowed us with the right to life," echoed Texas Governor Greg Abbott when he signed a similar bill.
Words like that aren't uncommon; pro-life advocates frequently invoke their Christian faith and Jesus Christ when pushing for abortion restrictions. Indeed, most pro-life Americans would state plainly that their faith guides their view on abortion, at least in part. 
But Judaism interprets the matter quite differently. Jews are the most pro-choice religious group in America, with 80%+ leaning pro-choice.
That may be because Jewish law generally does not believe, as most Christian traditions do, that life begins at conception. In fact, sources in the Talmud indicate that the fetus is "mere water" prior to 40 days of gestation. Only when the baby is born is it considered "nefesh" – Hebrew for "soul".
The most-cited source of this belief comes from the Torah, Exodus 21:22-23, which tells of a story of two men who injure a pregnant woman, inducing a miscarriage.
The verse states that if the pregnant woman is injured, the penalty must be blood, but if the only harm committed is the miscarriage, then only a fine must be levied. According to the National Council of Jewish Women, "the common rabbinical interpretation of this verse is that the men did not commit murder and that the fetus is not a person."
Jewish law similarly states that not only is abortion acceptable, it is required in cases where the pregnancy poses a risk to the life or health of the childbearer, and many Jewish scholars also hold that to mean not only physical health, but mental health too.
As it turns out, the overturning of U.S. abortion law in the name of religious belief only serves the dominant faith – Christianity – while potentially posing a direct violation to another: Judaism. 
In the context of recent events, this interesting video is worth revisiting:
Should Roe Go?
Nearly half of U.S. states have trigger laws banning abortion in place, which will be activated immediately upon Roe's reversal.
And it would be hard to misinterpret their reasoning; many of the bill's authors have outright stated that they are religiously motivated, their belief in the sanctity of unborn life guided by their faith in Jesus Christ.
Any Roe reversal will undoubtedly see challenges in court for decades to come, and it seems pretty likely that one of those challenges will likely be on the grounds of religious freedom.
One argument that might be posed: different faiths have different beliefs on when life begins. Why is one faith's philosophy taking precedence over another's?
What do you think? Will the Supreme Court really overturn Roe v. Wade? And if they do, what happens next?