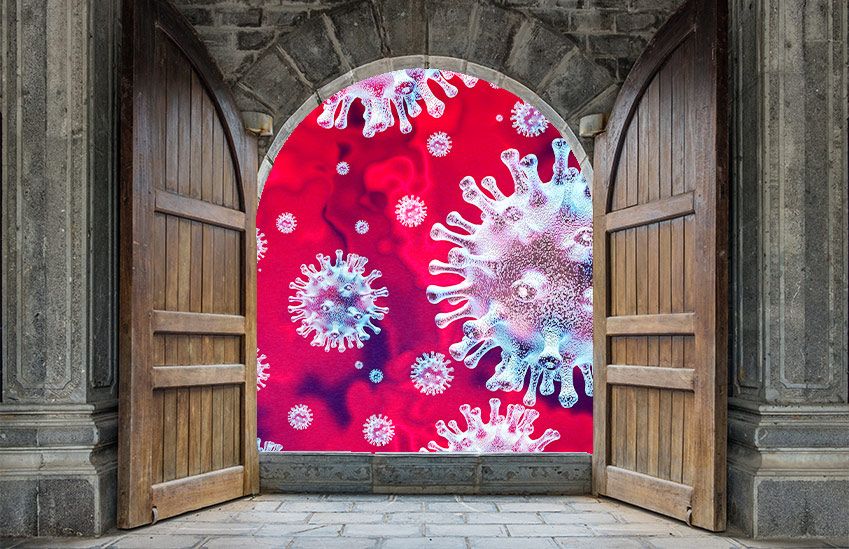 With most churches worldwide heeding calls to shutter and encourage social distancing, one Baptist bishop in Georgia is wondering what the big idea is.
"No matter how bad things get in shutting down a City in a Crisis. At least 2 entities hv 2 remain open. Hospitals & Police Departments." tweeted Paul S. Morton of The Full Gospel Baptist Church Fellowship International. "But God's Church must be on that list. Don't cancel God out. We can't do it without Him."
As if that wasn't bad enough, Morton posted photos with his hands on congregants - "God's first spiritual responders" - adding that until the law forced him to close, healthy Christians filling up at grocery stores or gas stations should find time for God as well.
These actions - touching, congregating, even for God - go against the CDC's recommendations to stay in your home and avoid gatherings of 10 or more people.
"Please Stay Home"
A fellow South Carolina minister at Joshua Baptist Church respectfully disagreed that church doors should stay open during a worldwide pandemic.
"Cancelling service is a precautionary step that shows that you as the shepherd of your flock care about the safety and health of your congregants," explained Rev. Chris Thurman. "God didn't give us a spirit of fear, but of power, love, and a SOUND MIND."
Morton responded by insisting it's the CDC that should get their guidelines straight and determine what is a safe gathering. "And if they go down to one. I will be the one at The Church building where God says forsake not the assembling of yourselves together."
Anesthesiologist Karen Priester slammed Morton's logic. "I pray your congregation has more common sense than you do. It's not about you & your ego. Is your God only in that building? Please stay home. Spend some time in communion with God without the middleman. Thankfully, I can pray to, meditate on, and worship my God anywhere."
But this goes beyond one renegade pastor.
Defying the Experts
Watching with satisfaction as his Tampa congregants hugged and shook hands during a packed service, Pastor Rodney Howard-Brown scoffed at so-called medical experts. "If you cannot be safe in church, you're in serious trouble," he said during a sermon. "The only time the church is closed is when the Rapture is taking place. This bible school is open because we're raising up revivalists, not pansies."
And Liberty University Jerry Falwell Jr. called one of his own clients a "dummy  " after the father-of-three questioned the wisdom of refusing to even entertain the possibility of cancelling classes, insisting it was "crazy, irresponsible and....a money grab."
Over 5,700 cases of the new coronavirus have been diagnosed in the U.S., a number that has more than doubled since last week. At least 94 people have died, and the CDC has pointed out that if China is any indication, serious illness may occur in up to 16 percent of cases, including "people of all ages with heart disease, lung disease and diabetes."
Take Your Worship Digital
Given this environment, why would any priest or religious leader be effectively asking their followers - most of whom are likely elderly - to put themselves at unnecessary risk? Is it so hard for certain God-fearing individuals to err on the side of science for once?
Listen to the CDC: avoid all large gatherings. Stay indoors. Worship digitally. And for God's sake, wash your hands.
The sooner we all make the hard sacrifices, the sooner we get out of this crisis.