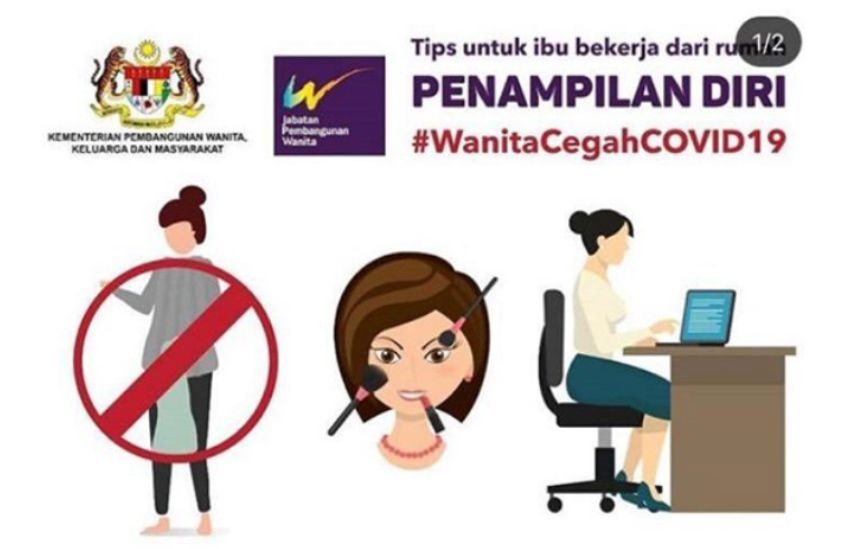 Couples the world over are seeing their relationship put to the test due to the global coronavirus pandemic. Once upon a time, back before mandatory stay-at-home orders, co-habitating couples separately went to work and events outside the house.
But now, relationships are being put to the test as millions of coupes are suddenly finding themselves spending every waking moment with each other, 24 hours a day, 7 days a week. And that sort of close proximity to a single person over an extended period of time can seriously strain a relationship.
And so last week, the Malaysian government put out some guidelines for women on how to keep their spouse happy and promote "household harmony" in a time when many relationships will be stressed.
It didn't go over well.
Look Hot and Don't Forget to Giggle
Among the advice Malaysia's Women and Family Development Ministry gave to women quarantined with their husbands? Stay pretty by wearing makeup and dressing well, girlishly giggle, and make sure you don't nag him.
The campaign came with cutesy illustrated posters showing women how they should look during quarantine: One post shows a woman applying lipstick, blush, and eye shadow, and another depicts a woman rejecting a sweater and wearing a tight skirt and blouse instead. 
The campaign drew swift condemnation online. Nisha Sabanayagam, a manager at advocacy group All Women's Action Society, said that the posters "promote the concept of gender inequality and perpetuate the concept of patriarchy." 
And social media users were unrelenting in their criticism of the campaign.
The campaign was particularly ill-timed. With couples quarantined together, domestic violence in Malaysia has skyrocketed, and Malaysia's crisis hotline for women saw a 57% increase in use from women fearing domestic violence at home. Many took to social media to question if the Women and Family Development Ministry really had their priorities straight.
The Malaysian government eventually apologized for the campaign, acknowledging it was poorly conceived. "Our approach was to share ways and practices to maintain positive relationships within the family while working from home," they said. "We would like to apologize if several tips were inappropriate or if they touched on the sensitivities of certain groups. We will be more careful in the future."
Heaven-Sent Virus
The idea of looking pretty and acting submissive for your husband may not be such an unwelcome point of view in some circles, though.
As most of us do our part to flatten the curve by staying indoors, anxiously awaiting the moment we can go back outside and resume life as usual, there are some women who insist this whole pandemic was sent by God to actually push women back into the homestead for good.
Lori Alexander, known online as The Reformed Wife, is a Christian author and blogger. She says that coronavirus was sent by God to put women back in their biblical place: the home.
https://www.facebook.com/thetransformedwife/photos/a.580547098626002/4144704785543531/?type=3
According to Alexander, a woman's Godly role is in submission to her husband. In a recent tweet, she said that "If you teach your daughters to be "independent" (which isn't biblical) and pursue higher education and a career, the chances of them ever being able to be home full time with their children goes way down."
Bad Takes Abound
With all these bad takes about how women should act during the ongoing coronavirus quarantine, it's important to remember that we're all in this together: men, women, and children. And surviving this quarantine with your relationship intact is about finding ways to compromise and work together – not following online dictate from a person or group that doesn't know the first thing about you.