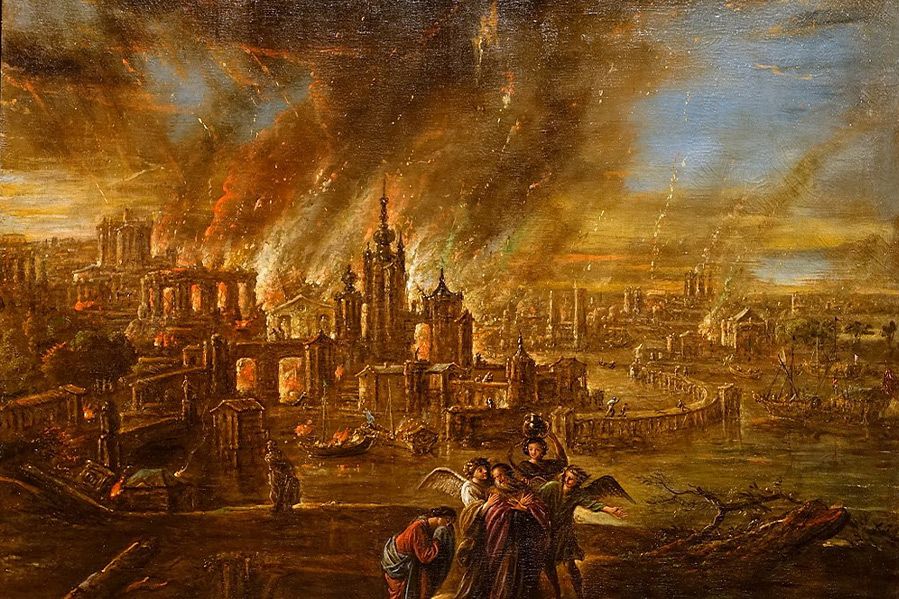 Imagine going about your day 3,600 years ago. Maybe you visit a local shop, visit with your family. It's a quiet, sleepy afternoon, no different than any other day.
Well, except in one way.
Unbeknownst to you, a massive rock is hurtling towards you at 38,000 miles per hour, explodes 2.5 miles above your head, and instantly incinerates you, your city, and everyone you know in a heat blast 1,000 times stronger than the atomic bomb dropped on Hiroshima.
Not the best day.
Using new archaeological data, scientists say that's exactly what happened in the Middle Eastern city of Tall el-Hammam thousands of years ago. And what's more, they say this real-life devastation may be the inspiration for the biblical story of Sodom and Gomorrah. 
Science Does It Again
The answers to what exactly happened to Tall el-Hammam were some 15 years in the making. Hundreds of people from three different countries spent a decade and a half excavating the site and testing sediment to determine what happened.
Now they believe they've solved the mystery: A massive firestorm, courtesy of a gigantic comet that hurtled through space at tremendous speed and exploded overhead. The heat from the blast was enough to blind anyone looking towards the city, metal began to melt, while wood (and people) caught fire instantly. 
The area went uninhabited for hundreds of years, likely because the soil was contaminated from the event, leaving the earth completely barren for crops.
While it's likely that there were no survivors within the city, scientists say it's possible individuals from neighboring settlements might have witnessed the event, and lived to tell the tale, passing the story down for centuries until it was written in the Bible as the story of Sodom and Gomorrah. 
Rain of Fire
Of course, if the Bible is to be believed, your 'average day' in the ancient city of Sodom was likely anything but sleepy.
Within the Bible, the cities of Sodom and Gomorrah were smote by God for their wickedness. As described in Luke 17:29, "The day Lot left Sodom, fire and sulfur rained down from heaven and destroyed them all."
Biblical scholars have long debated what sort of wickedness the inhabitants of Sodom were up to that offended God so badly. Some traditional interpretations hold that the Sodomites were engaged in rampant homosexual acts, and many Christians cite the story as part of the basis for their opposition to homosexuality.
However, other scholars believe it was the sin of pride that caused their downfall.
While that debate will likely rage for a long time, it seems entirely possible that the inspiration for this particular Bible story came directly from the unexpected destruction of Tall el-Hammam, passed down from generation to generation.
What do you think? Was this just an unfortunate cosmic event, or could it have been the power of God at work?