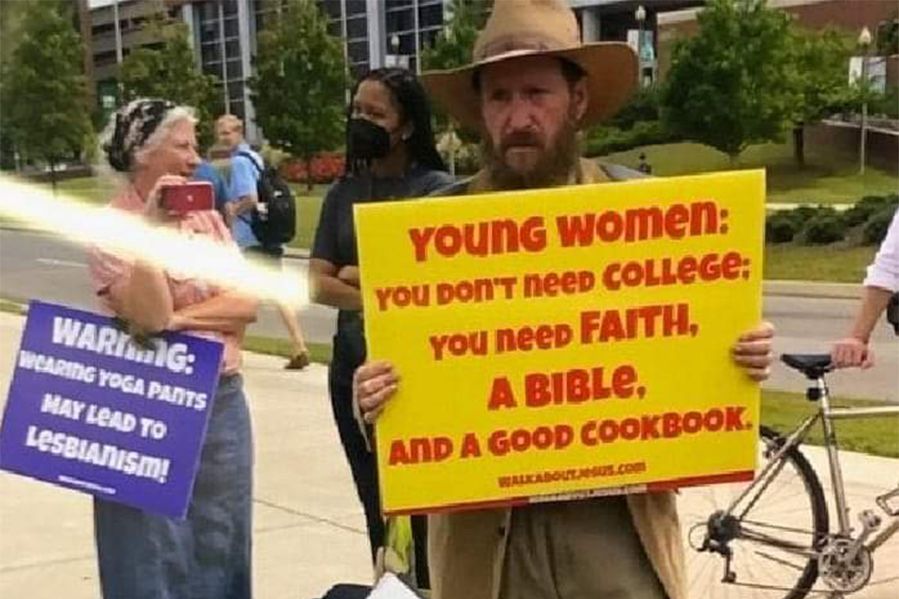 A controversial campus preacher ended up on the wrong side of a physical altercation at the University of Alabama at Birmingham (UAB) after a female student confronted him over a sign implying that a woman's place is in the kitchen, not in the classroom.
Daniel Rusk, preacher at WALKabout Jesus Ministries, was allegedly assaulted by a female student while holding a sign that reads, "Young women: you don't need college; you need FAITH, a BIBLE, and a good cookbook."
The student presumably took offense to the message and attacked him. The incident, which occurred on September 14th, was caught on video:
And while most can agree that violence is wrong, on-campus opinions are split on just where the line is between free speech and righteous anger. 
Them's Fightin' Words
The student claims she was provoked by the preacher before the incident took place. So far, it's unclear if the student will face any charges, but Rusk was escorted off the UAB campus and spent roughly seven hours in the Birmingham City Jail.
And according to Rusk, he was charged with disorderly conduct and he claims police are considering charging him with assault and inciting a riot.
He obviously believes himself to be the victim here, but not everyone agrees. Numerous students say he was expressing wildly incendiary views in a provocative manner, practically begging for a reaction. 
When we posted about this incident on Facebook, some of our friends there argued that visiting a college campus full of women and shouting in their faces that they belong in the kitchen is, to borrow a phrase, "asking for it."
In case you missed the post, you can check it out here:
For its part, the school says that if properly permitted, Rusk and his wife are free to espouse their controversial views on campus, "distasteful and offensive" as they are.
Spreading God's Love... and Hate
So who are the Rusks? Apparently, Daniel Rusk and his wife Mary have a habit of traveling to college campuses with their homemade signs espousing opinions on a range of controversial issues. Their beliefs include that women should not pursue education, should dress modestly, and should stay at home to rear children, clean the house, and cook food for their husbands.
"To be perfectly frank," Rusk says, "I'm offended by the way [women] dress. As a person that grew up in a lot of flagrant perversity and filthy type of things that people allow, it seems to just get worse and worse. I think it's offensive. I find it offensive personally, and I know that other men feel that way too… Society agreed with me 50 years ago. That's the bottom line."
One of their more provocative signs reads, "Stop the sexual assault" with the word "short shorts" crossed out underneath – implying that a woman's choice of dress is to blame for her own sexual assault.
But it doesn't end there. They've also made appearances at pro-LGBT events and abortion providers to preach against gay marriage and abortion. During Pride Month, a shirt was available on their website with the words "Jesus never was a homo hugging hippie – obey the real Jesus or burn in Hell."
"It's a touchy subject so we tend to try to keep some humor," Rusk says.
Well, at least they're keeping things nice and light. 
What is your reaction?