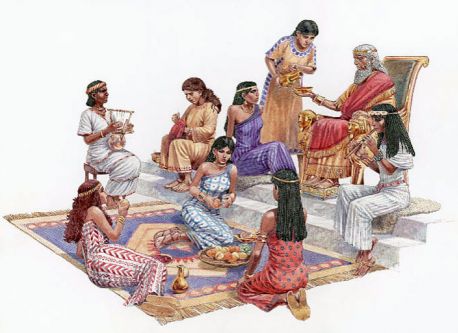 Is same-sex marriage part of a redefinition of an age old institution?
That's an easy one: yes.
Gays and their allies should just give up trying to combat that charge. Marriage has been around since well before the United States. The Supreme Court should remember that fact this summer as they consider whether gay couples have a right to wed.
Marriage has a rich history, dating back even to Biblical times when men like King David were blessed by God with a collection of wives and even a harem to boot. Gay marriages don't conform to that Biblical notion of "traditional marriage".
Leaders of nations betrothed their daughters not as equal brides, but as property to men of neighboring nations as a means of attaining peace. Same-sex couples fail to resemble that model.
As Justice Ginsburg pointed out during the April 28th Supreme Court proceedings, the reason gay and lesbian couples seek to join the ranks of married couples is because as recently as the 1970's, heterosexuals have fundamentally upended the notion of marriage as being Biblical (straight heathens marry every day), or a tradition of chattel trading, or a means of preserving the races. They decided to redefine it as two adults consenting to join in love and commitment. This union of equals casts out roles defined by gender, thereby opening the door for same-sex couples.
Religion vs. Religion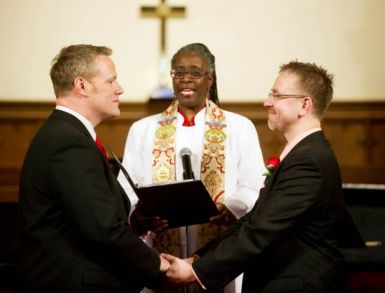 Like it or not, this isn't a religious nation. That isn't to say that there are not religious people here, both liberal and conservative. We could even say that a large majority of American citizens are religious or spiritual, but we have no official religion and we were founded on the idea that we simply cannot, lest we become the new Church of England from which our forefathers escaped.
If we ignore this and pretend that even one religion amongst the many practiced here, let's say Christianity, has legal weight, we don't end up with a clear position on same-sex marriage.
The Bible says man should not be with man, but it also praises polygamous unions and incestuous procreation things we outlaw today. Christians themselves are not in agreement on the issue with many denominations ordaining same-sex unions. Why does one side of the debate have the right to speak for the whole flock?
What faces the court is a reality question. Should big government micromanage our private lives to tell us who we can marry, or as Republicans often advocate for on other issues, should the government keep its nose out of it?
What do you think?
Naturalness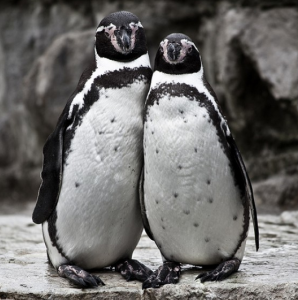 Being gay goes against nature so the claim goes. Let's look to the animals that exhibit this behavior like bison, lions, octopus, goats, owls, sunfish, giraffes, lizards, dogs, orcas, elephants, emus, crabs, snakes, salmon, foxes, caribou, jewel fish, raccoons, seagulls, turtles, ravens, graylings the list goes on and on. You even see animals of the same gender couple up and stay together for years, most famously, penguins.
If a deity or the universe itself created the natural world, clearly there is a role in it for the many homosexual animals, including humans. Homosexuality isn't an animalistic desire humans must rise above. If one claims that it is, and animals exhibit both homosexual and heterosexual traits, why isn't heterosexuality prey to the same complaint?
Procreation! That's the difference, right? Let's set aside issues of overpopulation. Gay sex doesn't make babies - granted. If that was so damning a fact, all of the animals listed above would be in danger of being wiped out, yet they are not. It is a naïve notion to think that the survival of humanity depends on each union being able to reproduce. We don't restrict marriage to only those that can and will have children.
The Case May Be
It will be interesting to see how the Supreme Court rules this summer. At one point during the oral arguments, the justices almost seemed surprised to learn that the religious nature of a church wedding is not what makes it legally binding. It is only legal by virtue of submitting civil paperwork through the government.
Universal Life Church ministers, and in particular our wedding officiants, know darn well that while those who are ordained compose one of the few groups of people that can perform a wedding, it is a procedure that only works insofar as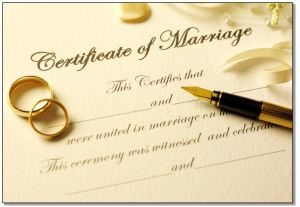 legal steps are taken.
Arguments against marriage equality are internally inconsistent as we have shown above. Sexuality is an invention of either a deity or nature. Humans don't make choices as to sexual orientation any more than other animals do.
Same-sex love is natural, has persisted throughout the centuries, doesn't cause harm, and is consistent with the way straight people have defined marriage. Husbands no longer dominate their wives (in most cases, unless you are a religious fundamentalist). Gender roles have been muted over time.
Put crudely, if marriage is the legal union of a man and a woman, and men and women are equal in the eyes of the law, then marriage is also the legal union of a man and a man, as well as a woman and a woman.
Next time you visit a Las Vegas wedding chapel, ask the officiant how many "sanctified" straight marriages last the test of time or how many fail in divorce - even just months later. Marriage is a matter that belongs to those who chose to participate in it, and it is the religious right of gays to enjoy their unions as nature and God intended.
Let us know what you think.