Here we go again. What compels people to burn down their own neighborhoods, to smash windows of innocent shop owners, to rampage and set cars ablaze? Are the Baltimore riots just old-school-rioting, or is it the foreboding sign of an uprising?
We say "two wrongs don't make a right", but rioters damage their own turf in hopes of bringing about social change. There are other ways to make one's voice heard. To begin to find a solution for riots, we have to look at why people are willing to clash with authority.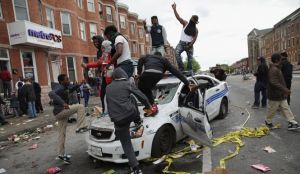 Baltimore, MD 2015
Freddie Gray, a young black man, was arrested for possessing a legal switchblade. While he allegedly had quite the rap sheet for previous crimes, the arrest in question was wrongful. He died while in a van in police custody due to injuries to his spinal cord. Rioters destroyed police vehicles and some local businesses. Peaceful protests were held before, during, and after the riots. Is it right that the arresting officers are being charged in the death of Gray?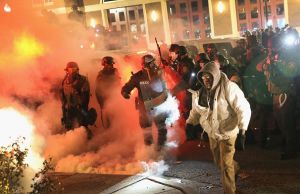 Ferguson, MO 2014
Police stopped Michael Brown, a young black man, after reports of a robbery in the area with the suspect matching Brown's description. Brown was shot to death by an officer who alleged Brown charged him and attempted to take his gun. Some eye witnesses claim that Brown was shot while running away from the officer with his hands up. Destructive riots and peaceful protests ensued in defense of Brown.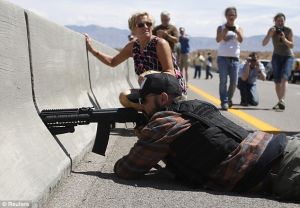 Bunkerville, NV 2014
A white rancher named Cliven Bundy was confronted by police for failing to pay over $1 million in fees for letting his cattle graze on government land for 20 years. In response, he summoned militia groups to take point around the area, aiming their guns directly at police. After a long standoff, a couple of his supporters went on a killing spree of innocent bystanders in Las Vegas. Police and Marshals walked away and Bundy continues to steal from the government to this day.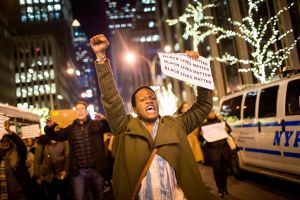 Staten Island, NY 2014
A black man named Eric Garner was confronted by police on suspicion of selling loose cigarettes. He sassed the officers, who responded by jumping on him and placing him in an illegal choke hold until he fell to his death on the pavement. Rioters destroyed property and peaceful protesters started the online trend #blacklivesmatter. None of the NYC cops were indicted, but the civilian bystander that filmed the incident eventually was for carrying a gun. Many people claimed the verdict was retaliatory for the bystander releasing the tape to the media.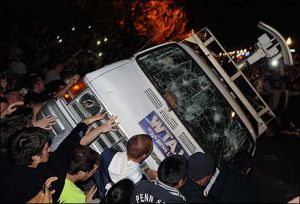 Bellefonte, PA 2012
Jerry Sandusky, a white college football coach, is convicted on multiple counts of sexual abuse of children he groomed while working for a charitable organization. He is fired from his job at Penn State. Rioters bashed windows, set cars on fire, confronted police, and damaged property in support of the pedophile.
There are other violent demonstrations for things like the local sports team not winning a game that are just as destructive (if not sometimes moreso) than those listed here, but those crowds are not hoping to influence social change, they are simply throwing a dangerous, expensive temper tantrum.
All you have to do is turn to the comments sections online for these news stories to see that society is tired of black protests and riots. News commentators and radio hosts use the terms "thugs" and "rioters" to describe participants, but many blacks are all too eager to step into those roles. If one wants to argue that blacks are unruly criminals, wait until a cop shoots another black man on camera and watch the chaos.
This, however, doesn't undermine the truth of the message that black crime is not treated the same as white crime. Cliven Bundy's white rioters aimed guns at officers but were let off the hook while unarmed black man Eric Garner is killed on the spot. Apparently the execution was warranted according to internet commenters, because the black man in question sassed the cop, and really should have known better. The double standard is so ridiculous; it would be funny if it weren't so tragic.
Our country is at a critical juncture. If we fail to take action and change our course, what do you think will happen to us?
Republican House Speaker John Boehner recently went on the record acknowledging the tension between police and black communities, calling it a "national crises" on NBC's Meet the Press. "I think most departments around the country are moving toward body cameras," he explained in support of the idea. While cameras could provide a solution to these issues, officers are free to turn them on and off as they see fit, potentially intending to only capture incriminating footage of those they confront without any truly unbiased accountability.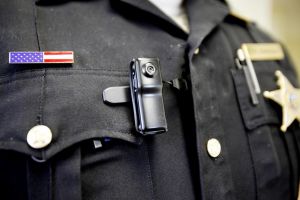 A law requiring the police keep their body cameras on while on duty could address this problem. Additional measures would need to be taken against officers like Jeremy Dear of New Mexico, who reported that his body camera just happened to malfunction over and over again right when he began physical altercations with suspects.
Perhaps with the heightened scrutiny, those individual police that betray the integrity of their posts will feel exposed. If we stop targeting black men and arresting them for unlawful reasons, as was the case with Freddie Gray, younger generations will not look on them with such disdain and fear. They will be less likely to run from cops because they believe in an impartial justice system that hasn't been in their favor for the last 100 years.
Do you think any of the Presidential candidates are doing a good job of addressing these issues? Who is showing that they can lead all Americans? Is it Hillary Clinton, Scott Walker, Marco Rubio, Rand Paul? Or perhaps, someday, Elizabeth Warren, who seems to have more family jewels than the whole group put together.
What's your take?