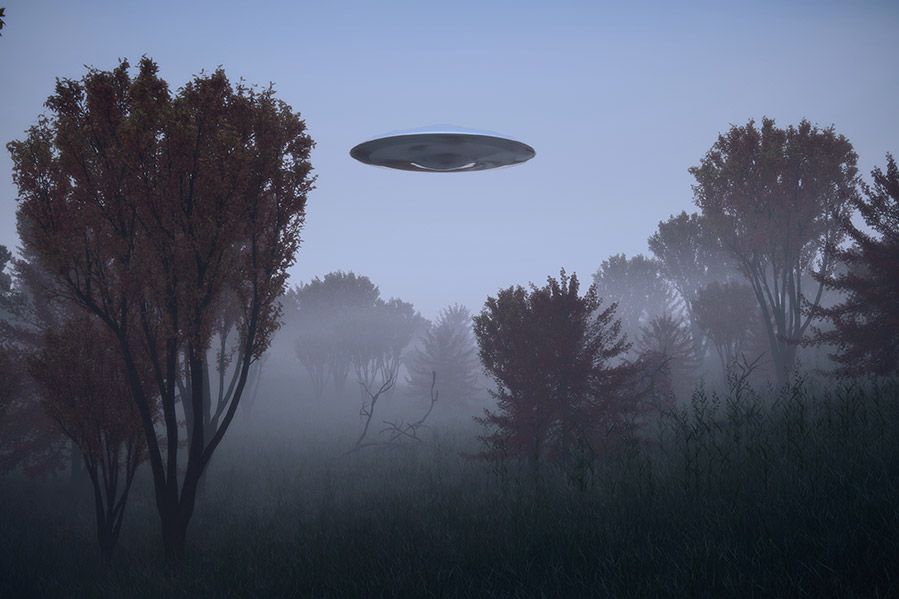 Is the truth out there? We'll find out in less than six weeks.
That's the deadline for the Pentagon to issue a report to Congress detailing what they know about unidentified flying objects, as mandated by a provision in the COVID stimulus package signed by President Trump in December 2020.
For believers in alien visitations, it's a long time coming.
Long dismissed as quacks, kooks, and whackos, they might just be about to get the last laugh: Ahead of the potential bombshell report, everyone from former Pentagon officials to pilots who saw UFOs with their own eyes are speaking out in droves, taking what was once viewed as a somewhat nutty conspiracy theory to a nearly-confirmed truth. 
UFOs Go Mainstream
Luis Elizondo, former head of the Pentagon's Advanced Aerospace Threat Identification Program from 2010 to 2017, was on 60 Minutes Sunday night to talk about UFOs, which his department calls UAPs - Unidentified Aerial Phenomena.
He told host Bill Whitaker that there simply isn't an earthly explanation for some of the things his department's seen:
"We're not just simply jumping to a conclusion that's saying, 'Oh, that's a UAP out there.' We're going through our due diligence. Is it some sort of new type of cruise missile technology that China has developed? Is it some sort of high-altitude balloon that's conducting reconnaissance? Ultimately when you have exhausted all those what ifs and you're still left with the fact that this is in our airspace and it's real, that's when it becomes compelling, and that's when it becomes problematic."
Also on the program were a host of naval pilots who all told of seeing UFOs in the sky with alarming regularity. Former Navy pilot Lieutenant Ryan Graves said that pilots see UFOs literally "every day" for at least the last few years, making maneuvers at speeds that, at least to their knowledge, no earthly tech can perform.
Even the US government is acknowledging that there's something out there. Last year, they officially released three videos that had long circulated in UFO circles before, officially confirming the footage is real, taken from naval pilots, and acknowledged that they have no clue what it is.
Who is Out There?
So, are all these UFOs piloted by little green men from beyond the stars? Well… maybe. Graves thinks the UFOs might be Chinese or Russian in origin, which, if true, would pose a serious national security threat that he says isn't being taken seriously enough by top brass.
Elizondo is not necessarily saying that all these UFOs that are apparently littering our skies are extraterrestrial… but he's not not saying that either. "There is very compelling evidence that we may not be alone," he told CNN in 2017.
But there's another layer to this story. Elizondo still recounts how he was met with a lot of resistance from higher-ups during his days at the Department of Defense, primarily on religious grounds. 
Are They Demons?
Elizondo told the New York Post that "some individuals have a problem with this topic because it interferes with their philosophical or maybe theological belief system," even recalling a time when a senior official told him to stop investigating "demonic" UFOs and instead pick up his Bible.
Nick Pope, former head of the UFO office in the UK's Ministry of Defence, backs that claim up.  He says that he also met resistance from higher-ups in the UK military who thought the UFOs might be sent directly from Satan himself.
"Their belief seems to be that studying UFOs would thus give energy to attention-seeking demons, which should be avoided," he says. "This view comes, in part, from the biblical description of Satan as 'the prince of the power of the air.'"
Whatever the truth – foreign, extraterrestrial, demonic – we may have a clearer picture by the end of June when Congress gets that unclassified report. 
What is your reaction?