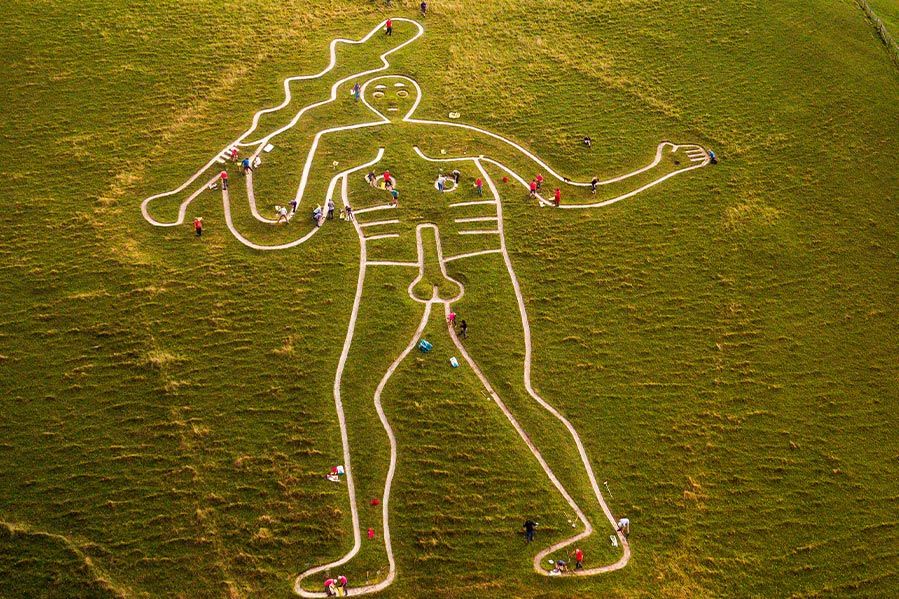 For centuries, the origins of a ~180ft long male figure carved into a hillside near the village of Cerne Abbas in Dorset, England. Why is he here? Who is he? And most importantly, why is he so well-endowed?
The figure, created through carved trenches full of chalk, sports a whopping 36-foot penis – earning him two equally appropriate nicknames in England: "The Giant" of Cerne Abbas and "The Rude Man" of Cerne Abbas.
Scientists and historians have long pondered the origins of this figure. Many believe he was carved in ancient times, though the oldest traceable accounts only go back to the 17th century.
But could there be another explanation? Some have theorized that due to its curious design and sheer scale, aliens must have been involved in making the installation. After all, they point out, it is only fully visible from the air – and our human ancestors didn't have technology capable of flight until much later. Their reasoning holds that the figure could be best appreciated from a UFO.
After years of mystery, scientists have successfully dated the soil, potentially shedding light on the age and origins of the most famous English phallus of them all.
Big Questions, Very Big Questions
The soil samples were taken last year, but results were delayed due to the COVID-19 pandemic. Scientists waited with bated breath for the results to come back.
Perhaps he was a crude parody of Oliver Cromwell commissioned by Lord Denzil Holles, holder of the Cerne Abbas estate? Or maybe he was an early depiction of Hercules, famed womanizer that he was? Or potentially, might he even be a Celtic deity from prehistory? 
Well, as it happens… none of the above. "Turns out we don't know everything," said Michael Allen, a leading geoarchaeologist who participated in the study. "Every archaeologist I know, including me, had it wrong."
He's both much younger and much older than the most prominent guesses of scientists and historians. Per the study, the Cerne Abbas Giant probably came to be between the years 700 and 1110 AD, with archaeologists believing his most likely year of origin to be 908. That would put the giant "in a dramatic part of Cerne history," says The National Trust.
As is often the case with history, as certain questions were answered, more popped up.
God or Graffiti?
"Nearby Cerne Abbey was founded in 987AD and some sources think the abbey was set up to convert the locals from the worship of an early Anglo Saxon pagan god known as 'Heil' or 'Helith'," The National Trust says. "The early part of our date range does invite the question, was the giant originally a depiction of that god?'"
Now historians are left wondering if a Benedictine monastery intended to convert Pagans to Christianity really commissioned a 180-foot art installation on a local hillside. Why would the monastery create that?
The more likely answer could be very different. Alison Sheridan, an archeological consultant in the UK, suggests an alternate theory: "It would almost seem to be an act of resistance by local people to create this fantastically rude pagan image on the hillside. It's like a big two fingers to the abbey."
If that is the case, although this spirited pagan resistance eventually fell to the unstoppable steamroller of Christianity, a physical record of their indignation lives on in this figure on the hillside.