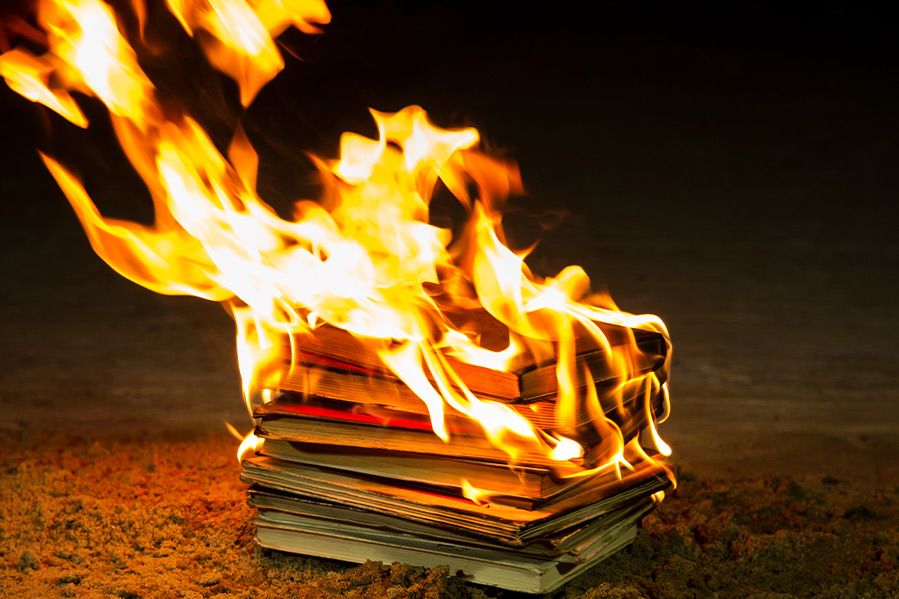 A controversial Tennessee pastor is on a mission to rid the world of demonic influence, one Harry Potter book at a time.
Twilight, Harry Potter, even Ouija boards and tarot cards… it's all "full of spells, demonism, shape-shifting and occultism," wrote Greg Locke, pastor at Global Visions Bible Church in Wilson County, Tennessee, on his Instagram page.
And it's all gotta burn.
"Deliverance from demons" is how Pastor Locke described the massive bonfire, which was live-streamed on Facebook and quickly gained hundreds of thousands of views. 
We posted about the incident on our page (where Pastor Locke was kind enough to personally leave a comment):
But Harry Potter and Twilight weren't the only popular books burned – more on this later. 
Burn Notice
"We have a constitutional right and a Biblical right to do what we're going to do tonight," Locke exclaimed before the bonfire was lit. "We have a burn permit, but even without one a church has a religious right to burn occultic materials that they deem are a threat to their religious rights and freedoms and belief systems."
Pastor Greg Locke is no stranger to such theatrics. In 2019 he burned a book about atheism to make a point that America is a "Christian nation," and in 2020 he refused to shut down church service, social distance, and even banned masks in his church.
This latest incident comes amid a nationwide movement to ban or burn books in schools and libraries across the country. Just earlier this month, a Tennessee school board unanimously voted to ban Pulitzer-winning Holocaust novel Maus because of its depiction of cartoon mouse nudity.
Last year, a Virginia school board voted to remove LGBTQ books from school library shelves – and then some board members said they'd like to burn them. "I guess we live in a world now that our public schools would rather have kids read about gay pornography than Christ," one board member said.
Pastor Locke's own book burning involved dozens of congregants gathered in the church parking lot tossing their "accursed items" – mostly Harry Potter and Twilight novels – into the flames, as Pastor Locke encourages them, literally fanning the flames.
Some couldn't help but notice the historical comparisons.
Book burning in 1933 and book burning in 2022. pic.twitter.com/ukz3eqr45S

— Anonymous (@YourAnonNews) February 4, 2022
Satanists Strike Back
Greg Locke and his congregation weren't the only ones burning books that evening. A group of counter-protesters showed up to the event, blasting "Highway to Hell" and playing Harry Potter on a projector.
But it was a local gay couple who ruffled the most feathers. A video posted to Facebook shows Chris Hardin and his husband tossing the Bible in the pyre, as onlookers cheer, unaware that the gay couple just incinerated their holy book.
"I burned the Bible!" Hardin's husband exclaims in the clip, before brandishing his copies of Fahrenheit 451 and Darwin's Origins of Species and shouting "Hail Satan!" 
Members of the congregation soon chased him off, but not before the couple shared a kiss.
If it seems like a lot of books are getting burned and banned lately… that's because there are. The American Library Association recently reported an "unprecedented" level of book ban requests last year, with some 330 books challenged in the fall of last year alone. Compare that to 156 challenged books for all of 2020, and it's clear that something's going on.
What do you think? Do churches have a right to burn materials they deem threatening to their faith, as Pastor Locke says?
Or is book burning a practice that should be condemned regardless of one's religious beliefs?